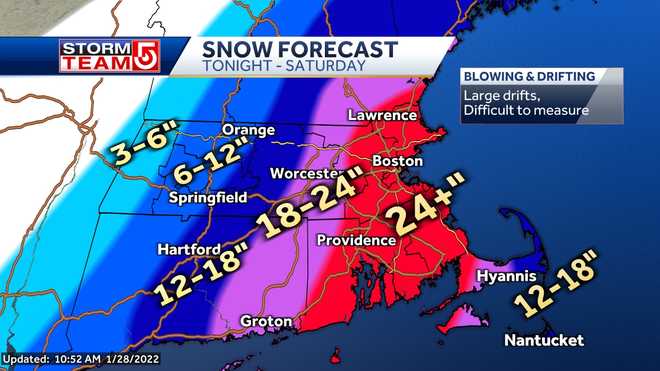 Watertown will get more than a foot of snow during Saturday's snowstorm, according to weather forecasters. The City of Watertown has declared a Snow Emergency, and has already canceled some events.
The National Weather Service announced that Eastern Massachusetts is under a Blizzard Warning from midnight on Friday to midnight on Saturday. The Watertown area could get more than 2 feet of snow, according to WCVB Channel 5, while WBZ Channel 4 has the are in the 12 to 18 inch zone.
Snow Emergency
Superintendent of Public Works Greg St. Louis declared a Snow Emergency in Watertown
starting at 10 p.m. on Friday.
"Watertown is expecting greater than 20" of snow this weekend with high winds Saturday. The Snow Emergency shall remain in effect until further notice. On street parking will be banned and any motor vehicle left on the street will be subject to towing. Please do NOT throw snow into the
roadway as this creates a health and safety concern and is an enforceable violation of the City's Rules and Regulations," the announcement said.
St. Louis also requested that residents assist in clearing of fire hydrants and catch basins in your area.
"Also, clearing of the sidewalk in front of your property would benefit all," the announcement said. "Please check on your neighbors over the weekend as we anticipate temperatures to remain below freezing."
Further up‐dates will be posted on the City of Watertown's web site: www.watertown‐ma.gov, the City of Watertown and DPW social media, and the DPW Website at: www.watertowndpw.org.
Closings
The Watertown Free Public Library announced it will be closed Saturday due to the storm.
The City of Watertown announced that the Recycling Center will be closed on Saturday. It is open until 4 p.m. on Friday.
The Watertown Recreation announced that programs scheduled for Saturday, Jan. 28 and Sunday, Jan. 29 will be postponed because of inclement weather.