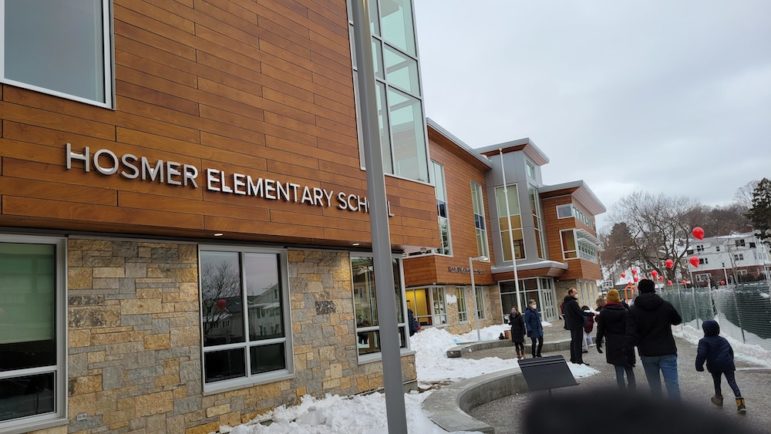 Watertown's newest elementary school opened for the public to see Tuesday afternoon, and the bright and spacious three-story Hosmer School wowed those who roamed its halls and classrooms.
Superintendent Dede Galdston welcomed attendees who crowded the courtyard between the two wings of the Eastside school, and noted that it was just four months ago that the City opened another new school.
"Many superintendents and city managers go through their entire career never opening a school and here we are opening the second in a year and a third on the way," Galdston said, referring to Cunniff and Lowell schools. "And a new high school in the not too distant future."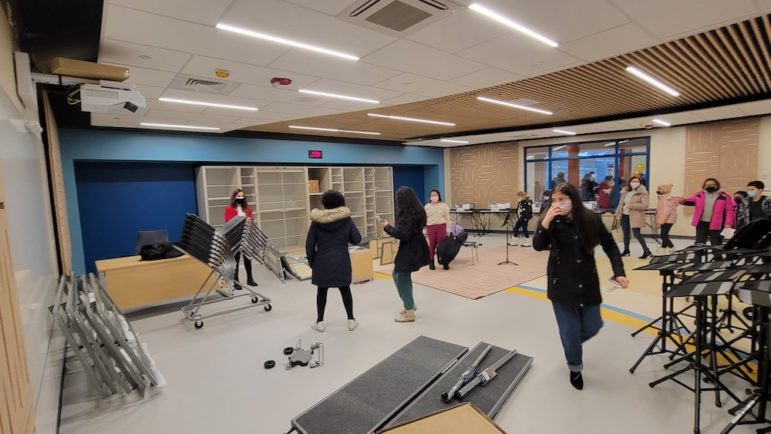 School Committee Chair Kendra Foley said she has read about how educational spaces can impact student learning.
"This month, hundreds of students and educators are moving into this space, and thousands more in the coming years, and this is more than a building for them," Foley said. "It is an educational tool that's going to deepen their educational experience in profound ways."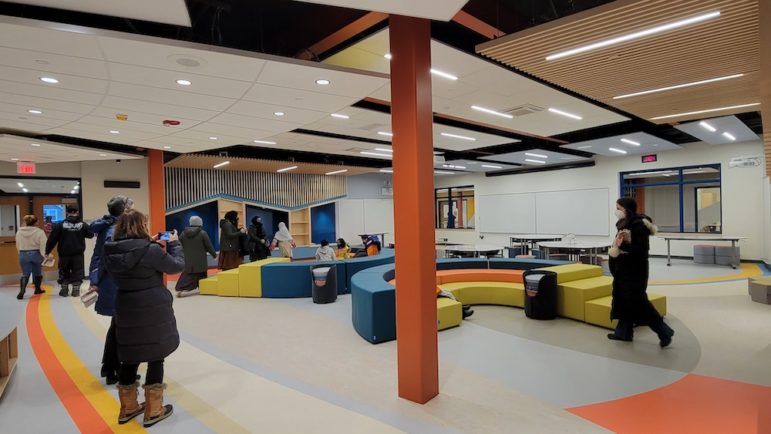 Foley added that the school is being rededicated not only to the two men it was originally named for, but also one of their daughters.
"Since its beginning the Hosmer Elementary has been dedicated to two two men, Drs. Hiram and Alfred Hosmer, who generously granted the land for public buildings in Watertown," Foley said. "Drs. Hiram and Alfred are rightly honored for their decades of service to this Town. In this rededication to the school we are also including artist Harriet Hosmer, an internationally renowned sculptor from Watertown in the late 19th Century, a time when female artists had few outlets to develop their talent and be recognized for their accomplishments among their male counter parts."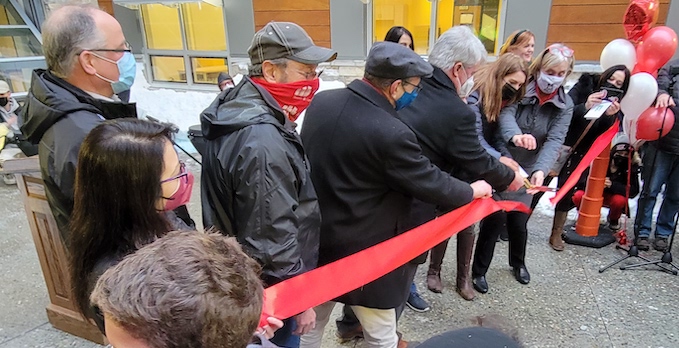 Foley thanked many of the people responsible for the approval, design and construction of Hosmer. She also gave "special appreciation to Principal Erin Moulton.
"She and her team have navigated this transition with grace and poise and care, and we are all so grateful to them," Foley said.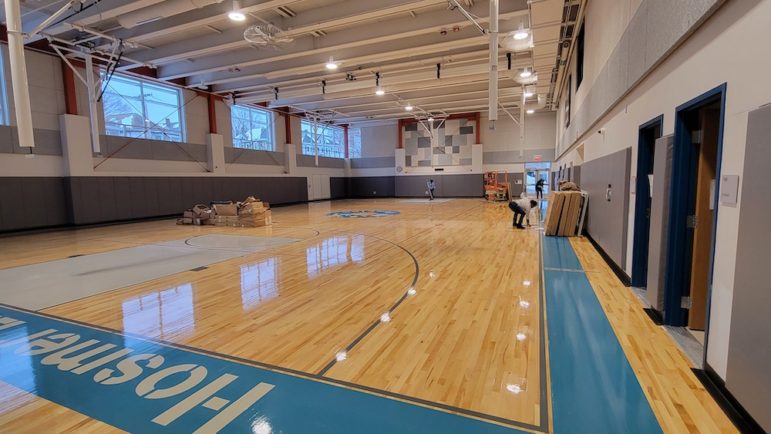 Acting City Manager Tom Tracy participated in the ceremony on his first day in his new position, but thanked his recently retired colleague.
"Mr. (Michael) Driscoll was supposed to speak to you and some of you may know Mr. Driscoll as Fiscal Driscoll," Tracy said. "His leadership is why we have been able to do two schools in one year. One thing I would like to say, and would be remiss if did not say, the Hosmer School was built without a debt exclusion vote and within the confines of Proposition 2 1/2." 
Jolly Tager, speaking on behalf of Watertown Faces Climate Change, thanked those who helped build such a "green" school.
"We are thrilled this school, the Hosmer, and the Cunniff: they soar. They're architecturally beautiful, they are aesthetically beautiful, and environmentally sound," Tager said. "These two schools are the first truly net zero schools, which means they produce as much energy as they use. We also own the (solar panel) arrays, which means that if we produce more energy than we use we can send that electricity to other municipal buildings. We are incredibly lucky."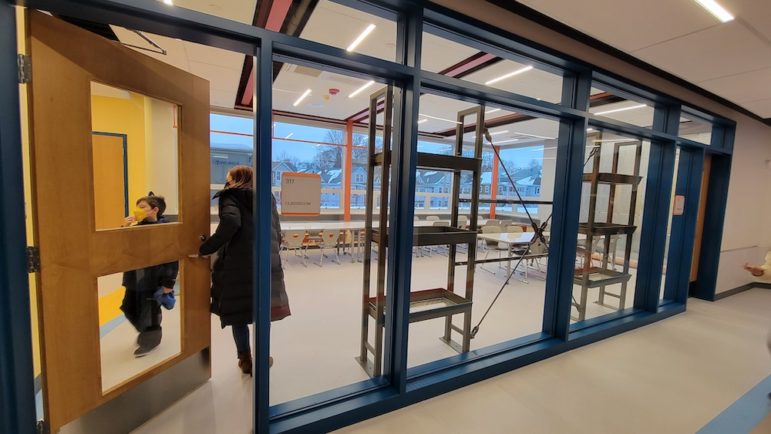 City Council President Mark Sideris, who chairs the School Building Committee beamed as he welcomed people to their first look inside the new school.
"This is an exciting day for me and everyone that is here," Sideris said. "Thanks for coming. I can't wait until you go inside and see it."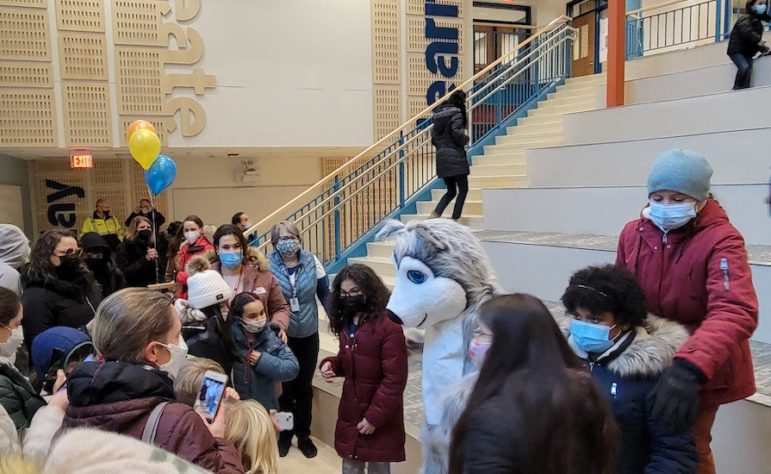 The first time they go inside, Sideris recommended that people grab a map, "because you are going to get lost."
Before cutting the ribbon, Sideris said wanted to give some thank yous, including Driscoll for making education and the children of Watertown a priority, the City Council for providing the financial support to build the school without an override, the architects from Ai3, the owner's project management firm, Hill International.
Galdston thanked the designers from Ai3 Architects, including principle architect Julie Rahilly, as well as the company that ran the construction.
"I want to thank our general contractor Brait Builders for keeping good on their promise to open this school eight months earlier than originally forecast," Galdston said.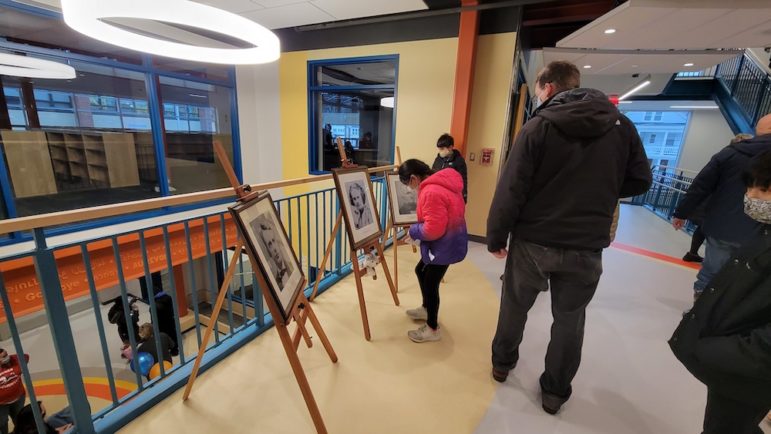 She also thanked the residents living in the area around the school.
"Thanks for your patience and support as this beautiful, albeit noisy, school project took shape and came to fruition," Galdston said.