Dozens of Watertown residents answered a call on social media to shovel out fire hydrants in their neighborhoods after the recent blizzard.
Watertown's IT Department put out requests for people to clear the snow, and send in a photo to enter the contest. Prizes were given out to many who participated, said Jeanne Ostroff, the City's Social Media/Web Coordinator.
"At my last job at a local school district, I tried doing this a number of times with support from the Athletic Director encouraging student athletes to shovel and did not get any responses," Ostroff said. "I didn't have a goal for how we would get, but I was very pleased with the result here in Watertown."
In all, 25 families emailed in photos of their cleared fire hydrants, Ostroff said.
"Many residents told us they had never thought to dig out a hydrant before this contest, and they plan to going forward," Ostroff said. "A few told us they had been digging them out over the years."
There were even reports of people sharing their hydrant photos inspiring friends in other communities to shovel out their hydrant, Ostroff said.
Resident Max Sederer said he always shovels out his local hydrant, and the contest caught his eye.
"I noticed a posting on FB (Facebook) from the city about the agenda, so to promote the idea I took a picture and submitted," Sederer said. "Knowing we were expecting the warm up soon thereafter I also exposed the storm drain. I have a bird feeder in my yard located parallel to the drain so I know where to dig."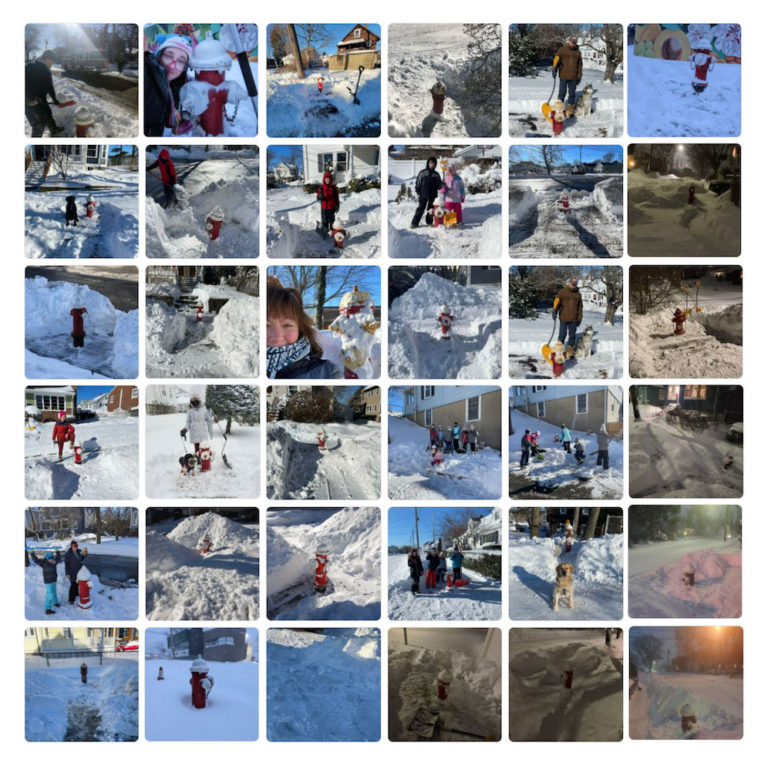 The Town gave Sederer a gift card, and had a rubber ducky for his daughter.
Watertown Fire Chief Bob Quinn said the Fire Department appreciates any help they can get clearing the hydrants.
"It is certainly helpful to us when we need the hydrant and it's already shoveled out," Quinn said. "With approximately 1,000 hydrants in the city, it takes us a while to get to all of them and shovel. Going to shovel one and have it already clean is a big bonus."
Jason, a Watertown Fire Hydrant Snow Clearing Contest winner, claimed his escape ladder at the Fire Station this afternoon. Here he is with Ryan Nicholson, Assistant Chief of the @WatFireDept. Thank you for shoveling your fire hydrant Jason! #adoptahydrant pic.twitter.com/OZtAt940kw — City of Watertown, MA (@watertowngov) February 3, 2022
Originally, the City was going to give out two prizes donated by the Fire Department: a masked tour of the Fire Station for kids and one adult was going to receive a small extinguisher. However, they received additional items to give out. The Department of Public Works chipped in five black DPW beanie hats, five red water bottles, six rubber duckies, two yellow safety T-shirts, three blue T-shirts, and two black DPW baseball hats. Also, American Flow Control, the hydrant company, heard about the contest and donated a $25 Starbucks gift card, Ostroff said.
With the enthusiastic participation during the first contest, Ostroff said the City will repeat the contest after upcoming big winter storms.
Some residents also asked for the location of the fire hydrants on their street, so the City will add that information to the Watertown MapGeo mapping website.
Click on the names of the social media platforms to see the City of Watertown's (@watertowngov) account: Facebook, Instagram, and Twitter.