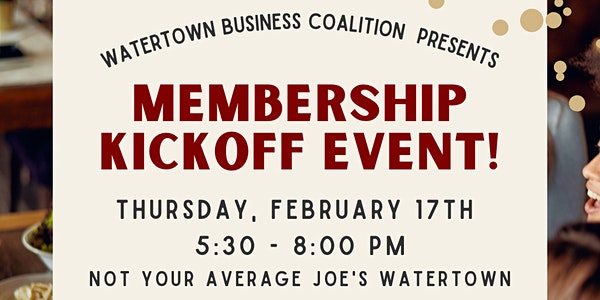 The Watertown Business Coalition's membership kickoff event will be held on Feb. 17 at Not Your Average Joe's.
"This month's event will give you a chance to re-connect with old friends and meet new connections … and you'll have an opportunity to learn about our goals and if you choose — become a charter member of the Watertown Business Coalition," the WBC event announcement said.
The group was established in 2019 to create connections in the Watertown business community.
The group welcomes people who live, work, and/or run a business in Watertown.
The WBC holds monthly networking events, both in-person and virtual, and has built connections between the local business community and local government. And, the Watertown Arts Market grew out of a WBC working group.
WHEN: Thursday, February 17, 2022
TIME: 5:30 p.m.–8 p.m.
WHERE: Not Your Average Joe's, 55 Main St., Watertown