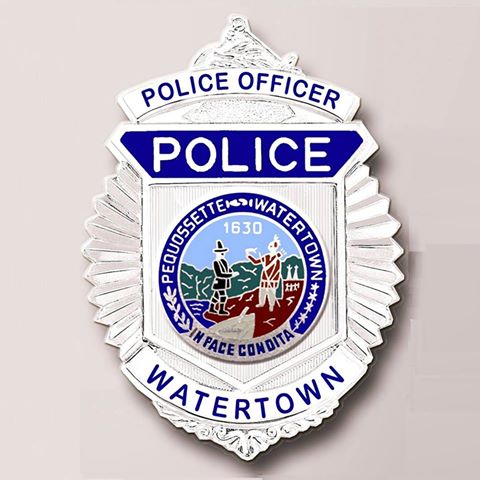 A Watertown man faces multiple charges after he smashed the windshield of a Police car and punched two police officers before he was talked down and placed under arrest early Thursday morning.
One of the officers went to the hospital to have a broken nose treated, and the man was determined to have a history of mental issues, according to Watertown Police Lt. James O'Connor.
Shortly after 3 a.m. on Feb. 17, officers at the Watertown Police Station spotted a man on security cameras coming down the driveway and walking up to a cruiser parked near the city park in back of the Police Station. He then hit the windshield of the car several times with what was later discovered to be a hammer. He dropped the hammer near the car.
The officer assigned to the front desk of the Police Station went out to investigate, and spotted a man in a dark hooded sweatshirt and dark pants. When she started to approach the man, he walked away down the path in the park, heading toward Acton Street, O'Connor said.
More officers were dispatched to the area of Acton Street near the park. Two officers, the desk officer and a second officer, caught up to the man and told him to stop, but he did not comply. The officers grabbed the man's arms and tried to take him into custody.
"He began to struggle with the officers. He punched the male officer with a closed fist on the side of his head, and began to run on Acton westbound," O'Connor said. "The female officer chased him on foot. She grabbed him from behind. The suspect turned around and struck the officer with a closed fist in her face. She started bleeding from her face."
Other officers arrived. They began speaking with the man to calm him down.
"The officers were able, without any equipment, to de-escalate the situation with words," O'Connor said. "The man was out of control and violent. They got him to comply with their demands, and was placed under arrest."
Watertown firefighters responded to treat the officer who was punched in the face. They took her to a local hospital, where doctors determined her nose had been broken. She was treated and released. The other officer, who was struck in the head, suffered minor injuries.
When officers spoke with the suspect, a 27-year-old man from Watertown, they discovered he has a history of mental health issues.
"It does appear mental health was affecting his behavior that night," O'Connor said.
The man was arrested on charges of malicious destruction to a motor vehicle, assault and battery on a police office, and assault and battery with serious bodily injury, O'Connor said. 
O'Connor said that officers were able to take the suspect into custody without using any type of force.
"This is a great example of the dangers that police officers face, and the unpredictable behavior of people, at times, and the great work did in middle of physical altercation," O'Connor said. "They were able to de-escalate and take him into custody without further altercation. It is a great example of the work that the Watertown Police do day in and day out, here."