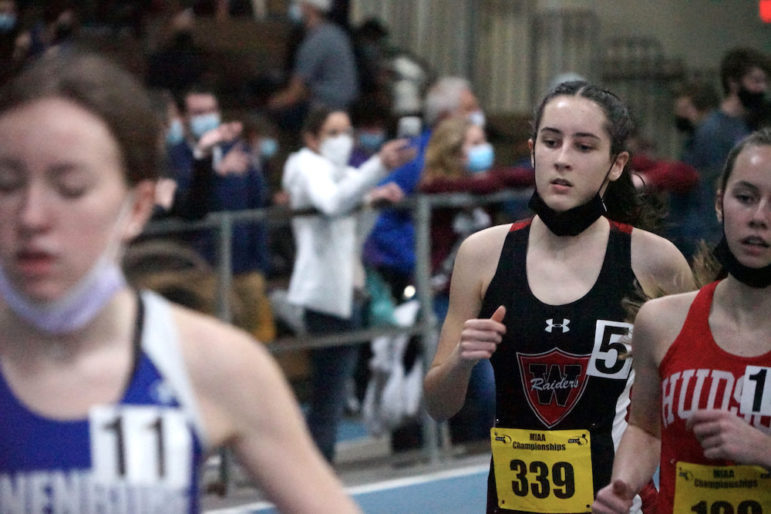 BOSTON — While just a sophomore, Watertown High School's Anna Lonergan ran one of the fastest miles at the MIAA Div. 5 Meet at the Reggie Lewis Track Athletic Center on Friday evening.
She finished sixth place at the meet where she competed against the best runners from around Massachusetts of similar size to WHS. She stopped the clock at 5:26.49.
"It went pretty good. I was trying to break my PR [personal record] which was 5:25," Lonergan said after the race. "It was pretty close."
The race did not go exactly the way she had hoped.
"I got kind of boxed in at the beginning, and also at the end," Lonergan said.
The sixth place finish continues a successful season in which she placed sixth place in the mile at the Middlesex League Indoor Championships. She also finished 25th at the Div. 2 All-State Cross Country Championships, eighth place in the MIAA Div. 2 Cross Country Sectional Meet, and was named Middlesex League All-Star.
Lonergan said she also likes to run the 1000 meters indoors and the 800 meters outdoors.
"I kind of like cross country better," she said. "I like the mile too. I also run the 1000."
On Friday, Lonergan was also part of the Raiders' 4 x 800 relay team that finished sixth place at the Div. 5 meet. She anchored the team, which also included Casey Master, May Cort and Emily Triantafiles that finished in a time of 10:35.01.
Other WHS athletes who competed Friday include Max Bennett, who got 18th in the 2-mile; Camndon Reed, who finished in 16th in the shot put; and the boys 4 x 400 relay of Michael Jokic, William Jokic, Mason Smith and Matthew McGoldrick, which finished in 20th place.