A 33 point performance in just three quarters on Saturday vaulted Watertown High School senior Taylor Lambo over the 1000-point mark in the Raiders' victory over Weston.
Lambo knew she was approaching the four-figure mark before the game in the WHS Gym, but she wasn't given word by Watertown Girls Basketball Coach Pat Ferdinand until just before she reached 1,000.
"I had talked to him about it, I wasn't super close to it, so it wasn't definite that I was going to hit it," Lambo said. "He didn't even tell me until like two points before, and he was like,
'Your next layup is 1,000.' And then I missed a bunch of layups."
While sitting on 998 points, Lambo was fouled while going up for a shot. She made the first free throw, but missed the second — leaving her a point short. A few possessions later she fought through a pair of defenders in the paint and knocked down the basket that put her over the top, leading to a celebration with her teammates on the court.
"I was a little nervous. I didn't know it was going to be today, but I mean, I'm happy," Lambo said.
Ferdinand said she is among a small group of Watertown High School players to score 1,000 points. The others that he knows of are Gabby Coppola and Brittany Obi-Tabot. Other WHS greats, including Shannon Murphy and Renee Gaudette, did not reach that mark.
He noted that unlike the other 1,000 point scorers, Lambo is not a three-point shooter, and scored the vast majority of her points from near the basket.
Lambo was able to score 1,000, even with a shortened junior season due to the COVID-19 pandemic.
"For that reason, because of the half season, we didn't know if it was going to happen and I didn't want to put a ton of pressure on it," Ferdinand said. "So, I kind of kept it close to the vest, because lots of times when a team knows that it's getting close, nobody wants to have 1,000 points scored on them."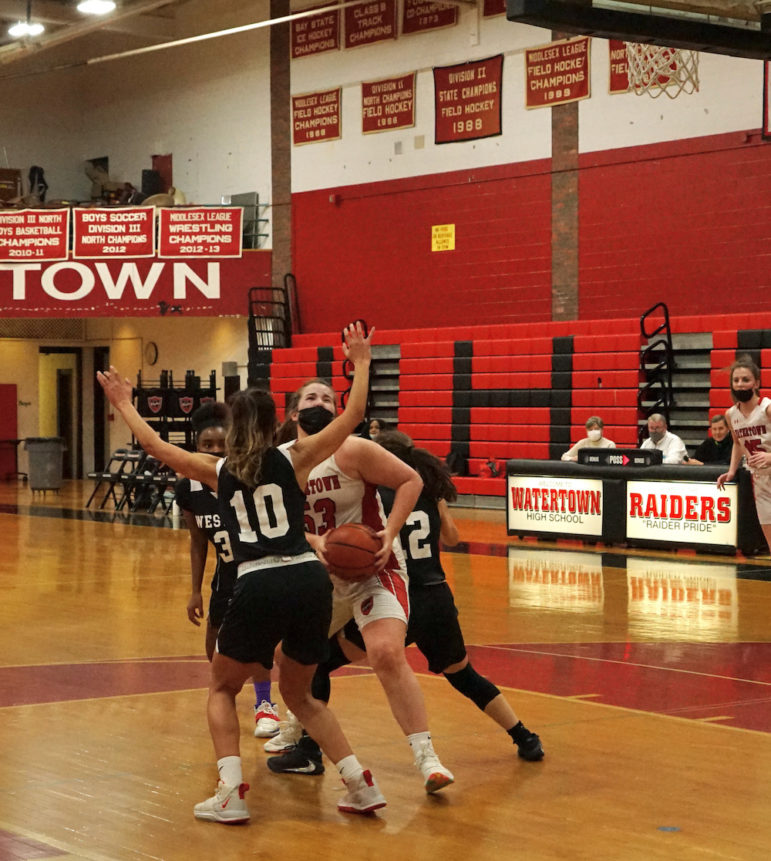 The coaching staff also worked on diversifying Lambo's game.
"We worked on her handling the ball and being a (center). Most of her points have been in the paint, but she is also initiating the offense, as well," Ferdinand said. "One thing we talked about is that it is probably her best passing year and also her best scoring year."
Ferdinand said he sees Lambo's game as a combination of two members of the Raiders 2016 State Final team.
"She is kind of similar to Katelyn Rourke and Shannon (Murphy). She's almost a combination of both," Ferdinand said. " Katelyn, lots of time, had to initiate for us and Katelyn was a good passer, as well."
He added that the team has worked on ball movement and passing, so that opponents cannot just focus their defense on Lambo.
A key to reaching 1,000 points, Lambo said, was to not just focus on scoring.
"I think this year I put less pressure on myself and that helped me to score even more — just do better at everything," Lambo said.
The Raiders have been working on improving through the year, and Lambo said the first time they played Weston this year they lost by three points.
"Playing teams twice, we are looking to get better and beat them, or beat them by more," Lambo said. "That was really awesome we won today."
Next year, Lambo will continue her basketball career at Hamilton College. Before that, however, she hopes to extend her WHS career as long as possible. Her freshman and sophomore years, Watertown lost in the second round, and last year the Tournament was cancelled due to the pandemic. The Raiders are 15-6, and Lambo said that some of the losses have been close, so she believes Watertown can compete with any team.
"I'm just hoping to go far in the Tournament, especially because this is my last year," Lambo said. 
Watertown has one more regular season game at Wilmington before the State Tournament begins in early March.