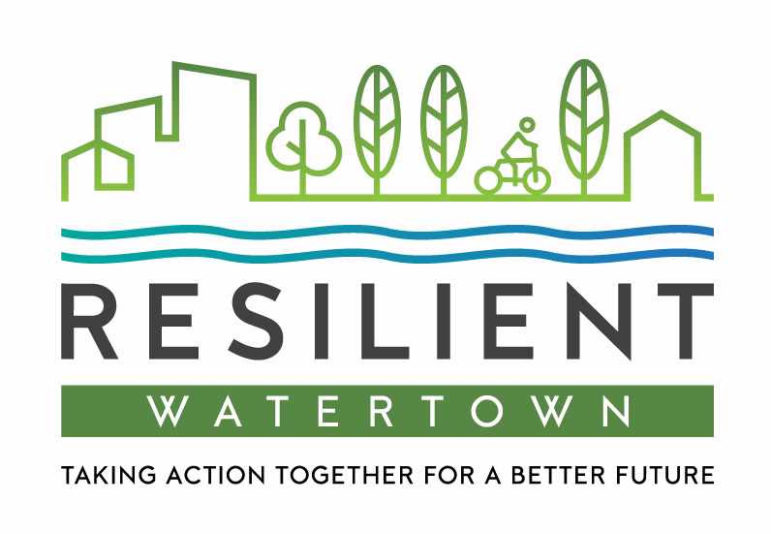 A draft of the Watertown Climate and Energy Plan has been released and City officials seek input from the public about the document.
The plan has been titled "Resilient Watertown," and it details the City's strategies to address climate change. The plan is the product of meetings, workshops and surveys, according to the introduction by Acting City Manager Tom Tracy.
The City Council's statement reads, in part: "The Plan identifies opportunities for lasting improvements here in Watertown, by reducing climate change-causing greenhouse gas emissions and other pollutants and improving quality of life for all residents in the face of extreme events and prolonged stressors."
The plan seeks to help the City prepare for the impact of severe weather events. The plan reads:
"Changing conditions, like increasing temperature and precipitation, are and will continue to exacerbate existing climate hazards in Watertown, with impacts to community health, local natural resources, and infrastructure. As in many other municipalities throughout the region, in Watertown, changes to climate are taking shape through four primary hazards: intense storms, flooding, drought and heat waves."
Goals
By 2030, the plan calls for Watertown to become "a model for community resilience to climate change." This includes educating the public about climate preparedness and creating a Community Emergency Response Team, and reducing barriers preventing people from taking care of themselves during extreme weather events. Other goals include reducing heat islands in Watertown, and enhancing community hubs for cooling, charging devices, and food resources.
Goals include several of milestones to reach by 2050, including:
100 percent of buildings' electricity be from renewable energy
The plan sets a goal of more than doubling the number of buildings in Watertown with solar panels on them from 3,209 to 6,700. Also, the plan looks to switch building heating sources from natural gas and oil to 100 percent electric (currently it is less than 10 percent).
Make Watertown's buildings energy efficient, resilient and carbon neutral
Some of the steps include charging a fee for buildings to have natural gas hookups, adopting the state's Net Zero Energy Stretch Code when it becomes available, and make major City facilities net zero energy.
Reduce personal vehicle miles by 50 percent
Some steps include making public transportation more accessible and connected, increasing bicycle and pedestrian safety.
80 percent of vehicles will be electric
Some of the strategies are to create an EV roadmap, create incentives for people to switch from aging gasoline-powered vehicles to electric, increase the number of EV charging stations in municipal lots and major private lots, and give incentives for homeowners and landlords to install EV charging stations.
Enhance natural spaces and green space
Building pocket parks in neighborhoods lacking open space, increasing the number of shade trees, and reducing the amount of water going into storm drains are some of the strategies in the plan.
Become a net zero waste community
Among the strategies to achieve this are creating a bulk purchasing network for compostable and environmentally friendly products for commercial and industrial sectors, creating a roadmap to offering organics recycling, and reducing the amount of single-use items — especially for municipal government.
Make Watertown's facilities resilient to the impact of climate change
The steps for this goal include making sure new infrastructure and upgrades take into account climate impact; work with partners to advocate for the removal of the Watertown Dam; and look at the possibility of local power back-up, micro grids, and battery options.
See more details by reviewing the plan. It can be accessed here, and the document also includes a link to a short guided survey. Feedback can be sent to Watertown's Senior Environmental Planner Laurel Schwab at lschwab@watertown-ma.gov. Public comment will be collected through March 11, 2022.