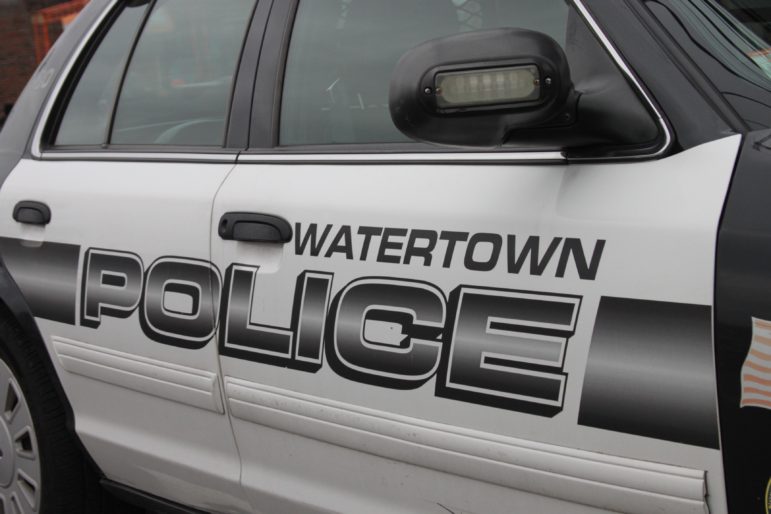 The following information was provided by the Watertown Police Department.
Arrests
Feb. 18, 9:32 p.m.: An officer patrolling on Arsenal Street near the Watertown Mall spotted a bus with the "Call Police" sign flashing on it. The bus was pulled over and the officer spoke to the driver, who explained there had been a verbal disturbance between two passengers. One of the passengers had gotten off the bus, but police got a description. An officer spotted the man nearby in the Target parking lot and security guards were following him. The man had items that he had not paid for. When police investigated the man they found he had four outstanding warrants. William Nelson, 56, of Newton, was arrested for shoplifting — a third offense, and the warrants out of Boston District Court: one for trespassing and larceny under $1,200, one for assault and threat to commit a crime, and two for larceny under $1,200.
Feb 22, 5:26 p.m: Marshalls called police after spotting a man shoplifting. Loss prevention saw the man take multiple items off of the rack and exit without paying. They followed him into the parking lot where they were met by police. The man had $319.82 worth of items. During the investigation police found the man had two outstanding warrants. Alec Laurent, 30, of Onset, was arrested on a charge of shoplifting — third offense, and the warrants: one from Somerville District Court for shoplifting, and one from Roxbury Court for shoplifting.
Feb. 23, 3:45 p.m: Security saw man put items into a shopping bag at Target and they stopped him. When speaking to police he admitted to taking the items, which included a black duffle bag and three Anker power cores, worth a total of $165. While investigating, officers found several items with Marshalls tags on them, which they believe were stolen. Ivan Amaker, 58, of Cambridge, was arrested on charges of shoplifting and receiving stolen property under $1,200.
Feb. 24, 2:33 p.m.: The manager at CVS called police after a woman was seen shoplifting. The manager asked police to escort her out, and said she had been in the store taking items on a daily basis and they didn't want her to return. Police found she had two outstanding warrants. Rebecca Wilczynski, 31, of Watertown, was arrested on the two warrants: one from Malden District Court for breaking and entering, trespassing, and larceny under $1,200; and one from East Boston District Court for destruction of property over $1,200 and breaking and entering into a vehicle. She was also trespassed from CVS.
Feb. 26, 10:23 p.m.: Police received a report of an accident on Mt. Auburn Street near Watertown Square. When they arrived, officers saw a 2005 Acura up on the sidewalk, and the vehicle had major damage all around the vehicle. Numerous buildings were damaged. The driver was out of the car and was not injured. He said he had turned onto Mt. Auburn Street from Summer Street and was heading toward the Square when another vehicle struck his back tire and caused him to spin and crash into the building. Police located multiple witnesses who all said that they saw the vehicle driving at a high rate of speed, and that no other vehicles were around the vehicle. One witness saw the Acura lose control and crash into the building. Szechuan Cuisine, Relax and Therapy Center and Watertown Sportswear were all damaged, with windows shattered at the latter two. The man had signs of being intoxicated, including glassy, bloodshot eyes, and he had an odor of alcohol on this breath. Timothy Savage, 25, of Burlington, was arrested on charges of driving under the influence of alcohol, reckless operation of a motor vehicle, and speeding.
Incidents
Feb. 17, 9:45 a.m.: A man hired someone to move his elderly mother from Watertown to an assisted living community in Virginia. He used a moving company broker from Florida, and when the trucks arrived only half of her furniture was on it. Two months later the rest of her items still had not been delivered. The missing items are valued at $4,000. The company is based in Lakewood, Fla. The man is working with the Florida Attorney General's Office, and found there had been other complaints about the company.
Feb 17, 1:50 p.m.: An employee at Working Gear at the Watertown Mall reported that a customer took her cellphone. She had been helping a customer at the register and left her phone on top of a display. She saw a man grab her phone. She confronted him and demanded that he empty his pockets. He pulled out three cell phones, including hers. The man ran out of the store, and could not be stopped. The suspect is described as a 17- to 20-year-old African-American man wearing a dark grey hoodie, blue jeans, headphones, and a face mask. Police are investigating.
Feb. 26, 11:06 p.m.: A resident of Elan Union Market reported the theft of a package. The man received an email from UPS confirming the package had been delivered at 1:09 p.m. on Feb. 24. When the man went to get the package at 5 p.m. it appeared that the box had been opened and re-taped. It contained personal belongings, and missing was a backpack, a passport, a Social Security Card, a wallet, Apple iPods, and $200 in cash. Police are investigating.
Feb. 26, 5:06 p.m.: A package was stolen from Nichols Avenue. A resident had ordered a Samsung cellphone valued at $870.19, and she received notification on Feb. 24 that it had been delivered. However, when she went to get it the package was not there. She checked with Amazon, which also confirmed it was delivered. The package appeared to have been taken from the front steps of the home.