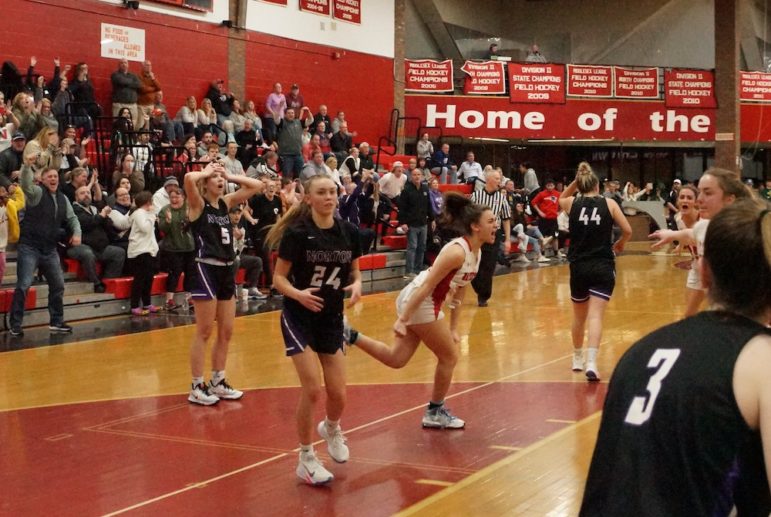 A State Tournament game that was neck and neck most of the way appeared to be slipping away for the Watertown High School girls basketball team, falling behind six points with about two minutes left. But, the team and the WHS Gym came to life as the Raiders closed the game and senior Sophia Garapetian completed the comeback with a drive straight down the lane.
When the final buzzer sounded, Watertown's players came together on the court to celebrate their 54-52 win over Norton in the MIAA Div. 3 Round of 16 game, and kept their season alive.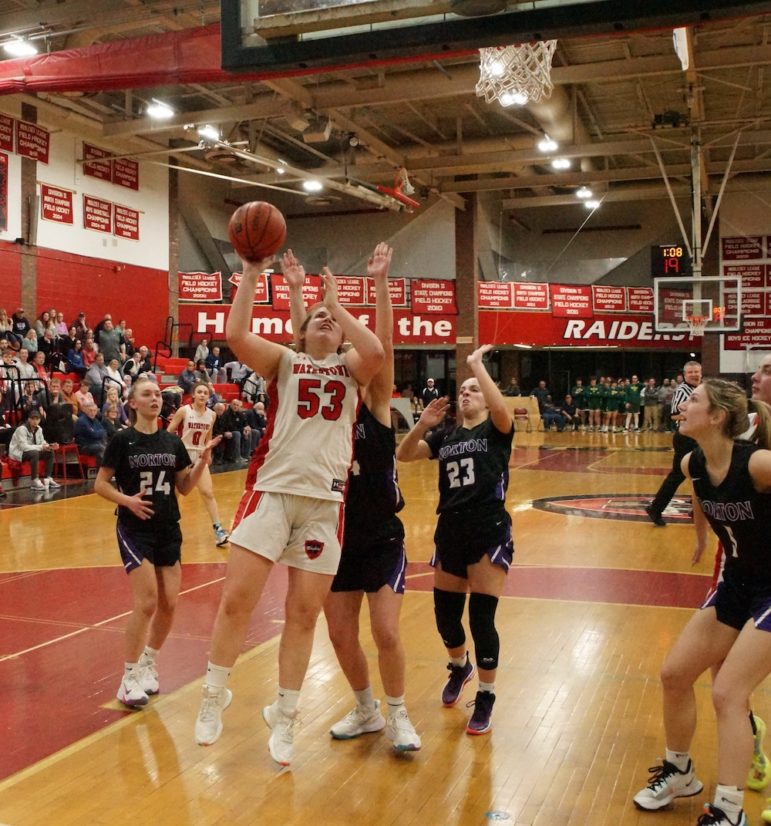 Garapetian said she was determined not to let her WHS basketball career end Tuesday night. She got her opportunity with 15 seconds left as she caught a pass with time quickly ticking away.
"All I wanted to do was win that game. when I had that ball I was like, I don't care what happens, this better go in," Garapetian said. "I need to win this game, I am not going home, This is my last year. I want to win. We are the sleepers of D3, we are going to win!"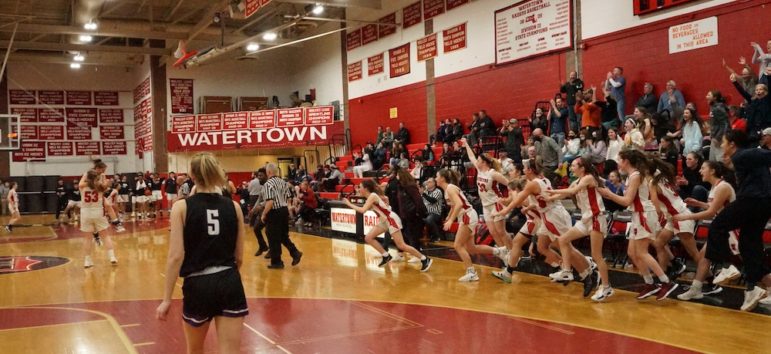 Senior Taylor Lambo credited her team with not panicking when they fell behind late.
"We haven't really had that situation this year where we were down by like a pretty good amount with little time left," Lambo said. "So I am just happy that we all stayed composed. Lily (Lambo) [Taylor's sister] fouled out and we all stayed composed. People were able to step up and come in. It was awesome."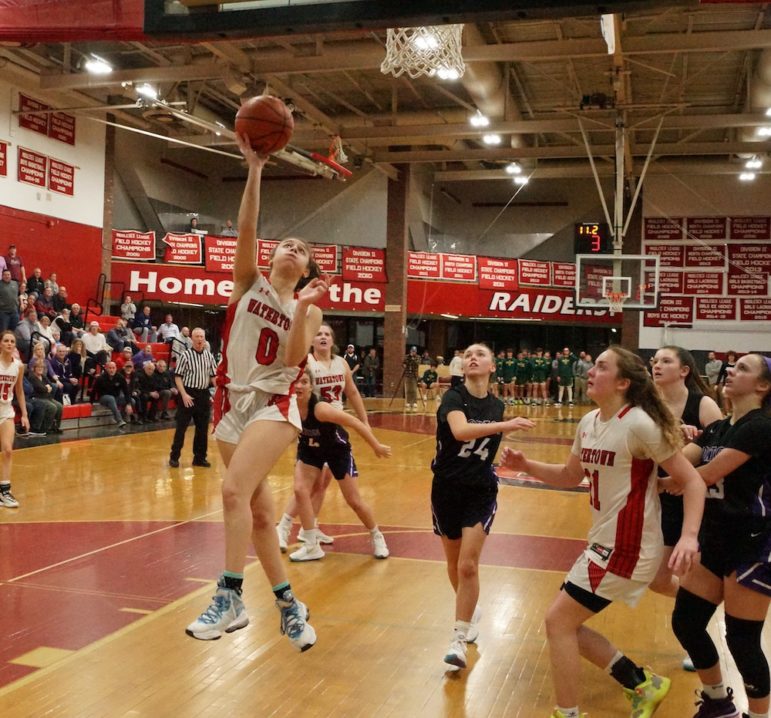 The Raiders didn't have a specific plan to get Lambo the ball, but the setup to the winning shot saw the forward get the ball low, and while surrounded by Norton defenders she found Garapetian.
"They knew people were sending it to me so we didn't want to force it," Lambo said. "It was really awesome Sophia made that layup. I knew she would."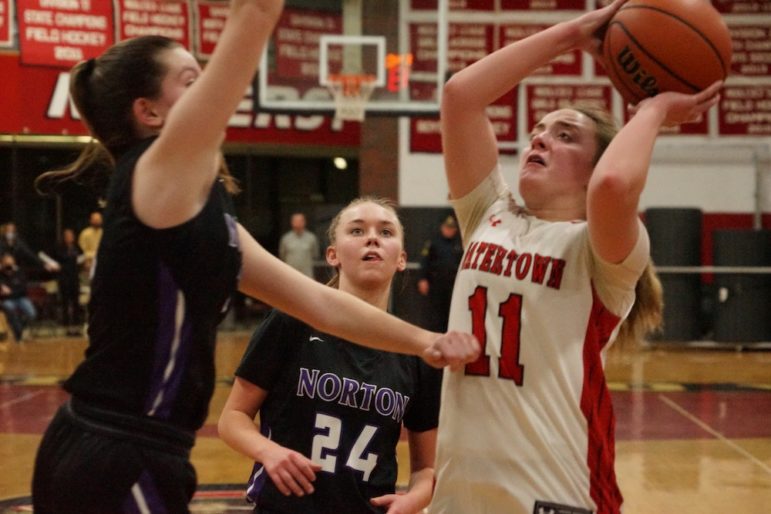 Garapetian had a stretch in the second half on the bench before she sank the go-ahead basket, and was making up for lost time with her team. She missed part of the season pursuing her interest in being a social media influencer (she has more than 300,000 followers on her Instagram account).
"I was angry on the bench because I am a senior. I am never going to be able to play again and — I don't know — these past couple weeks I have been in a depression because I went away to L.A. and missed a big part of the season and I wasn't there for my team but I obviously deserve those consequences."
Trailing by one with less than 15 seconds remaining, #Watertown's Sophia Garapetian found a lane to the basket and delivered the game-winning layup in a thrilling comeback win against Norton in the round of 16! #Raiders @WatertownSports @watertownhigh @BostonHeraldHS pic.twitter.com/3AH8jVkSz2 — Watertown Weekly News (@WWN_Watertown) March 9, 2022
Coach Pat Ferdinand told his player to be patient.
"I pulled her out at some point and said, 'Hey, you know you are going to get your chance, again. Just stay focused. You are going to get that chance again,'" Ferdinand said. "And she was able to go to the basket and get something good."
The Raiders had to get into the position to take the lead, however.
"We talk about trying to get kills, where we try to get three stops in a row," Ferdinand. "At some point under two (minutes) I said we, 'Hey, we need three stops. We need to get a kill.'"
Norton had a six point lead with 2:48 left in the fourth quarter. Watertown pressed them and made three straight stops. On the other end, they were able to get the ball down to Lambo, who hit a layup to cut the deficit to four and was fouled on the next possession and hit a free throw to make it three. Sophomore Laura Biagiotti then laid it in to bring Watertown within one point.
Ferdinand also credited sophomore Sarah Morrissey for getting some clutch rebounds and hit two key free throws late in the game.
"People came through when we needed it," Ferdinand said. "Things didn't always go our way but people came through when we needed it."
The seventh seeded Watertown improved to 18-6. Taylor Lambo led the Raiders with 19 points, Biagiotti scored 11, Garapetian 9, Ellie Monahan had 6, Morrison scored 4, Lily Lambo had 3, and Maeve Lawn scored 2. For 10th seeded Norton (12-10), Taryn Fierri and Emma Cochrane each had 12 points.
He tipped his hat to Norton for giving the Raiders a real run.
"Credit to that team, that team was tough," Ferdinand said. "They played really, really well. They shot the ball really well, they move the ball extremely well. They are just a very good disciplined team."
Watertown girls basketball fans likened Tuesday's comeback to the one they pulled off against St. Mary's several years ago when they were led by Gabriella Coppola. And the Raiders' next opponent just happens to be St. Mary's (22-3), which beat North Reading 80-56. Watertown will face the second seeds in the Round of 8 on Thursday, March 10 at 6 p.m. at Lynn English High School.