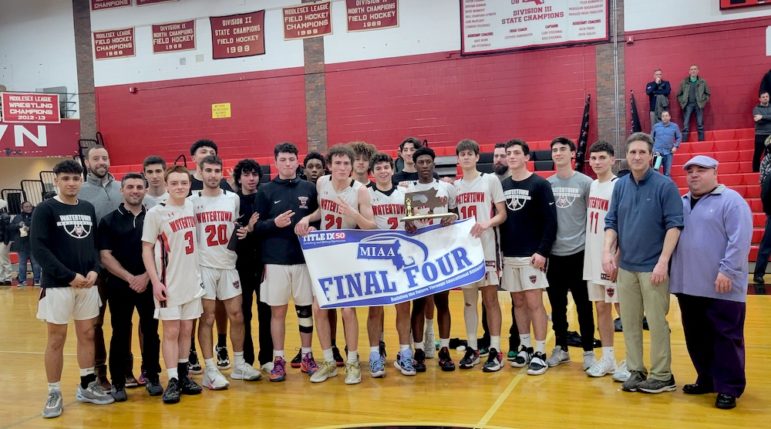 After watching a 20 point lead whittle down to five, the Watertown High School boys basketball team kept its cool and finished off New Mission in the MIAA Div. 3 Round of 8 State Tournament game Saturday night, 64-57.
Seventh- seeded New Mission (11-4) dug a little into the lead in the third quarter which ended with the Raiders holding a 15 point lead, (47-32). In the fourth, the Titans stepped up their defense, and began making baskets on their end. Second-seeded Watertown's (16-7) lead dropped under 10 with 3:03 left in the fourth quarter, and with less than two minutes it shrank to just five.
The Raiders inbounded the ball, but had trouble getting the ball over half court, so they called timeout. In the ensuing play, senior Adam Patterson got fouled and headed to the line for two free throws with 1:41 left in the game.
"I've been practicing that forever. I am confident in myself, my teammates are confident in me. They told me to finish the game," Patterson said. "I went there and did it. It's just what we practiced."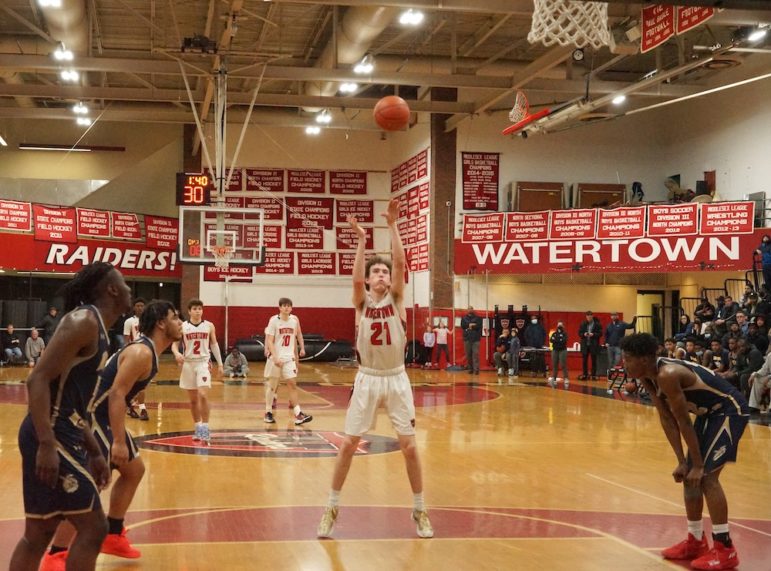 After stopping the New Mission run, the Raiders could focus on closing out the game, said Watertown Head Coach Steve Harrington.
"We were in the bonus, they were going to foul us, we'll take the free throws and go back on defense and see if we can whittle the clock down, which we did," Harrington said. "It was good stuff."
Watertown jumped out to a dream start during the home tournament game, going up 13-0 on the visitors from Boston. In the first half, the lead grew to as much as 33-13 with 3:22 left in the second quarter.
"The first half was key. Tyler (Timperio) making shots, (SeanAnthony) McCusker making a couple shots, obviously Adam was Adam," Harrington said. "It was just an overall great effort."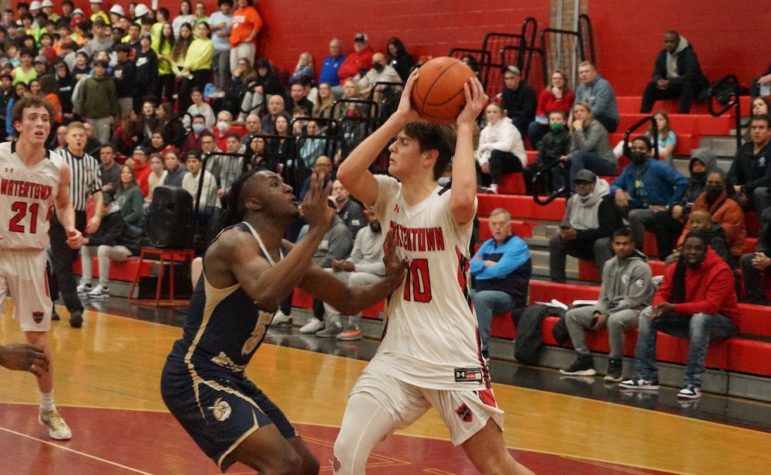 Timperio and Patterson each had a trio of three pointers in the first half.
The early lead gave the team confidence, Harrington said, and the Raiders closed the half with senior Pierre Paul Labossiere hitting a pull-up jumper at the buzzer to make it 37-18.
"I thought we finished the first half well. They came back a little bit, but we went up by 19," Harrington said. "That was big. It made it very hard form them to come back. Ultimately, we made enough plays to win."
Patterson ended up leading the Raiders in scoring, but after the game, he wasn't even sure how many he had. He just enjoyed the moment.
"I don't know, 26, 27 … A win! That's all that matters," said Patterson, who will play basketball for WPI next year.
He scored 26, senior Joseph Spinelli had 12 points, Timperio added 11, Labossiere had 8 and McCusker scored 6 points. New Mission's Jamori Toney Simmons and Hassan Jenkins each had 12 points.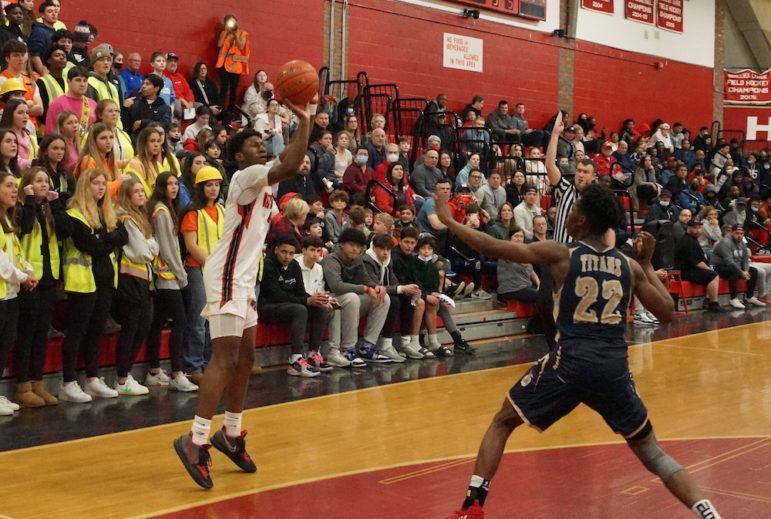 Next up for Watertown will be third-seeded Tech Boston (15-7), which beat Latin Academy 66-55. The Final Four game will be played at Framingham High School on Tuesday, March 15 at 7:15 p.m.
Harrington expects it to be a tough matchup.
"They're fast, they're big, they are athletic," Harrington said. "Similar to (New Mission), but probably a little faster, a little better. It's going to be a tough game for us."