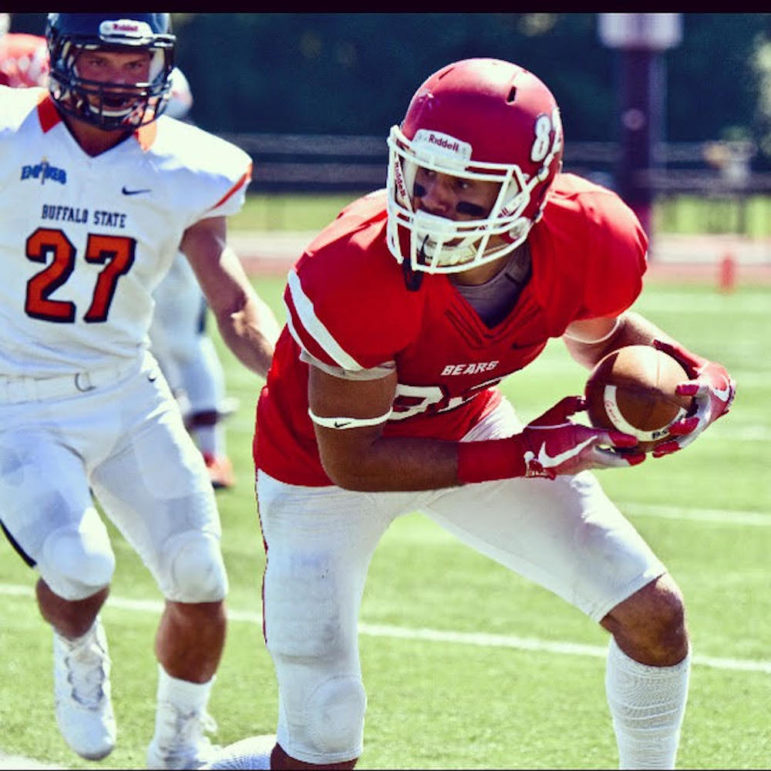 Watertown High School grad and standout wide receiver T.J. Hairston hopes to take his football career to the next level, and keep his dream of playing in the NFL alive this month when he attends an NFL tryout.
He has been invited by two teams to participate in the Pro Day at Holy Cross on March 22. Hairston also has lined up a tryout for a Canadian Football League (CFL) team in early April.
His route to this point has not been a typical one for a pro prospect, and he has the odds stacked against him coming out of a college in a lower division.
"I've played football, since I was 6," Hairston said. "I've had a passion for football my whole life. I have always had a vision of playing at the next level, wherever it may be."
Hairston, 26, graduated from Watertown High School in 2014, and he played football and basketball. He hopes to inspire other athletes from Watertown to dream big.
"I just want to really inspire the next generation of Watertown athletes. It is important that kids out of a small school that have dreams to play at the next level can do it," Hairston said. "They can at least be put in the position to do it."
Just getting a tryout has been a journey for Hairston. Unlike players at big time colleges, Hairston's school, Bridgewater State, will not host a Pro Day for its players. He had to find a school that would host him, and teams that wanted to come see him play.
Hairston hopes they like what they see.
"I'm about 6-4, 205 pounds and can catch the ball well. I am able to block well, and I can get some separation," Hairston said. "It didn't ring a bell until this season that I could play in the NFL. I went to my coach and said I want to play at the next level. I think I can."
The first step was to hire an agent, who helped get him some attention. He signed with Boston Sports Partners out of Beverley.
"(My agent) reached out to the Colts and Patriots," Hairston said. "The Colts said they like my size, that I can catch the ball and can block. He really likes big sized receivers."
The agent also had a contact at Holy Cross, and with two teams wanting to see Hairston, he got an invitation to take part in the event.
At the Pro Day, each prospect runs through a number of drills, including a 40-yard dash, and broad jump, a five-dead-five (five yard shuttle run). Then he will run some patterns and catch some passes.
On April 3, Hairston will be in Miami to tryout for the CFL.
"Every year the CFL does a try out for the public. Anyone can go," Hairston said. "I am trying out for the Calgary Stampeders. My girlfriend is from Miami. I'll be staying there."
Hairston has spent the past few months working out at Next Level Fitness in Johnson, R.I., to prepare for the tryout.
"I have been working on my 40-yard dash, my starts, squats, lunges, bench press, and 20-yard shuttle, as well," Hairston said.
The 40-yard dash is particularly important, and Hairston said if he can get down to 4.5 to 4.6 seconds he could "turn some heads."
His workouts have been led by his offensive coordinator from Bridgewater State.
"Most of this stuff costs you a couple thousand dollars. Guys go down to Florida and spend 5,000 for three months," Hairston said. "I've been getting training for free. I'm going to have to take him to a steak diner."
Hairston enjoyed his time at Bridgewater State, which plays in NCAA Div. 3.
"I had three good years at Bridgwater. I finished fourth all-time in receptions with 128 catches. Yards, I had 1,500, seventh all-time, and I had 11 career touchdowns," Hairston said.
Hairston landed back in Massachusetts after attending Ferris State, an NCAA Div. 2 school in Michigan, for a couple years.
"They won the national championship this year. They have always been good, a powerhouse," Hairston said. "Top three in the country since I was there."
Hairston redshirted his first year, and played the second season. He had a falling out with the receivers coach there, and decided to transfer. He ended up enrolling at Bridgewater in the Fall of 2017, but he didn't play that year.
While he was there, he was impressed by the team.
"I loved my time at Bridgewater, loved the coaches and my teammates," Hairston said. "I definitely learned a lot along the way."
He completed his bachelor's degree in general management with a concentration on marketing in the fall of 2020, and then enrolled in the MBA program.
While most players in the NFL come from Div. 1 (the FBS and FCS divisions), it is not unheard of for lower division players to make it. In 2021, there were 53 players in the NFL from Div. 2 and Div. 3 teams.
The NFL holds the draft on April 28-30, but Hairston does not expect to be chosen. However, teams invite undrafted prospects to participate in their rookie mini camps in May. Hairston hopes that will happen for him, and that he will be invited to a preseason training camp in June.
Teams start with about 100 players, and must reduce the roster to 53 by mid-July. In addition, teams have a 12-man practice squad, so there are 65 players total for each of the 32 NFL teams.
Hairston is a bit older than most of the players vying to be NFL rookies, but he says he still has it.
"I'm 26. I had a long road to get where I got to, but I don't regret the process," Hairston said. "I'm still young. I can still ball out. I can still compete with the younger guys. I'm in really good shape — I've been at it, training three, four times a week. I have been seeing a chiropractor to get my body right. I feel good physically and emotionally."