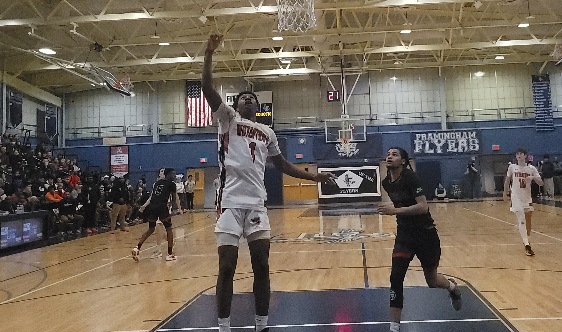 FRAMINGHAM — Watertown High School is heading back to the MIAA Div. 3 Boys Basketball State Final after beating Tech Boston 64-57 Tuesday night.
The Raiders jumped out to a big first half lead, controlling the first half, with a styffling defense and strong rebounding.
Pierre Paul Labossiere came out in fire and had two three pointers and scored in double digits in the first two quarters.
Watertown went into the locker room with a 24-11 lead.
They stretched the lead to 21 late third quarter, including two three-pointers by senior Tyler Timperio. After three quarters it was Watertown 44, Tech Boston 26.
I'm the fourth, Tech Boston whittled the lead, and then put on the full-court press. Thread shrank to 15. A couple more baskets dropped it to 11 and with 3:43 left they hit a lay up and hit a free throw after being fouled to make it 8 points.
With 3:11 left in the fourth, Tech Boston got within 6 points, 49-43 Watertown. Senior Adam Patterson went to the free throw line and hit 2. The next trip he hit one of two free throws to widen the lead to 9 with 2:50 left.
Two more Patterson free throws put the Raiders up 55-43.
Tech Boston reduced the lead to seven with 43.4 seconds left, but Patterson hit two more free throws. The final score was 59-50
Watertown plays St. Mary's in the State Final at Tsongas Center. The day and time have not been announced.