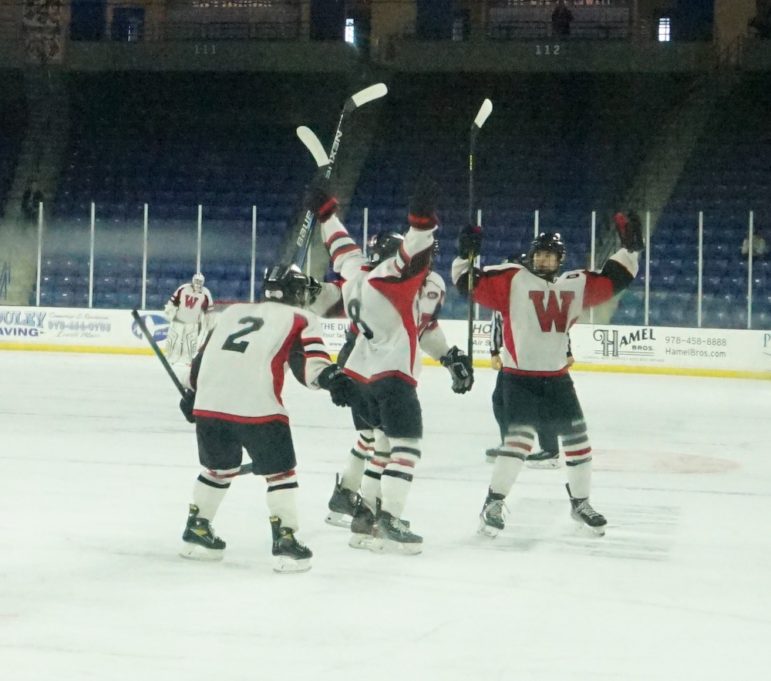 LOWELL — All season, the goal of the Watertown High School's boys hockey team has been "Getting to the Garden," but the dream almost slipped away in the Final Four game against Middlesex League rival Stoneham. The coaches gave the Raiders a simple goal: win the next 15 minutes.
In the first period, second-seeded Watertown (14-9-1) played a fast, flowing game, which has been very successful so far in the MIAA Div. 4 State Tournament. It worked again early Monday night at the Tsongas Center, producing two goals by sophomore Alec Banosian (both assisted by junior Anthony Venezia), and a third by senior Michael Cormier. That goal, assisted by sophomore James Erickson, gave the Raiders a 3-1 lead going into the first intermission.
Coming into the game, Watertown Head Coach John Vlachos was concerned about Stoneham, a team the Raiders split with during Middlesex League play.
"It's been us and Stoneham all year long. They are well coached. They coach with my brother, Rich Vlachos," Vlachos said. "They have a great first line. We just thought this wasn't going to be such a great matchup for us because they are just so offensively talented, and we're so defensively talented."
The second period saw third-seeded Stoneham (15-9) frustrate the Raiders attack and find its own scoring touch. Kolby Horgan and Danny Storella tied the game 3-3 late in the second. They got close to taking a lead heading into the break, but Watertown's junior goalie Casey Williams kept the puck out of the net.
"It was really hectic out there. I believed in my guys, that they would get it done. I just concentrated on getting saves," Williams said. "The second and third periods I definitely had to stay extra focused and make all the saves I could."
Vlachos said Watertown needed to find a way to tip things back in their favor.
"We needed to erase that second period, which got them back into the game. They did a great job getting back into the game," Vlachos said.
The coaches told Watertown's players they had one period to decide whether their dream of playing for the State Championship at Boston's TD Garden would remain alive.
"We told them whoever won that 15 minutes was going to get to the Garden," Vlachos said. "It's as simple as that."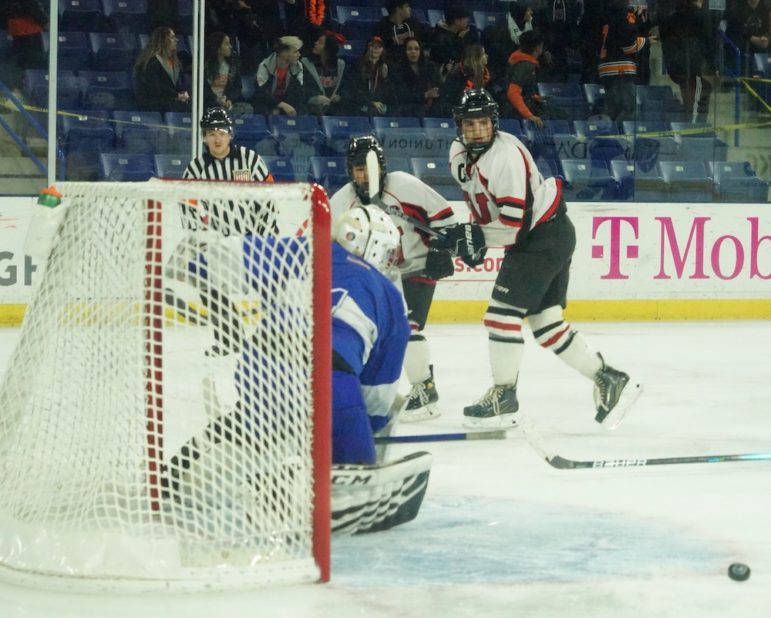 The third period started much like the second ended, with the Spartans pressuring the Raiders' goal, but the Raiders jumped on an opportunity, and senior Mason Andrade cashed in.
"I'm not sure how he got it, but Alec (Banosian) got it, went up the left side," Andrade said. "He deked the guy and went on net, put it on goal, and gave me a rebound."
Andrade pounced on the puck, quickly stuffed it in short side, over the goalie's pad with 11:13 left in the third period.
"It just popped out quick and I knew I had to put it in quick because the goalie wasn't ready for it," Andrade said. "Luckily I got it over his pad."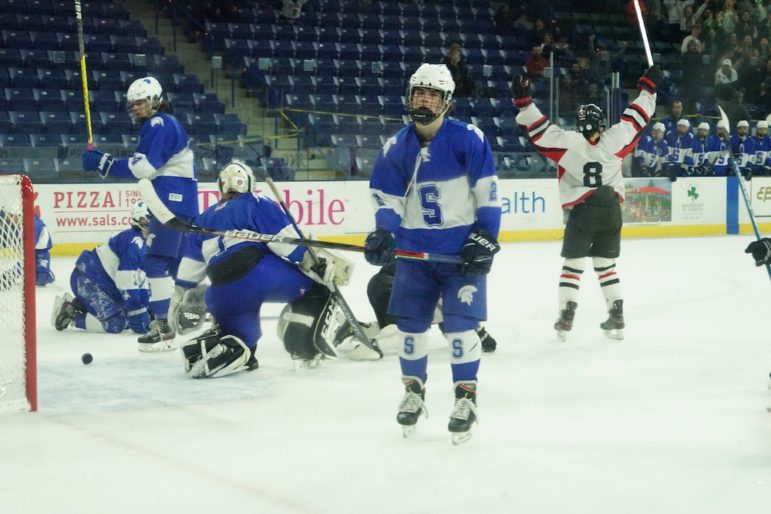 The goal came as a relief for Vlachos.
"Obviously, we needed that goal bad," Vlachos said. "I think if they would have gotten that goal, I'm not going to say we couldn't have come back, but we really needed that goal just to say we are going to level the game again."
After that, the Raiders could concentrate on what they do best.
"Defensively, we have been studs," Vlachos said. "That was the first time we have given up three goals in ages. We probably haven't done it in a month and half. Our defense has been rock solid and our goaltending has been great."
The Raiders survived the final push by Stoneham, which pulled its goalie with just over a minute left. The dream of playing at the Garden came true, but Vlachos said that is just part of the dream.
"For us, the bottom line was that the team was in our way to get to the Garden, whether it was Stoneham or everyone else," Vlachos said. "Our dream and our goal was to get to the Garden, and win!"
The State Final will be played on Sunday at 9 a.m. against fourth seeded Sandwich (17-4-3), a 3-2 winner over No. 1 seed Norwell in double overtime.