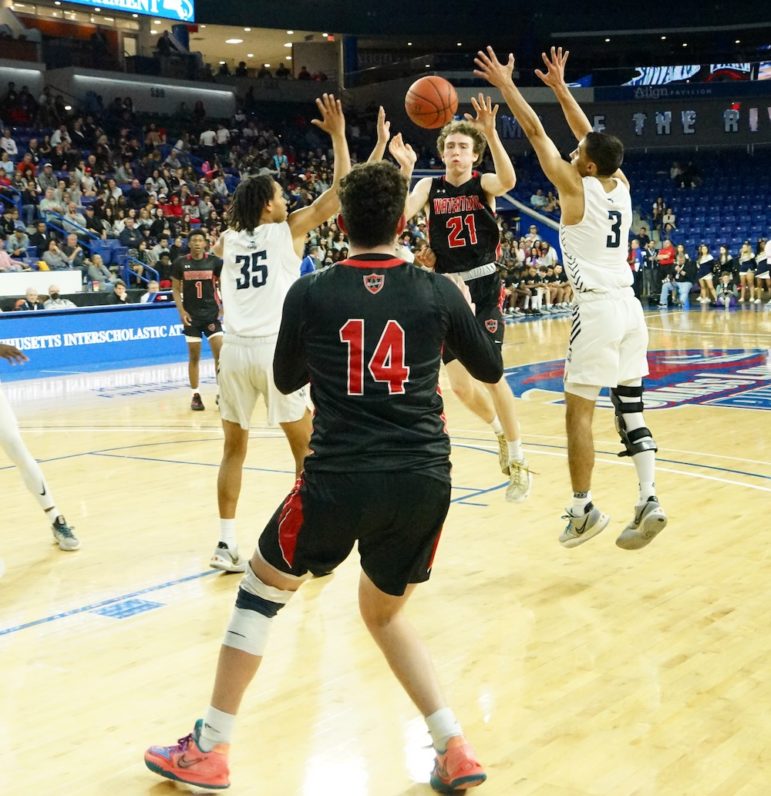 LOWELL — The first half of the MIAA Div. 3 State Final started like a dream for the Watertown High School boys basketball team. Like in the previous rounds of the State Tournament the Raiders jumped to a quick lead, but their championship dreams crumbled in the second half.
Second-seeded Watertown fell to the top-seeded Spartans 71-40 at Tsongas Center on Friday night. The loss ended the careers of five seniors, who Raiders Head Coach Steve Harrington called "a joy to coach."
Watertown came out firing on all cylinders, with senior Tyler Timperio hitting three three-pointers in the first quarter and senior Joseph Spinelli adding one of his own. The Raiders led 20-12 after the first.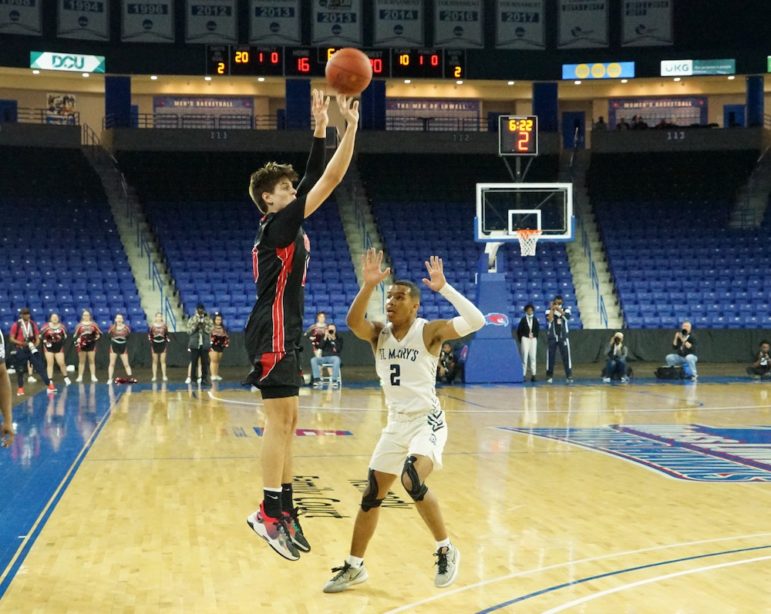 Senior leader Adam Patterson didn't get on the scoresheet until the second quarter, when he hit a lay up. One of his main jobs was trying to contain St. Mary's star guard David Brown Jr. Spinelli added five more points in the second, including a three, to help Watertown take a 31-27 lead into halftime.
The bottom fell out for Watertown in the third quarter, which saw the Spartans score 27 points, and limit Watertown to five. The key moment, Harrington said, was when Patterson picked up his fourth foul with 4:24 left in the third when he was called for a charge.
"I thought the first half we did a good job. A big part of the game were the fouls on Patterson," Harrington said. "I thought that changed how we had to play. I don't think it would have made a difference (in the outcome) but it certainly changed how we had to play."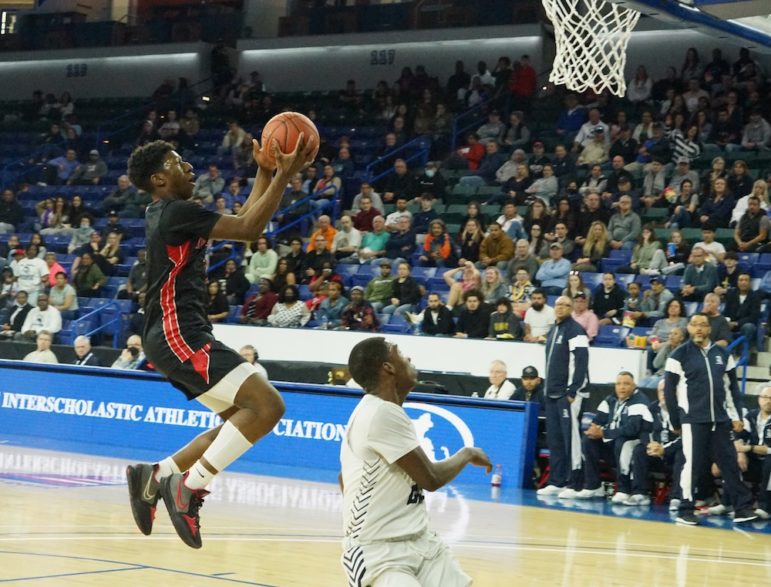 The Raiders had been playing man-to-man defense, and Patterson could interfere with Brown's shots. When he got in foul trouble Watertown had to change its strategy and the Spartans took advantage.
They also used a full-court press, which created turnovers, which St. Mary's converted into points.
"They scored more, they got into it and they had confidence," Harrington said. "You turn it over and you lose confidence."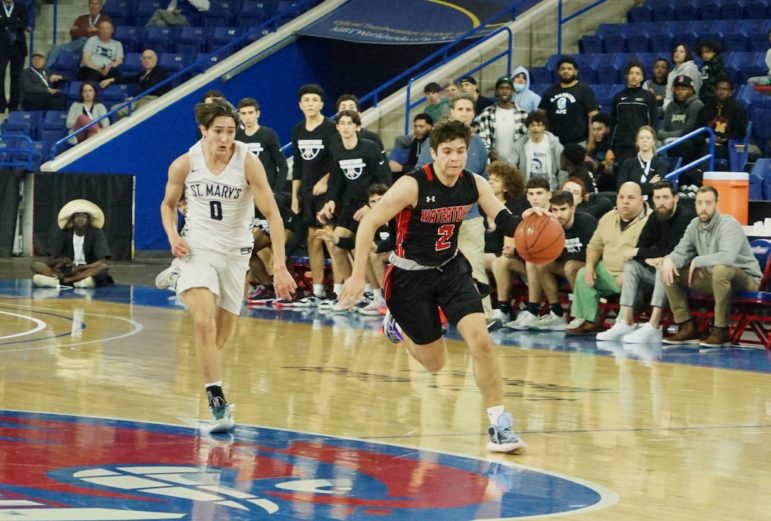 Watertown scored just four more points, and with under two minutes left both teams had put their reserves onto the floor. The final score was 71-40 St. Mary's.
The co-scoring leaders for Watertown were Timperio and Spinelli, with 11 points each. Senior Pierre "Fred" Labossiere scored in each quarter for a total of 10, senior SeanAnthony McCusker added six, and Patterson scored two.
St. Mary's top scorer was seniors Ali Barry with 19 points, and Brown added 11 points along with seven assists.
Role Models
After the game, Harrington described how much he enjoyed working with the current senior class. In the locker room after the game, he told the players that he looked forward to going to practice each day with them because they were a pleasure to coach.
"It sounds like something you say, but it was really an easy team to coach, a joy to be around," Harrington said. "I am just lucky to have had a chance to coach a quality team like that. I really mean that. They are good role models for everybody."
Patterson has committed to play basketball at WPI, and Harrington said he expects Timperio will be playing somewhere.
"We are trying to find a spot for Tyler," he said.
Labossierre could play either basketball or soccer at a Div. 3 college, Harrington said.
"Whatever I can do to help … I think they would be successful athletes moving forward, because they have got the right attitude. They are good teammates," Harrington said.

As for next year, Harrington said the team will have to "regroup" with the players who return next year.
"I am sure they will work hard and hopefully, like this team, they get better through the course of the season," Harrington said.
Watertown was seeking its fourth boys basketball State Championship, after winning in 2007, 2009 and 2018. The Raiders lost in the final in 2011.