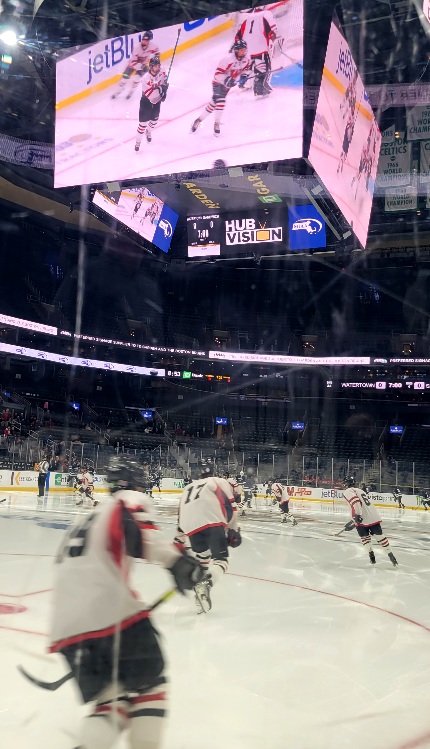 Hockey players get used to early morning ice time, but seldom does such an important competition occur at an early hour. The Watertown High School boys hockey team will play for a State Championship beginning at 9 a.m. on Sunday against Sandwich at the TD Garden.
Raiders' Head Coach John Vlachos said the 2021-22 season has been a team effort.
Follow the action live from the Garden here startingat 9 a.m.!
First Period
9:01 am – Looks like Jared Norton starting in net for Watertown
11:26 left – Watertown has a good shot at a rebound but the Sandwich goalie coverd it up
8:57 left – Sandwich ices it after a flurry of shots by the Raiders. Scoreless
8:36 left – Sandwich goalie freezes puck against post after it got past him. No goal
7:48 left – Norton makes a glove save for Watertown
5:41 – Anthony Venezia draws a penalty for Watertown
4:26 – Mason Andrade scores! 1-0 Watertown. Assisted by Anthony Venezia. A power play goal
0:08.5 – Sandwich scores, ties it 1-1. Scored bu Colin McIver, unassisted
End of First Period, Watertown 1, Sandwich 1. Shots were 14-4 in the Raiders' favor
Second Period
11:46 left- Most of the play has been in Watertown's defensive end
9:11 left – Sandwich goalie makes a glove save. Shots 5-3 Sandwich so far in the 2nd. Still 1-1
6:46 – Colin Campbell scores on a breakaway. Assisted by James Erickson. 2-1 Watertown
3:05 left – Sandwich gets a power play
2:50 left – Sandwich scores on the power play. 2-2. Goal Caleb Richardson, assisted by Christopher Cardillo
1:41 left – Watertown going on the power play
50.4 left – Watertown penalty ends the power play
End of 2nd Period, Watertown 2, Sandwich 2. Shots were 10-7 in Watertown's favor.
Third Period
Period will start 4 on 4 and then Sandwich will have a 51 second power play
Casey Williams in net for Watertown for the 3rd. That was a planned change
11:09 left – Williams makes a glove save. Still 2-2
7:36 left – Sandwich ices it
5:27 left – Watertown called for icing.
4:34 left – Banosian had a good chance with about 5 minutes left, but it was saved. Still 2-2
3:02 left. Watertown relieves the pressure with an icing
2:26 left – Sandwich goalie gloves it
1:00 left
37.6 left – Williams covers loose puck in the crease
Watertown takes its time out
24.1 left – Sandwich called for icing
End of 3rd Period. Watertown 2, Sandwich 2. Going to overtime
Overtime
8 minute sudden death overtime
7:25 left. Sandwich gets first good shot. Saved
6:01 left. Andrade had a breakaway but it was saved
4:59 left. – Save by Sandwich
3:23 left – Williams saves for Watertown
1:12 left – Sandwich takes a time out
16.3 left – Watertown icing
Mason Andrade almost scored at the end of the overtime. Still 2-2
Going to second overtime.
Now 3 on 3 for 8 minutes
Second Overtime
6:49 left – Icing on Sandwich
6:14 left – Sandwich scores. Blue Knights win 3-2
Preview
Watertown's strength is the overall team defense, Vlachos said, from the goalies (who switch off every other game), to the defenders to the forwards.
Even early in the year, the coaching staff had a feeling this may be a special year for the Raiders. Assistant Coach Tom Johnson said he recalls Vlachos saying "We're going to the Garden!" when the season was still young. Vlachos said he knew the team was special after the Belmont game. While Watertown lost 3-2, the Marauders only lost one game during the regular season, and got the seven seed in Div. 1.
The Raiders have many contributors this year. For the Final Four victory over Stoneham, junior Casey Williams was in net, and in the Round of 8 it was senior Jared Norton. After the semifinal win, Williams said the plan for the State Final is for the goalies each to play half the game.
The majority of the Raiders scoring has come from the first line of sophomore Alec Banosian, senior Mason Andrade, and junior Anthony Venezia. Banosian leads Watertown with six goals in the Tournament (with at least one in each game), plus three assists. Andrade has four goals including the game winner in the Final Four, along with four assists. Venezia has yet to find the back of the net, but he is the Raiders' assist leader in the Tourney with six.
Other top scorers during the run to the Garden have been junior Maurcio Souza (three goals, two assists), senior Michael Cormier (three goals), sophomore defender James Erickson (three goals, three assists), and senior defender Nathan Master (one goal, four assists).
Watertown (14-9-1) is the second seed in the MIAA Div. 4 Tournament, and will face fourth seeded Sandwich (17-4-1), which handed top-seed Norwell its second loss of the season in a 3-2 double overtime victory in the Final Four.
The Blue Knights' top scorers in the Tournament have been Colin McIver (five goals0), Jack Connolly (four goals), and Caleb Richardson (four goals). Defender Drew MacKinnon scored three times, while goalie Mitchell Norkevicius posted a shutout against Shawsheen in the Round of 8.
Tickets are available online by clicking here.