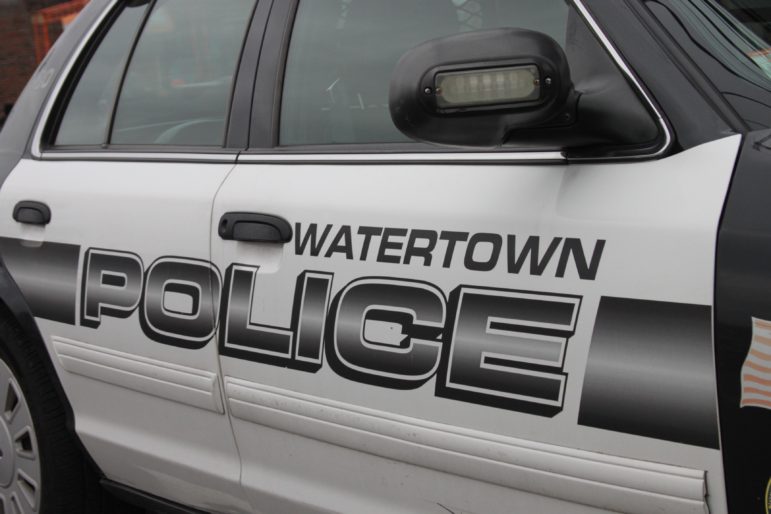 The following information was provided by the Watertown Police Department.
Arrests
March 17, 3:03 p.m.: Officers were at Target when they were alerted about a possible shoplifter. One of the employees saw the man take some headphones and a portable charger, and then exit the store. He rode away on a bicycle. The officer saw the same bicycle parked alone in front of Best Buy. He went inside and found McFarland. While speaking with him officers located the stolen property, a $50 pair nano buds and $40 portable charger from Target. They also found he had three active arrest warrants. Mathew McFarland, 35, of Cambridge, was arrested on a charge of shoplifting and the three warrants: one from Brighton District Court for trespassing, one from Cambridge District Court for intimidation of a witness, and a second from Cambridge for larceny under $1200.
March 18, 5:10 p.m.: Two men got into an altercation on Warren Street. One man was in a van and another was yelling at the man in the van. The suspect said that the man in the van owed him money. Officers tried to calm him down, and attempted to deescalate the situation by taking the man out of the van and around the corner. The suspect did not calm down and when they attempted to take him into custody the man tried to wrestle away from police. One of the officers suffered minor scrapes to his knee and elbow. Karapet Dzhanikyan, 42, of Watertown, was arrested and charged with disorderly conduct, resisting arrest, assault and battery on a police officer, and threats to commit a crime (for threatening the man in the van). 
Incidents
March 15, 6:05 p.m.: The manager of Work 'N Gear reported that two men came into the store and took merchandise. One acted as a lookout and the other took a pair of work boots. Police got a description and were told one rode on a black bike with white lettering. Police looked around the area and saw the bike parked in front of Marshalls across the street in Arsenal Yards. The officer encountered one of the men, who admitted to shoplifting at Work 'N Gear. He also had items from Marshalls concealed in his jacket. He said his friend was still inside Marshalls. Police located him and he was wearing the boots he had stolen. The merchandise was recovered and returned to the stores. The stores declined to pursue criminal charges.
March 16, 8:28 a.m.: Police responded to a  Grandview Road for a stolen catalytic converter. The owner said that it occurred between 4 p.m on March 10 and 8:28 a.m. on the 16th. The 2004 Toyota Prius was parked in the driveway. 
March 16, 12:30 p.m.: A Waverley Avenue business reported a telephone scam. An employee received a call from an unknown number and the caller said that the person's employer had asked him to request $500 from the store. The person told the employee to wire the money to Mexico. After the money was sent the employee realized it was a scam and alerted the owner.
March 16, 1:12 p.m.: A man and woman were seen at Best Buy carrying an HP laptop out of the store. They were asked to show a receipt to show they had purchased it, but were unable to do so. They said they were there to return the computer. When security asked them to stay while they checked surveillance video the couple left. They got into a black Toyota Corolla. Police are in the process of identifying the suspect.
March 16, 5:54 p.m.: A Pierce Road resident reported that a catalytic converter had been stolen. The owner realized something was wrong when a loud noise came from the Toyota Prius. It occurred overnight on the evening of March 15.
March 17, 12:25 p.m.: A Pleasant Street resident had made an order on Amazon but it was never delivered. The man received a call from someone claiming to be an Amazon employee, who said the man had been over refunded for the shoehorn he ordered. The man said he had to purchase $1,600 in Amazon gift cards to reimburse Amazon. He was then told to wire $1,950 from his bank. The transfer was stopped by Bank of America when they realized it was a scam. He was unable to void the gift cards.
March 17, 6:09 p.m.: A man reported he had lost his wallet. He was contacted by his credit card company about five unauthorized charges totaling $245. The charges were made at several locations in Watertown. Police are investigating.
March 18, 11:23 p.m.: Two men got into a physical altercation inside Dunkin' on Mt. Auburn Street near Watertown Square. One man said he grabbed the other man because he didn't like his behavior. He said he kicked over a cup of coffee and was acting like a bully. After some minor pushing the two were separated. Police said they could seek charges in Waltham District Court and peace was restored.
March 19, 11:03 a.m.: A Watertown Street resident reported that two packages were taken from his home at 10:41 p.m. Security video showed what appeared to be two men, ages 20-30, both of whom had facial hair. The packages contained clothing valued at $400. Police are trying to identify the suspects.