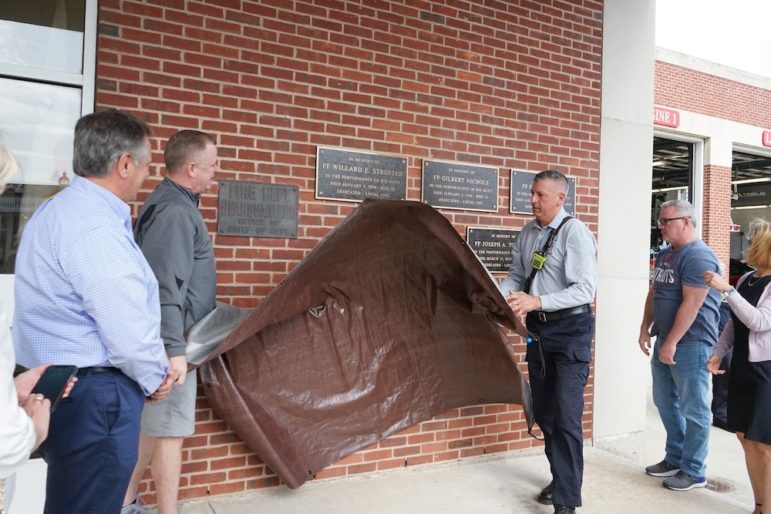 Five Watertown Firefighters who lost their lives in the line of duty will have a permanent place at the Watertown Fire Headquarters. Each was memorialized with a plaque placed on the front of the building.
The Watertown Fire Department unveiled the plaques to Willard Streeter, Gilbert Nichols, Ernest Ford, Charles Morrill and Joseph Toscano on Wednesday afternoon. Watertown Fire Chief Bob Quinn shared some words about those honored with the memorial.
"Today we honor these five who did not come home. They were all people who accepted the dangers of firefighting and were last seen on duty. We add their names to this building, and we do so with pride and with deep gratitude," Quinn said. "These plaques are dedicated to the families of these five firefighters left behind as a permanent memorial of their service, bravery and heroism."
Firefighters Remembered
Streeter died on Jan. 1, 1934 at Fire Headquarters after returning from a box alarm and a still alarm.
Nichols died just two days later, on Jan. 3, 1934, while working at a second alarm fire at 19 Morse St. He collapsed at the fire and died on the way to the hospital in the car of Newton Fire Chief Clarence Randlett.
Ford died on Jan. 2, 1939, as a result of injuries he sustained during a hurricane in 1938.
Morrill died on April 13, 1959 while working at a fire in the old East Junior High School (now the Brigham House).
Toscano died on March 17, 2017 working at a second alarm fire at 29 Merrifield Ave.
The ceremony was held on the 63rd anniversary of Morrill's death. Quinn said it took place at 3:05 p.m. because that was the date and time that the alarm was transmitted for the fire where he died.
Families Take Part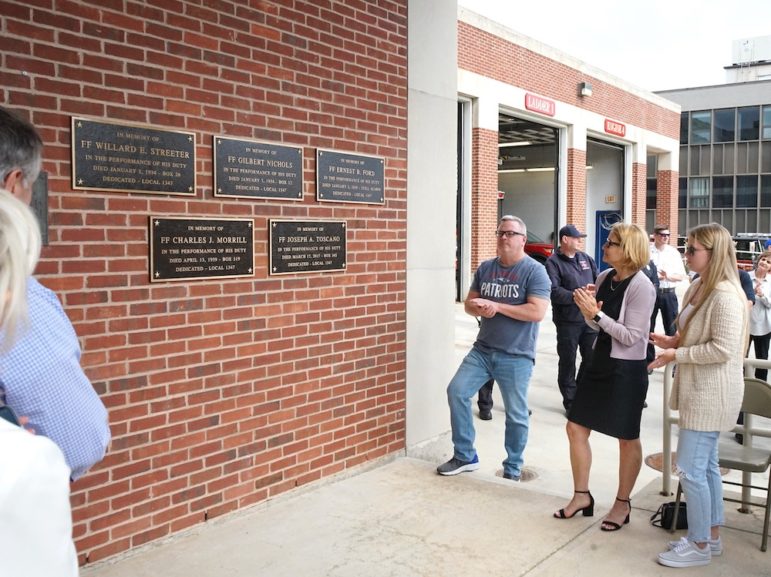 Some family members of the last two firefighters who died on-duty attended the ceremony.
David Morrill was just 11 months old when his father died. He said the memorial at the Fire Headquarters means a lot.
"It is quite an honor," Morrill said. "We didn't expect it, especially 63 years to the day."
Morrill has two brothers, Charles and Richard, who couldn't attend the ceremony, and his mother passed away.
"She'd be extremely happy," Morrill said.
Maureen Toscano and her daughter Mary Cate also made it to the ceremony. She said it was a beautiful way to honor her husband, Joe, and the other fallen firefighters.
"He loved coming to work here, that's for sure. It's a great memorial. It is really nice that the union did this for him," Toscano said. "I didn't know there were so many until I saw this. Everybody from the town should see this."
The Plaques
The idea of having a permanent memorial to Watertown's firefighters lost while serving the town (now city) has been discussed for years, Quinn said. The plaques were paid for by Local 1347, the Watertown Firefighters Union.
Rob Mannix, president of Local 1347, said he has a special connection to one of those memorialized. His grandfather, Albert, was in the car taking Nichols to the hospital when he died. He was happy to see that the memorial was completed, and before Chief Quinn retires.
"It should have been done a long time ago, but we are happy to do it now," Mannix said. "It's long overdue and it's beautiful. This is a real tribute to Chief Quinn, especially with just a couple weeks to go." 
Quinn had a strong bond with Toscano, who served as his aid for 13 years while Quinn was a deputy chief. The Chief also had a connection to Morrill through his son Richard, who served on the WFD for a few years, and joined the department the same year as Quinn, 1987.
"When I came on with Richie they always talked about his father passing away," Quinn said. "I always knew he passed away, but there was never really any remembrance. When we experienced Joe's death we said we really need to do something to make sure that these guys get remembered, always."
Placing the plaques on the front of the building was also important, Quinn said.
"When you walk in and out of the building; guys that work here, people who visit here, they can see that we had five people that have sacrificed their life on account of the City of Watertown," Quinn said. "It's important that they never be forgotten."