Lovers of baked goods will have a new, but familiar name to visit in Watertown.
Quebrada Baking Co. will open its fourth location on the corner of Orchard Street and Waverley Avenue (across from the fire station) on Monday, April 25.
Co-owner Schuyler Wiggin said fans of the other stores will find their favorite baked treats in the Watertown location. He added that the store will be similar in size to the Belmont location.
"Unfortunately we will not have a lot of seating, due to space limitations," Wiggin said. "We are going to bake fresh in there every morning — cakes, cupcakes. It will be just in line with any of our other stores."
The bakery will move into a space that had a very different use in the past, said Wiggin, who co-owns Quebrada with his sister Emilie.
"It used to be a gas station for a long time, and a mechanic and garage," Wiggin said.
Quebrada's first bakery opened in Arlington near the Capitol Theater in 1974. It was founded by Wiggin's mother Kay. The name, Wiggin said, comes from a word used in Colombia, South America, that means a break in terrain where you can stop and relax during a hike.
"My parents spent a lot of time in South America," Wiggin said.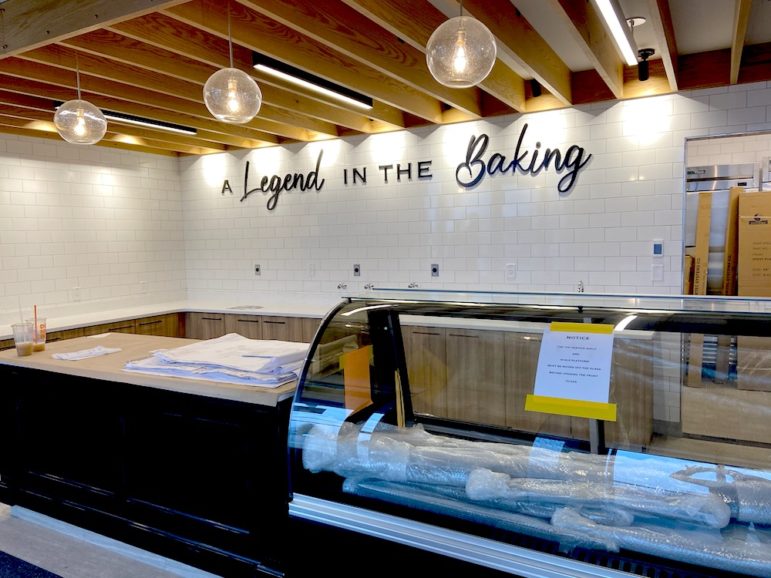 The next bakery opened in Wellesley, and about a decade ago a bakery opened in Belmont Center. Watertown seemed like the next logical location, for a number of reasons, said Wiggin.
"We've always liked Watertown. My wife (Kayla Romanelli Wiggin) grew up in Watertown. My mother- and father-in-law live just up the street from where the bakery is," Wiggin said. "I grew up in Belmont and always liked Watertown. We have (bakeries in) Belmont and Arlington. Watertown seemed like the logical place to go. And we like idea of being in the neighborhoods, a more residential area so we can be part of the neighborhood and be part of the community."
It has taken some time to get the spot ready to open, though COVID was just a part of the reason for the delays.
"My sister and I bought it with the idea of turning it into a bakery, and we closed on it in February of 2020. Then we had the shut down in spring." Wiggin said. "We paused everything for 6 months and started the build out in spring 2020 — almost 2 years ago."
One of the biggest hitches was getting the proper electrical service for the bakery.
"We had a tough time. Eversource took 13 months to get the transformer to power the building," Wiggin said. "It didn't get installed until this past February."
They have made the most of the delayed opening.
"The building has pretty much been done for the better part of 8 months," Wiggin said. "All for the better. We are really ready to go now. We have great staff. People have been able to train extensively at our other stores. A lot are working in Wellesley. The head baker in Watertown is coming over from Wellesley, and she has worked there a long time at the business."
The dedication of the employees has played a big part in the success and longevity of Quebrada, Wiggin said.
"Part of the story of Quebrada is the people who worked there. The have dedicated 30, 20, 10 years," Wiggin said. "That stability has been a blessing for my family. Outstanding people built the business. Emilie and I are doing what we can to continue on and do right by all these really great people."
Find out more at quebradabakingco.com