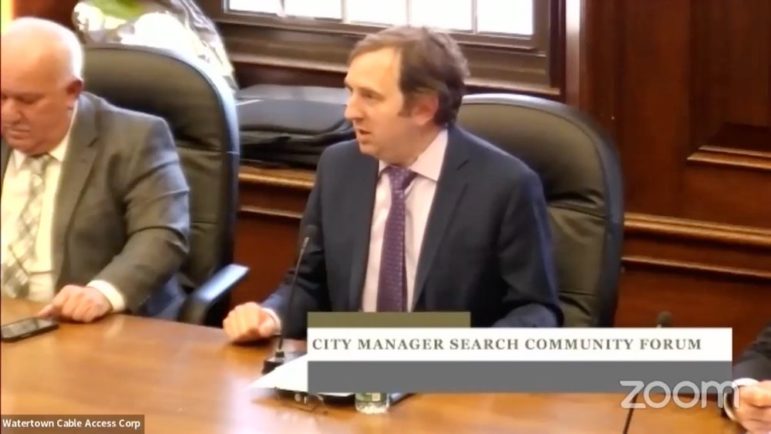 The decision is not official, but a majority of members of the City Council said that they would choose George Proakis to be the next Watertown City Manager after interviewing the three finalists on Thursday night. The official vote will be made at a future meeting.
Proakis, who is Somerville's Executive Director of Somerville's Office of Strategic Planning & Community Development, has not been the manager of a city or town, but Councilors said they liked his vision.
Councilor Caroline Bays said that all three candidates appealed to her, and said if all three were combined they would have a "miracle manager."
"(Billerica Town Manager) John Curran's a whiz at finances and (Hopkinton Town Manager) Norman Khumalo had me at ubantu [humanity in the Zulu language]," Bays said. "And maybe at a different time that would be what we would need but at this time, but at this point in our development and where we are as a city, I felt like George Proakis really got us. He understood what our issues and our challenges. He understood what our values are and most importantly he had a vision. He has a vision for our future, he seems to know where we should go and he knows how to get us there."
Council Vice President Vincent Piccirilli agreed with Bays assessment and said that Proakis is "head and shoulders above the rest."
"He has the ability to efficiently communicate with and hear from the public and has developed long-term complicated urban planning things," Piccirilli said. "And he is well respected by large staff he oversees in Somerville, and he has the management skills to create a positive and productive work environment in Watertown."
Proakis demonstrated an understanding of complex issues facing municipal governments, said Councilor Nicole Gardner.
"I think he really understands … the interconnectivity of the issues we are facing: what climate has to do with transportation has to do with urban growth has to do with revenue growth from businesses coming in and goes back to housing," Gardner said. "All these things work together, and he thinks about these things in a systematic way, and I think that's important."
Councilor Emily Izzo said one thing that impressed her about Proakis was his communications skills.
"I thought his answers really showed how calm and even tempered he is," Izzo said. "I can just picture how he could appeal to all the different groups in town."
Councilor John Gannon said he has worked with all three finalists in different capacities, including with Proakis in Somerville when Gannon was City Attorney and Proakis was "implementing large scale projects."
"I am impressed with his ability to harness resources for the cities he worked with and the results that came in," Proakis said. "Having also worked with the City of Somerville, it is very vibrant, there are tons of things going on there, and anyone who worked there had such a perspective about what local government can and cannot do, and especially can. I think Watertown could be served well by having someone who can envision what government can be and what Watertown can be."
Council President Mark Sideris closed by thanking the manager search consultant Bernie Lynch and his firm, Community Paradigm, for the embarrassment of riches the Council had to choose from.
"As you can see from two meetings this week, they did a good job bringing people to this community that were very qualified to do this job," Sideris said.
Proakis was not looking for a new job, Sideris said, and Lynch was able to talk him into applying. Sideris said the Council's final vote will be made at another meeting (the date was not announced Thursday). He added: "I will not change my mind, I will be voting for George Proakis."