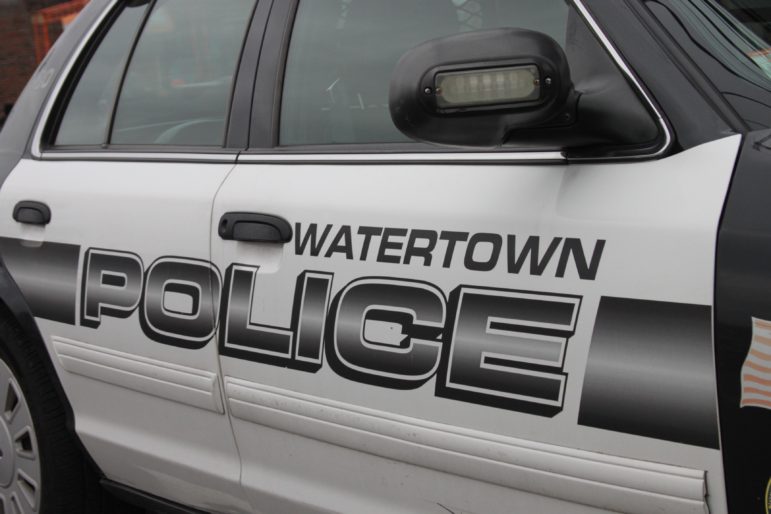 The following information was provided by the Watertown Police Department.
Arrests
May 5, 9:30 p.m.: A Watertown man who has a harassment prevention order against a neighbor called police to report that the neighbor violated the terms of the order. The neighbor had gone into the basement and damaged some of his property, and was caught on video. Also, the neighbor blocked the man's car in the driveway. Police responded and determined the neighbor had violated the harassment prevention order. Leo Barsoomian, 61, of Watertown, was placed under arrest for violation of a harassment prevention order.
May 8, 3:37 a.m.: Officers responded to a motor vehicle accident on Mt. Auburn Street near Franklin Street. A black Volkswagen van had crashed into the back of a Bobcat construction vehicle. The Bobcat was parked in a legal parking spot and surrounded by orange cones and construction barriers. The driver showed signs of impairment, and smelled like alcohol. He admitted to consuming alcohol prior to driving, and did not pass four field sobriety tests. Roger Colella, 50, of Watertown, was placed under arrest for driving under the influence of alcohol, and was cited for marked lanes violation.
May 8, 4:53 a.m.: Security cameras caught footage of a man looking under a tarp covering a restored vintage police car parked at the Watertown Police Station in the employee lot. He got into the car and then exited a short time later. Officers went out to speak with the man and learned that he had two arrest warrants. Joseph Stowers, 33, homeless out of Watertown, was arrested for breaking and entering a vehicle in the nighttime, and the warrants from Waltham District Court: one for open and gross lewdness, and one for driving with a suspended license.
May 8, 9:41 p.m.: A man went to Shake Shack to pick up an order made online, but he arrived after closing time, 9:30 p.m. Employees were inside but did not open the door. The man got angry and kicked the door. He stood outside for about five minutes and then got into a vehicle parked outside Shake Shack. An employee came out and took pictures of the man and his license plate. When she was doing so, the man got out of the vehicle and sprayed her with pepper spray. She went around the back of the vehicle and at that point, she said, he began to back up and struck her hard enough to cause her to fall down. Two other people witnessed the event. The man drove away, but police were able to identify the man, and he was located at his home in Brighton by Boston Police. Muhammet Sahvelet, 22, of Boston, was charged with two counts of assault and battery with a dangerous weapon.
Incidents
May 5, 2:30 p.m.: A resident discovered that $1,400 was missing from his Bank of America account on May 2. He contacted the bank and they advised him that they would look into it. They discovered his Social Security Number had been compromised and an account was opened in New Jersey using his name and information. The man was reimbursed and the bank is investigating.
May 5, 9 a.m.: A vehicle parked on Garnett Street had its catalytic converter stolen. The owner came out at about 6 a.m. and heard a loud noise coming from the exhaust area when she started her 2009 Toyota Prius.
May 5, 3:50 p.m.: A Watertown woman received an email from someone she thought was from Best Buy saying there was a charge in her account. She was asked to call Best Buy to resolve the issue. When she contacted the number they gave her, she was asked to go online and fill out a form. The person was able to access her computer remotely. Then, she was asked to transfer $80 from her bank account to Best Buy. At that point, she discovered that $1,000 was being transferred. When she realized something was going on she hung up. The woman went to Bank of America to tell them what had happened, and they confirmed it was a scam. They found out the money had not been transferred.
May 6, 7 a.m.: A vehicle parked on Arlington Street had its catalytic converter stolen. The owner said it was parked overnight and discovered it was missing when he heard a loud noise coming from his 2004 Honda Element.
May 6, 9:15 a.m.: A juvenile and his parent reported that a bike had been stolen from the back of Best Buy. The juvenile locked the black multi-speed Giant-brand bike to a pole behind the store at 3:30 p.m. When he came back at 9 p.m. the bike was gone. Police are investigating and are seeing if there is any surveillance video.
May 6, 10:20 p.m.: A Crawford Street resident reported a theft of two packages from Amazon. One contained stainless steel piping valued at $192.84, and the other had a portable grill valued at $50. The packages were confirmed delivered, but the resident never got them.