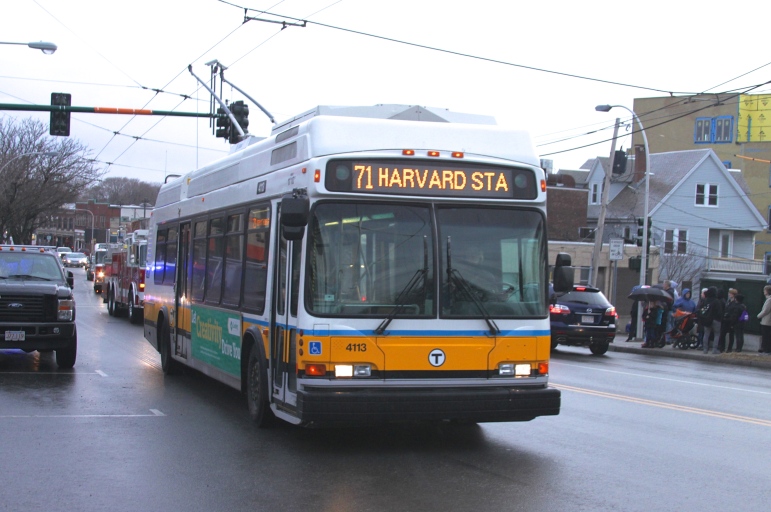 The MBTA has proposed some major changes to its bus service, including more frequent runs for the 70 Bus and the addition of two routes: one serving Newton and Waltham, and another that goes from Riverside Station in Newton to Arlington and includes Belmont.
The changes are part of the Better Bus Program, the MBTA's proposal to revamp parts of the bus system to meet the changing needs of the Greater Boston area due to shifting demographics, new employment centers, increased traffic congestion and changing travel patterns, according to the MBTA's website.
Recently, the MBTA released a proposed map of the new bus routes (click here to see an interactive map).
The changes impacting Watertown include increasing the frequency of the 70 Bus from the current service, every 30 minutes or less during midday and on weekdays, to every 15 minutes or less seven days a week under the proposed plan. The 71 and 73 Buses also will have services every 15 minutes or less.
New Routes
A new route, the 61 Bus, would go from Watertown Yard (on Galen Street), around the rotary in Newton Corner (with the Sheraton over the Mass. Pike), along Washington Street to West Newton, head up Waltham Street in Newton to High Street in Waltham, up Moody Street to Waltham Center. From there, the route goes to North Waltham, via Bacon Street, Totten Pond Road, and Wyman Street.
The 61 Route would run every 60 minutes or less and replaces service currently provided by the 553, 554, 556 and 558 routes.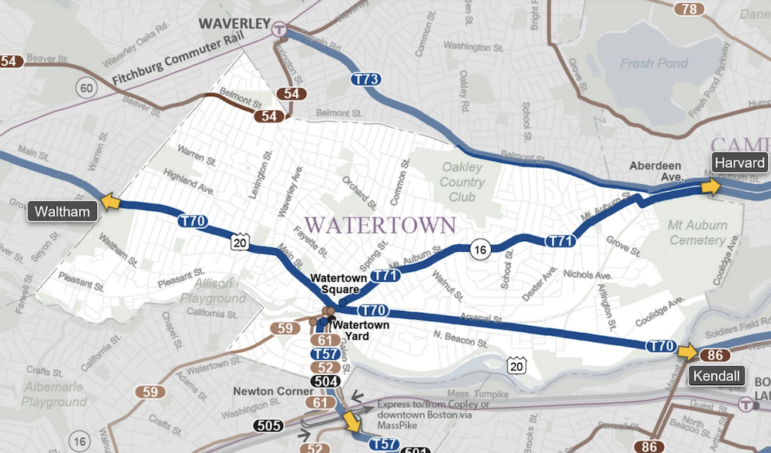 Another new route is the 54 Bus. In Watertown, it would run along Belmont Street, which is the current route of the 554 Bus. The 54 would go from the Riverside Green Line Station to Auburndale in Newton, along Moody Street in Waltham, along Beaver Street in Waltham to Belmont Street in Watertown, goes to Waverley Square in Belmont using Lexington Street, heads to Belmont Center, and takes Rte. 60 to Mass. Avenue in Arlington Street. The 54 Bus would run every 30 minutes or less.
Public Input
The planning stages for the Better Bus Program runs through 2022, and the final plan will be presented to the MBTA board for approval in the Fall of 2022. Changes would be implemented from 2023 to 2028.
People can provide input to the MBTA and get more information about the changes during a series of virtual meetings, including one on the entire system on May 19 at 6 p.m., and another about the inner core — including Watertown — on June 16 at 6 p.m. (click here for details). A public hearing on all the proposed changes will be held on July 26 at 6 p.m (click here for info).
Feedback can also be provided through the MBTA's online survey. Click here for the survey.