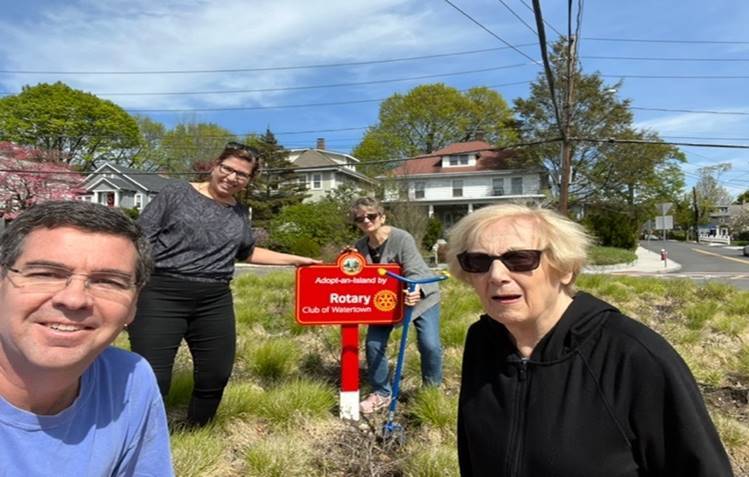 Recently, members of the Rotary Club of Watertown grabbed some gardening tools to help spruce up a traffic island in Watertown.
Watertown Rotary has taken responsibility for weeding the rotary on Common Street as part of the Department of Public Works' Adopt an Island Program, said Maria Papadopoulos of the Rotary Club.
"Passers by were thanking us which was heartwarming!" Papadopoulos said.
The Rotary Club has plans to go beyond just keeping the area weed-free, Papadopoulos said.
"We will be meeting with public works about adding some colorful flowers as well," she said.
Two groups have signed up to be part of the Adopt an Island Program, said Bob DiRico, the DPW's Parks Supervisor. Along with the Rotary Club, Watertown Landscaping is participating. Two others have expressed interest in joining, DiRico said.
The program provides an opportunity for companies, civic groups, organizations or even individuals to take responsibility for making a traffic island or other designated public space and "create attractive, welcoming oases," according to the DPW.
"By adopting an island, the sponsor commits to maintaining the landscaping of the designated areas by having services performed including but not limited to trash pickup, grass cutting, weeding and providing approved plantings," the Adopt an Island application said.
Groups must sign an agreement with the DPW and pay a fee. As part of participation a sign will be installed at the location with the name of the business, organization or person.
The initial commitment for the Adopt an Island Program is a year.
See more information about the Adopt an Island Program by clicking here. Those interested in available locations can email the Department of Public Works at dpwdept@watertown-ma.gov or call 617-972-6420.