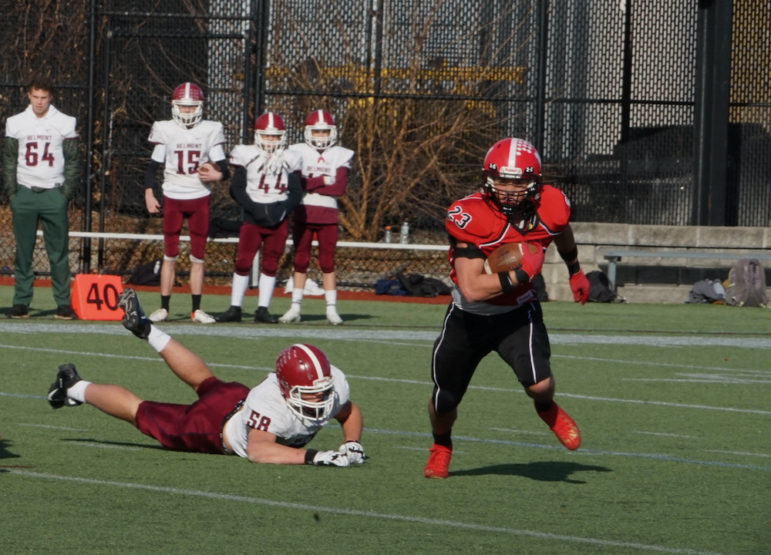 Watertown High School football standout Mason Andrade will be headed to play in the ACC next fall after being offered a spot on the Wake Forest football team.
The senior rushed for 1,575 yards in the fall, was named the Middlesex League MVP, and made the Boston Globe's All-Scholastic team. While it looked like he was going to play at an NCAA Div. II school in Massachusetts, he able to get a spot on a Div. I Power 5 Conference school.
"Ya, it's a dream come true," said Andrade, who said he got word about a week to a week-and-a-half ago.
Until recently, it looked like Andrade was headed to Bentley University. He also considered Stonehill College and Bryant University. Then he got his acceptance to Wake Forest, located in North Carolina. Andrade said the school appealed to him not just for football, but also academically.
After getting into Wake, Andrade sent his tapes to the football coaches, and he was offered a spot on the team.
"The running backs coach was the one who watched my film and he said he wanted me on the team," Andrade said.  
Watertown Football Coach John Cacace said "this great accomplishment for Mason."
"He's a terrific athlete and will be among some of the best athletes in the country when he arrives at Wake Forest," Cacace said.
Breaking into an ACC team will be a challenge, he added.
"Mason will have his work cut out for him," Cacace said. "He has 85 scholarship players from all over the country in front of him to compete with. I wish him the best of luck!"
Having an athlete from WHS play on a Div. I football team is a big accomplishment, said Watertown Athletic Director Ryan Murphy.
"Wake Forest, that's not joke, especially out of a school like this," Murphy said. "To see someone play Div. I is a really, really high caliber thing. It's really impressive. Hopefully it will help our program a little bit."
Andrade joins a select group of Raider football players. The last WHS football player to play in NCAA Div. I was 2010 graduate C.J. Logan, Cacace said, who got a full scholarship to play at Villanova.
"He is the only other D1 player in my 15 year tenure here," Cacace said.
Villanova plays in the FSC (Football Championship Subdivision), formerly known as Div. I-AA. Wake Forest is in the FBS (Football Bowl Subdivision), the former Div. I-A.
Before that, Tom Dicker received a football scholarship to play at Boston University (which played in Div. 1-AA until it dropped football in 1997) after graduating from WHS in 1996.
"I believe Tom has the school record — or at least the most rushing yards in the past half century — at 1,631 yards his senior year," Cacace said.
Wake Forest plays some big names, and Andrade may be back in Boston playing for the Demon Deacons.
"It's the ACC: BC, UNC, Clemson," Andrade said.