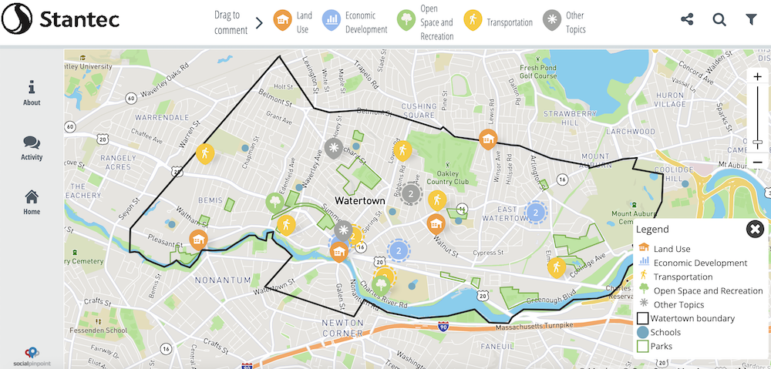 The process of updating Watertown's key planning document, the Comprehensive Plan, has begun, and people who live and/or work in the City can give their input in a variety of ways.
City officials held a community forum on Thursday, but those who were unable to attend can still give their opinions and ideas, said Watertown's Assistant Director of Planning Gideon Schreiber.
The City adopted the Comprehensive Plan in 2015, and now the document is being updated. It includes a variety of areas, including land use, economic development, open space and recreation, and transportation. 
"The Comprehensive Plan will be the backbone for future zoning amendments, and looks at different aspects and areas of the city," Schreiber said. "It is a plan and future land use map for where we are going."
One of the focuses is economic development.
"We're looking at both the large-scale development, which has been going gangbusters in Watertown, but also the brick and mortar on the main street," Schreiber said, who noted that in Watertown most businesses are not on Main Street, but on other corridors such as Mt. Auburn Street, Pleasant Street, and Arsenal Street, as well as other pockets in town. "All these areas and businesses are very important. We want to make sure we are looking at this in the process."
Because this is a revision of the Comprehensive Plan, rather than creating it from scratch, the process will be relatively short. The planning process will continue until October. Then the draft plan will be created, and will likely be finalized in February to March 2023, Schreiber said.
During that time, there will be in-person meetings with opportunities to also participate remotely, but there are other ways to participate.
"You don't have to be there in person, and if you can't make it to the meeting this is where our website comes in," Schreiber said.
The website will have a variety of ways to participate, and new items will be added. The website can be accessed by clicking here.
One of the current opportunities to give input is through the interactive map (click here to access the map). On the map, people can grab one of the four icons from the top — land use, economic development, open space and recreation, and transportation — put it on the map and leave a comment or idea. Pictures can also be added. Other people's comments will show up, and people can like or dislike the ideas.
The City also plans to have online surveys, and Schreiber said there will be some more informal in-person events where people can give input, including walk-and-talks that he will guide through the key areas of town.
Thursday's Community Forum was taped by Watertown Cable, and will be posted on the WCA-TV website, wcatv.org.