Around 200 people crowded into a tent outside the Commander's Mansion Saturday evening to thank and pay tribute to the man known as "Fiscal Driscoll," for his leadership of Watertown's government for nearly three decades.
Along with his financial prowess, people recalled former Town Manager (City Manager for the last few months) Michael Driscoll's detailed memory, his ability to make the tough decision even when unpopular, and his devotion to the community he worked for for 45 years.
The list of what was accomplished under his leadership is long, and Council President Mark Sideris read the City Council's proclamation, which included the highlights: Starting curbside recycling, the Faire on the Square, the free Summer Concert Series, and the Watertown Farmers Market. Building the Senior Center, a new Police Station, the renovation and expansion of the Watertown Free Public Library, and building the new Public Works Building. Renovating three fire stations, city hall, the Ryan Skating Arena, and multiple parks and playgrounds.
Among the highlights of the highlights were the city achieving the AAA bond rating from Standard & Poor's in 2013, fully funding the retirement program, and creating a plan to fully fund the OPEB (other post employment benefits) retirement system which is anticipated by Fiscal Year 2031, and enrolling municipal employees in the group insurance program.
Sideris finished the list, saying: "His crowning achievement is the construction and renovation of the elementary schools and the beginning of the construction of the Watertown High School, which are all [the new ones] net zero buildings, and a LEED Platinum high school, only the third in the nation. And, all within the confines of Proposition 2 1/2."
Driscoll's contribution to the Watertown Public Schools will be recognized in one of the new buildings, said Superintendent Dede Galdston.
"On behalf of every single person in this community that will benefit for the next 70-80 years for all that you have done for the public schools," Galdston said she will recommend that the School Committee honor Driscoll by naming one of the four community spaces in the new Watertown High School after him.
Community First
People recounted how hard Driscoll worked, saying they would often drive by Town Hall late in the evening or on a weekend and see the lights on in his corner office.
Sideris remembers a time he and Driscoll happened to be on vacation at the same time down in Yarmouth and they ran into each other on the beach. The Council was considering a pressing matter with the Police Department and they spent the whole day talking about the Town's business.
"Mike, even though he was on vacation, was thinking about the next best thing for Watertown and what would be the best for this community," Sideris said.
He and Driscoll enjoyed a great working relationship, which Sideris noted was what was prescribed in Watertown's original Town Charter.
"We accomplished many things over the years by the special relationship being what it was," Sideris said. "The community is in a better place today because of that. I believe that was what the intention of the original charter was and it is working perfectly."
Former Town Councilor and current State Representative John Lawn recalled that the Council could count on Driscoll to make some tough decisions, and even take heat off them. Lawn first saw this during one of his first few meetings on the Council when they were considering going to coalition bargaining for municipal employees health insurance. Lawn said the move was popular with the employees and the unions because they would control their health care, but it would have taken control out of the hands of Town officials.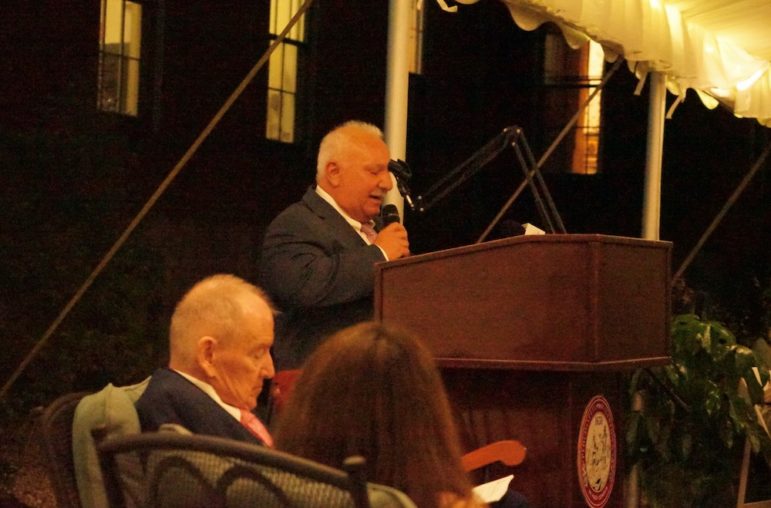 The Council realized they could vote to approve it because they knew that Driscoll would also have to approve it, and he never would because, "it was not something in the best interest of the town side," Lawn said.
"And that's the kind of thing that he has done for this community behind the scenes, like take a bullet for a lot of us because he would always stick to his principles of what was in the best interest of the people in Watertown," Lawn said.
Police Chief Michael Lawn (John's brother), said he really got to know Driscoll around 2006 when Lawn was part of the contract bargaining team for the Police Supervisors Association.
"During those years I really got a sense of what that bargain was about. You always hear (Driscoll) doesn't give us anything, he doesn't do this, he doesn't do that," Lawn said. "But what I learned, though, is that he was very firm but he is very fair. If you come in and you look around, we are very well paid compared to other communities, we have good benefits, and I think sometimes people don't see that."
The firm stance Driscoll took, Lawn said, was because he was looking out for the taxpayers of Watertown.
"My mom is 87 years old. She's on her own, she's on a fixed income and I always think back … he said it to me one day, 'I have to worry about everybody in this community,'" Lawn said.
During tough financial times, Driscoll made municipal employees a priority even when making budget cuts, John Lawn said.
"It is very difficult to be in these positions, but especially during times when there is no money and there are budget cuts. It's challenging, and you have to lay people off and he was a master of not doing it," Lawn said. "He would always figure out a way to not let (someone) lose a job. He would work the numbers, pull — as they would say — the rabbit out of the hat at some point. He would figure out a way. I know and I think everyone else knows, here, that he did it because he never wanted to see anyone lose a job."   
Fiscal Driscoll
Driscoll earned the nickname "Fiscal Driscoll" for his financial decisions that have made Watertown the envy of many communities in Massachusetts. He shared some of his secrets, and keys to keeping a healthy municipal budget.
He said the development seen in Watertown over the past several years, and projects coming in the near future were key to funding initiatives such as building the new schools without a tax override, funding the retirement system, and getting a AAA bond rating.
It wasn't always easy, and he noted that Watertown almost lost the property taxes from the largest property in the City, the Arsenal on the Charles. The property was part of the former U.S. Army Arsenal, and the site was redeveloped by O'Neill Properties Group in 1998.
"Unfortunately, O'Neill sold the property to Harvard University, which is a tax exempt entity," Driscoll said. "Can you just imagine a town not receiving real estate taxes from its largest parcel?"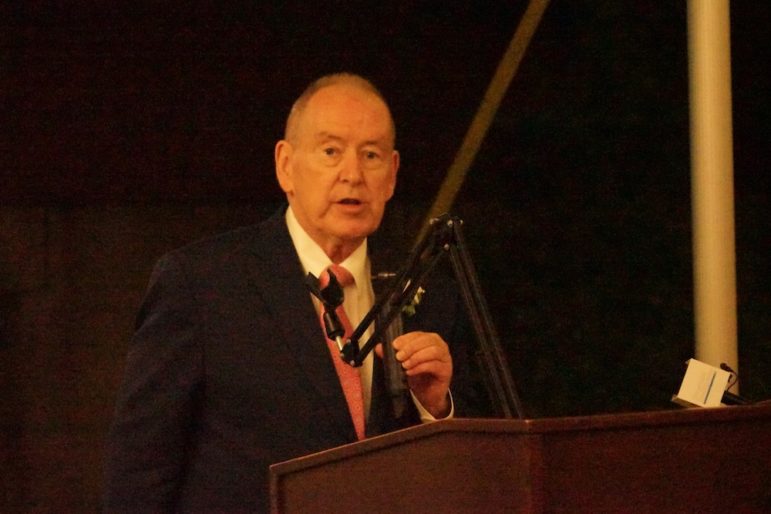 Harvard offered Watertown payment in lieu of taxes (PILOT) agreement in which it would pay the city $42 million over 20 years. However, the Town Council was not satisfied, and hired attorneys to negotiate a new deal, and after 18 months they came up with an agreement that Harvard would pay $480 million over 52 years. Since then, the property has been sold twice, and is now controlled by Alexandria Real Estate Equities.
He also thanked Bill McQuillan, the principal of Boylston Properties, which is the second biggest property owner, and the redeveloper of Arsenal Yards.
"As many of you know throughout the years Bill McQuillan and I have had many significant disagreements, I don't know that we ever agreed on anything. But throughout the years we would have these disagreements which led to animated conversations defending our respective positions," Driscoll said. "But tonight … I do want to publicly thank Bill McQuillan and Boylston Properties for their significant investment in our community."
Driscoll said he is grateful to Peter Boyer, the first Town Manager, who appointed him Town Treasurer/Collector in March 1985.
"I believe that appointment led to the opportunity to become Watertown's Town Manager," Driscoll said.
He thanked the Town Council for unanimously appointing him Manager in August of 1993. Driscoll said he is also thankful for the many municipal department heads with whom he has worked with over the last three decades, and he pointed to three people who served the Town for nearly as long, or in one case longer, than he was manager: soon to retire Police Chief Lawn, recently retired Fire Chief Bob Quinn, and recently retired Library Director Leone Cole.
Driscoll said he not only thinks of many of the department heads, and other City Hall employees, as not just colleagues but friends. He praised their dedication to serving Watertown.
"We are blessed that our city employees are incredibly committed and led by talented and dedicated department heads who put their heart and soul to the responsibilities," Driscoll said. "I will always, always be very appreciative and grateful for all of their efforts."
Their devotion, he said, shone through during the COVID-19 years when City employees continued to serve the people of Watertown during the pandemic.
Farewell & New Challenge
Just prior to the start of the COVID-19 Pandemic, Driscoll lost his mother. She has been and continues to be an inspiration.
"I miss her dearly and I think of her daily," Driscoll said. "Mom's guiding principle in life was: family, family, family. It's time to continue mom's legacy and spend more time with my family."
He plans to spend time with his three daughters and one step daughter: Amy, Allison, Aileen, and Sarah.
"Their presence in my life means everything," Driscoll said.
He also has two grandchildren, Lola and Charlie.
"Lastly," Drsicoll said. "I'd like to acknowledge my beautiful, lovely and, wonderful wife, Jane. Jane is my everything and I love her dearly. I will be forever grateful for Jane's unwavering support and concern for my well being."
Right at the same time as he was ending his time as Town Manager, Driscoll received some concerning news.
"Many of you know, maybe all of you know, I was diagnosed with cancer four days before my Jan. 31 retirement date," Driscoll said. "I want to let you know the treatments are going really well and I feel good."
As he wrapped up his remarks, Driscoll looked to words of a rock star.
"One of my favorite songs is Forever Young by Rod Stewart. Tonight, I'd like to quote a sentence in that song which says, 'When you finally fly away I'll be hoping that I have served you well,'" Driscoll said. "I hope that I served you well."