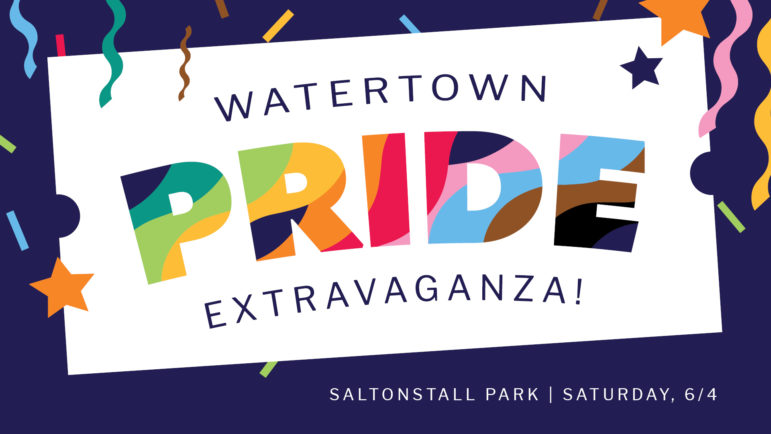 Community members are invited to don colorful outfits, and come out and enjoy a parade, music, dancing, crafts, games, and more during Watertown's first Pride Extravaganza.
The celebration of Pride Month will take place on June 4 from 11 a.m. to 4 p.m. outside the Watertown Free Public Library, 123 Main St. The all-ages event is hosted by the Watertown Free Public Library and the City of Watertown, and will have something for everyone, said Marissa Monteiro, the Library's Outreach Librarian.
"There will be music, there will be frivolity, there will be dancing, there will be bubbles, there will be kazoos, there will be flags," Monteiro said. "I really hope that everybody comes in their most colorful outfits because I feel like during Pride Month it is not just about showing your true colors, it is about showing every color!"
Teen Librarian Carey Conkey-Finn said she hopes people will come and have a good time.
"We are not out of the pandemic yet, but I think it is time for a good party," Conkey-Finn said.
The parade will start off the day's celebration. People wishing to participate can gather on the Library's front lawn at 10:45 a.m., and the parade begins at 11 a.m., sharp.
"It is a mini parade, all on sidewalks. We are not closing any streets," Monteiro said. "We've got a big band coming, so we will be loud."
JP Honk, an activist brass band, and Watertown's "Tuba Guy," Zachariah Hickman, will lead the crowd from the Library to the main stage at Saltonstall Park, according to the event announcement.
The party begins with drag king emcee Alli ShortForAllister, along with a welcome address by spiritual imagination coach Taj Smith. Music will be provided throughout the afternoon: JP Honk will provide rousing brass fanfares,, Darren Hairston will get people moving with a Zumba dance break, and the house band Watertown School of Rock will close out the day.
The Pride Extravaganza will also feature craft tables, including button making and tie-dye shirt making with the Library's Hatch Makerspace, and ribbon wand making with volunteers from the Watertown Arts Market. Younger attendees can run the obstacle course and play lawn games at the Watertown Boys & Girls Club.
The Library's Children's and Teen librarians will be ready to chat about their favorite LGBTQIA+ books. For deaf or blind attendees, The Watertown Commission on Disability is funding American Sign Language interpreters on the main stage and a braille festival program.
The idea for the Pride Extravaganza was born after news that Boston Pride would not be taking place, said Conkey-Finn, the Pride team leader.
"The library, part of its mission statement is to be a connection place for the community and we do help with marginalized and oppressed communities, and that is one of the reasons we are doing it," Conkey-Finn said. "Our director now, Caitlin Browne, is very committed and she was like, 'Go for it.'"
Local organizations will have tables, too, Conkey-Finn said, including the Watertown High School and Watertown Middle School GSAs (Gender Sexuality Alliance – formerly Gay Straight Alliance), the Watertown elementary schools' Diversity and Belonging Councils, and Out MetroWest.
The event is not just for those who consider themselves part of the LGBTQIA+.
"We would hope they feel welcome, (and) if they have questions, they feel comfortable asking. It's not just for the queer community. It is for everyone," Conkey-Finn said. "I just hope it is a place for people if they are not sure, if they need to challenge their beliefs a little bit, maybe a subtle push. We are not trying to force anything."
Monteiro said she hopes the event is a great way for people to come together and get to know each other.
"Connecting with people, with no agenda, in a space for joy is a really great way to get to know people and to actually bridge divides," Monteiro said.
The Library received support for the Pride Extravaganza from the Mass. Cultural Council, the Watertown Commission on Disability, the Watertown Public Arts & Culture Committee, and Watertown Savings Bank.
In addition to all of the June 4 festivities, the Library will host Pride-themed events throughout the month of June. These include Q&A panels with SpeakOUT Boston and GBPFLAG, a drag performance by Vietnamese refugee Quyen Tran/Jayden Jamison, and a film screening. See more information at watertownlib.org/644/Watertown-Pride