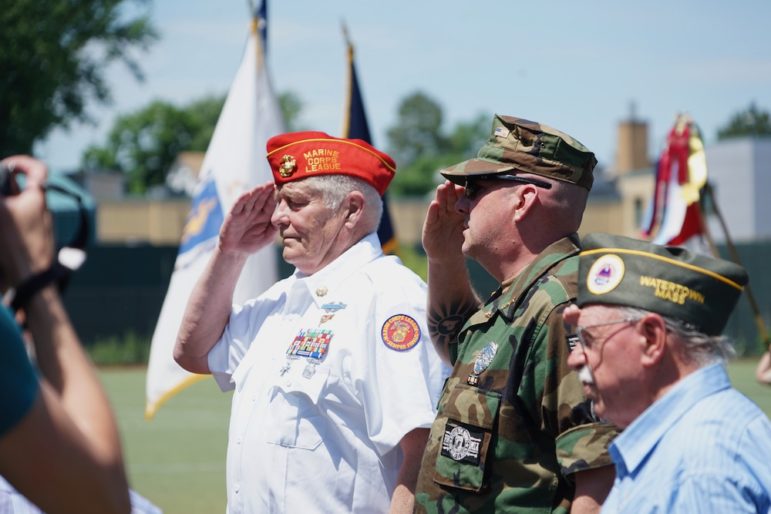 Three years after the last in-person celebration of Memorial Day, Watertown's streets were filled with music, marchers, and military vehicles for the 2022 Memorial Day Parade on Monday. Following the procession, a ceremony was held to mark 100 years of Victory Field, as well as to honor those for whom the day holiday was founded: the veterans who have been lost.
The parade took a different route from previous ones, leaving from near City Hall, heading past Watertown Middle School and ending at Victory Field (See photos from the parade here). The move was made due to the construction on they typical route, on Mt. Auburn Street, and allowed for the celebration of Victory Field's 100th anniversary.
Remembering Lost Veterans
City Council President Mark Sideris thanked the attendees of the Memorial Day Ceremony.
"To all the veterans, thank you for your service," Sideris said. "We also want to thank and keep in our memories the people who are gone, that couldn't be here today, who sacrificed their lives for the freedoms that we enjoy. Thank you for being here today and don't forget to thank a veteran today for their service to this wonderful country."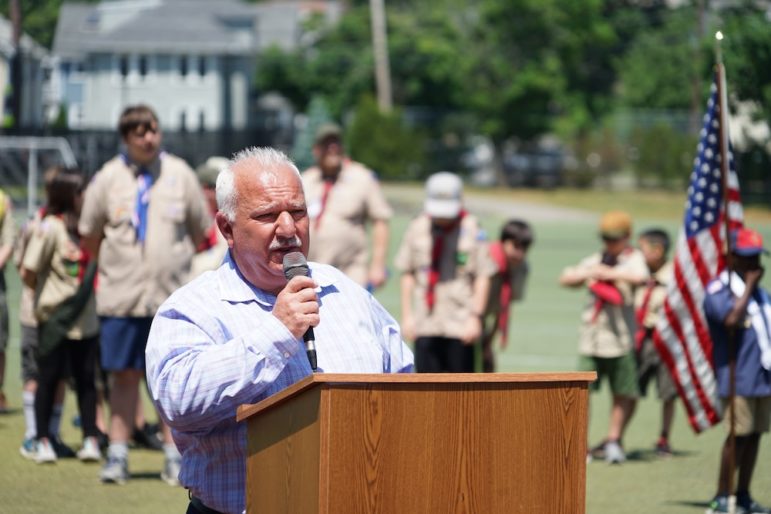 As part of the ceremony the names of local veterans lost in recent years were read out. George McMasters, commandant of the Marine Corps League Pvt. Charles Shutt Detachment had close ties to one of the lost veterans.
"Today, I have the honor of talking about the one marine that we lost from our club this year, who happened to be my son, Andrew," McMasters said.
Andrew served in Iraq and suffered serious burns in Fallujah while behind a machine gun in a vehicle when it was hit by an explosive device.
George also served in Iraq, as well as in Afghanistan, and told those at the ceremony: "I am straight up sick of war, and I miss the men that we lost."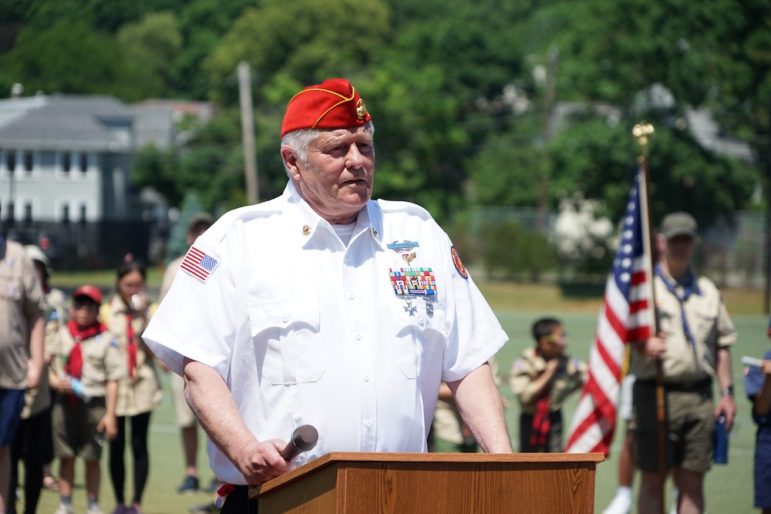 He went on to say that many die in war, and many others are wounded. Some of the wounds can't be seen, and McMasters described them as "wounds of the soul," that don't leave you.
"Those that are here today, I encourage you to work towards peace, work toward loving one another in your community. Because we don't want to say goodbye to anymore family, anymore friends. My dear son, a brave Marine, wounded in 2005, suffered with PTSD. Terribly burned, skin grafts …," he said. "There's nothing good about war. We are here to remember those who gave their lives for our freedom and don't take it for granted, it comes at a heavy price, use it well."
Victory Field
The field along Orchard Street was dedicated on Memorial Day in 1922, and has been a place where many memories were made over the past century, Recreation Director Peter Centola said.
Centola quoted from the story written about the dedication of Victory Field from the Watertown Sun, which was found by Watertown Community Outreach Librarian Marissa Monteiro. Residents turned out in great numbers for the day-long event, filling the 1,1oo seats in the stands, with thousands more watching from Whitney Hill, according to the article.
During the 1922 ceremony, Robert J. White, commander of Watertown American Legion Post 99, described Victory Field as, "a beautiful expanse of playgrounds nestling between the hills with the deep blue heavens over canopy all. Shaped and built by all the people of the town, it is a permanent and valuable improvement."
He continued: "Valuable I say because of the labor, the steel, the bronze and the mortar. But more valuable because into its fabric is woven and love and gratitude of a great township for those who have served in the common cause — 'America.' We the living veterans accept this memorial with feelings of deepest gratitude and pledge anew our allegiance and devotion to our common country."
Centola said the complex has evolved over the years, including the delivery in 1927 of the German cannon captured in World War I, the addition of a quarter-mile track in 1992, and the installation of an artificial turf field in 2011 to allow more sports to played in the stadium area.
Since the field was dedicated, many events have taken place there, including: Watertown High School graduations, the Fourth of July Carnival with fireworks, Relay for Life, Miss Watertown Pageants, Watertown High School football games (including Thanksgiving vs. Belmont), as well as St. Patrick's High School football games, the rededication of the field in 2012, and Little League championships before the new track was installed. It has been home to undefeated WHS football and field hockey teams.
Other memories were made there, Centola said, from skating on the frozen tennis courts to first kisses under the bleachers.
"Victory Field is and has been 'the place to be and be seen for so many of us for our entire life' and this shrine has created memories which are ingrained in our being," Centola said. "We are eternally grateful."