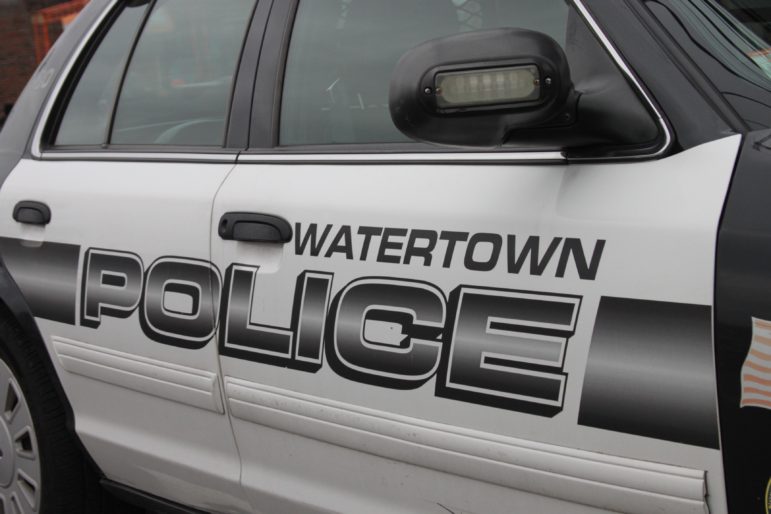 The following information was provided by the Watertown Police Department.
Arrests
May 25, 1:14 p.m.: Security at the Watertown Mall called Police to help with a man they were trying to issue a trespass letter. He left the Mall, and Police located him across Arsenal Street at the Nike Store. When officers were speaking to him they discovered he had four warrants for his arrest from Waltham, Brookline, and Somerville district courts, all for shoplifting-related charges. Devin Newbury, 31, a homeless man from Boston, was arrested on the warrants and was trespassed.
May 27, 12:47 p.m.: A man went into Target, took a backpack off the shelf and removed the price tag. Then he placed multiple items into the backpack. Security called the Police, who came down and located him near the bathrooms. The man had a pair of sunglasses, multiple pieces of clothing, and other items. The merchandise totaled $215.73. It was also discovered the man had a warrant from Boston District Court for breaking and entering. Marcos Diaz, 26, homeless, was arrested on charges of shoplifting, shoplifting by price tag tampering, and the warrant.
Incidents
May 23, 1:01 p.m.: A Winsor Avenue resident reported that his car had the air let out of three tires on two separate days. He filled the tires after the first incident on May 21 and it occurred again on May 22. There were no puncture holes, and the owner believes it was done intentionally. There was no other damage to the car.
May 23, 2:43 p.m.: A man realized that his business credit card had 42 unauthorized purchases. They were made over two days, on May 2 and 3 for a total of $2,960. The card was not missing. Police are investigating.
May 23, 5:49 p.m.: A Channing Road resident reported that his Social Security Number had been compromised. He received a letter from the Social Security Administration saying that he had received $2,270 in Social Security benefits in 2020. The man, who is 21, said he had not claimed any benefits nor received any money. He contacted the Social Security Administration to deal with the issue.
May 23, 8:25 p.m.: A Tennessee resident called the Watertown Police after an incident that took place at Best Buy. He discovered someone accessed his AT&T account, added a line, and purchased an iPhone 13 Pro for $1,000. Then the person bought three more iPhone 13 Pros for $1,000 each. The suspect was seen on video at the store in Watertown. Police are investigating.
May 24, 1:10 p.m.: A person walking on Water Street called police after seeing a man leaning up against a fence at a construction area and committing a lewd act in public. He described the suspect as a white male, approximately 50 years old, wearing a tan baseball cap, faded jeans, and a dark backpack. The incident was reported 45 minutes after it occurred. The suspect could not be located.
May 24, 1:25 p.m.: The facilities manager at a business on Arsenal Way reported someone took a laptop, a charger and Bose headphones (worth a combined $1,500) from an office. It occurred between May 14 and 15. There were no signs of forced entry at any place in the building, and the entire building requires a keycard for entry.
May 24, 2:02 p.m.: A 72-year-old-man reported that he had been assaulted while on the Delta in Watertown Square. He had been holding a political sign, when a man came up to him, got into his face, began to yell at him, and pushed him in the shoulders. Then the other man left and walked eastbound on Mt. Auburn Street. The man with the sign did not suffer any injuries. The suspect is described as having brown hair, a mustache, and was wearing a green shirt.
May 26, 11:41 p.m.: An Oakland Street resident parked her 2008 Toyota Prius on May 24, and the next day found that someone had taken the catalytic converter. It was parked in front of her home. It will cost $1,200 to repair.
May 29, 8:10 a.m.: A 7-year-old boy went to visit a friend on Robert Ford Road on May 21 and left his bike in the friend's backyard. When he went back it had disappeared. The bike, described as a red and black Royal Rider, was worth $100.
May 29, 11:11 a.m.: Best Buy employees did an inventory check and found that a few items were missing. They checked the security video and saw two suspects come into the store and pry the lock off of the cabinet containing smart watches. They took several watches worth a total of $2,380.