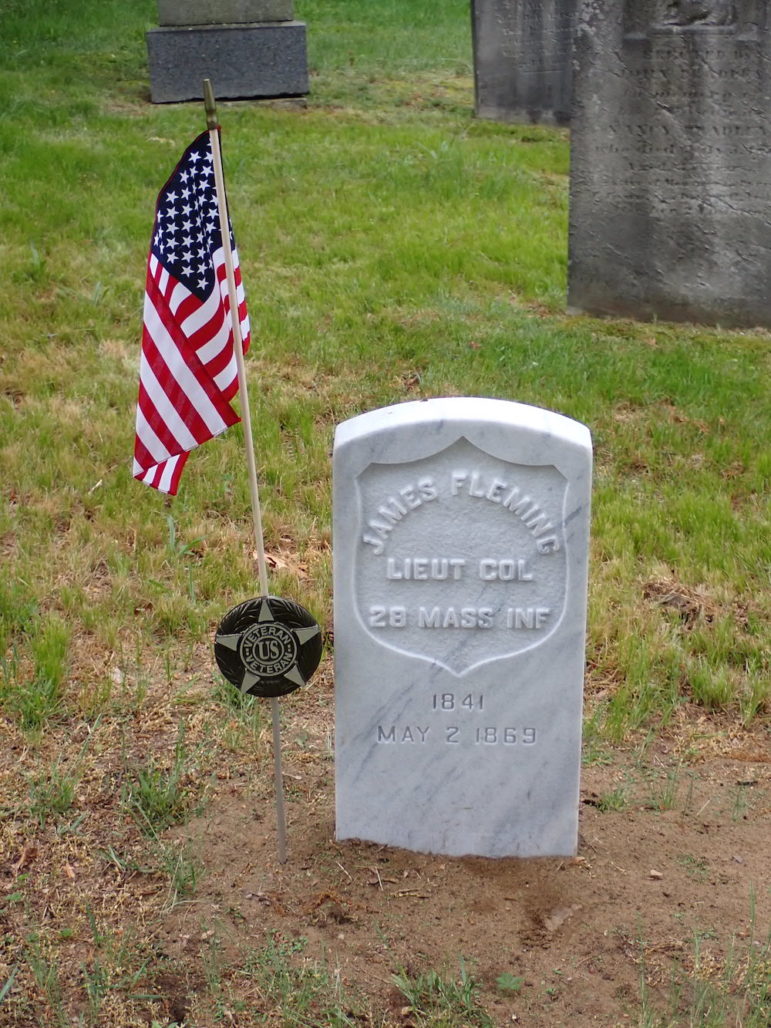 When the veterans buried in Watertown were honored during Memorial Day week 2022, one of the graves at the Catholic Mount Auburn Cemetery had a gleaming white headstone, but the veteran buried there died more than 150 years ago.
The grave belongs to James Fleming, who served in the Civil War and died in 1869. He has been buried in the cemetery, which sits at the end of Cottage Street in East Watertown, but it did not have a marker.
Local historian Bill McEvoy set out to get Fleming a proper marker, and it was installed just before Memorial Day.
The first burial at the Catholic Mount Auburn Cemetery was on April 11, 1854, McEvoy said. There are 24,000 people buried in less than seven acres, he said, "which is compact."
Most of the graves at the cemetery were designed for four burials, but it was not unusual to find five to eight people in a lot, McEvoy found. There were no concrete burial liners and the ground is sand below a few inches of surface dirt.
Many infants and young children were buried there. McEvoy's study of the 15,562 burials between 1854 and 1881, 49 percent died before age 6, 45 percent died before age 4, and 24 percent died before age 1.
"I wanted to know more about these people including their hardships," said McEvoy.
He grew up in Belmont on Belmont Street, and became interested in local history when he retired as a Massachusetts District Court Magistrate in 2009. He also volunteered as a magistrate with the courts two days a week from 2009 to 2019, primarily at the District Court in Dedham.
"I went to Mount Auburn Cemetery to see if they take volunteers," McEvoy said. "I did a long term project on the emerging middle class. I became more interested in the people who have the single graves. I did a project on the non-combatants from the Civil War. There were nine nurses, and 15 clergy."
McEvoy is a veteran of the Vietnam era, and served in the Army as Military Police sergeant, in the northern part of Incheon, South Korea, from 1969-70. The history bug bit him after taking a graduate school history course at Boston College taught by Thomas O'Connor, who was known as "the dean of Boston historians."
Looking for veterans in Mount Auburn Cemetery, he found about 1,000 people who served in the Civil War, including both those who died during the war and those who died later.
Then he became interested in those buried in the next door Catholic Mount Auburn Cemetery, which is run by the Archdiocese of Boston. He found that 150 people were from the Civil War, as well as five from World War I, three from World War II, and two from other eras.
"I went looking for people, looking through males eligible for service based on age," McEvoy said. "Some headstones said they were Civil War people, but not many. I kept digging."
In Fleming's case, he looked on ancestry.com and looked for anyone who served in the Civil War and had a headstone sent to Watertown.
Fleming joined the Massachusetts 28th Regiment in Charlestown in 1861, when he was around 20 years old. He went in as a sergeant and came out a lieutenant colonel.
"He was wounded four times during the Regiment's many campaigns," McEvoy said in one of his YouTube videos about the Mt. Auburn Catholic Cemetery.
To learn more about Fleming, McEvoy got in touch with Sandy Barnard, of Medford, who had done research on the Massachusetts 28th and wrote several books. Barnard found documents in the National Archives that said Fleming suffered from tuberculosis and in October 1868 his doctor recommended he leave Boston.
Fleming traveled to California, but in April 1869 he got on a steamer ship heading back to Boston.
"When it stopped in New York on May 1st, 1869, Fleming was seriously ill," McEvoy said in his video. "When they took him off the boat and when they got to New York hospital he was barely alive. He died at 11 a.m. on May 2nd."
He did more research, and he found, "His cause of death was noted as the effects of wounds of exposure during the U.S. service," McEvoy said in the video.
Although he was from Charlestown, Fleming was buried at Mt. Auburn Catholic Cemetery in Watertown.
"The way it was back then a Catholic Cemetery would open up and start taking new burials," McEvoy said. "Mostly it was instant to a death. You see a plot being purchased and the next day a burial."
Another nearby Catholic Cemetery that opened before the one in Watertown was the North Cambridge Catholic Cemetery on Rindge Avenue in Cambridge, McEvoy said.
Fleming's mother was from Charlestown and his father from Brighton. Both were buried there, along with Fleming and two of his siblings. While he knew Fleming was buried at the cemetery in Watertown, McEvoy couldn't find his headstone on ancestry.com.
"I saw they did have an order for a marker in 1879, but there was no indication that it was ever delivered there, which is rare," McEvoy said.
He then set out to get Fleming a headstone. McEvoy made an application for a veterans memorial, and it was successful.
"I verified it forward and backward — he is the soldier," McEvoy said. "He is buried with his mother and father and a couple siblings."
The cemetery had to sign off on the application, which they did, and it was sent to the Veterans Administration (VA). McEvoy said there was an option to get a flat stone or an upright one, which is like the ones at National Cemeteries.
"For him I asked for an upright," said McEvoy.
The Catholic Cemetery Association quickly approved and expedited the application. The process only took seven weeks, from application to the Staff at the Calvary Cemetery placing the marker in time for Memorial Day. The Calvary Cemetery in Waltham, is where Catholic Mount Auburn Cemetery's maintenance is based.
The headstone now sits on the spot where Fleming and his family were laid to rest. The gravesite received the same treatment as the other veterans graves during the Memorial Day ceremonies, this year.
"I worked with (Watertown Veterans Service Officer) Patrick George. He got some flag holders and flags for all the graves," McEvoy said.