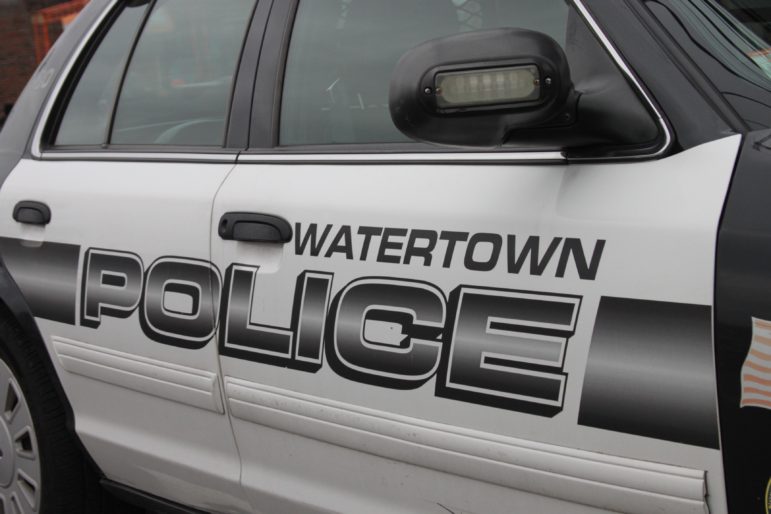 The following information was provided by the Watertown Police Department.
Arrests
June 13, 3:34 p.m.: A car was forced into a parked car by another driver, who fled the area. A Honda SUV was driving east on North Beacon Street near the Toyota dealership. A Volkswagen tried to pass her and went over the double yellow line. Another vehicle was coming the other direction, so the VW swerved back and collided with the Honda, forcing it into a parked Lexus sedan. The VW did not stop, but the boyfriend of the Honda driver was in another vehicle and he followed the driver. He was able to give Police the location of the VW, which went into a lot at 311 Arsenal St. Multiple witnesses confirmed what happened, as did surveillance video. Police found that the driver was not licensed, and he was wanted on a warrant for unlicensed driving. Jorge Lavaganoli, 30 of Watertown, was arrested on charges of reckless operation of a motor vehicle, operating left of center, unlicensed driving, and leaving the scene of an accident involving personal injury, and speeding, along with the warrant from Quincy District Court.
June 15, 3:03 a.m.: Police received a report of two men sitting on a bench at the Department of Public Works who were acting suspiciously. Officers spoke to the men, who said they were homeless and were waiting for a friend to pick them up. Both men had multiple warrants. Dennis Carney, 41, of Woburn, was arrested on three warrants: one from Boston District Court for possession of a Class E drug, one from Lawrence District Court for possession of Class A and Class B drugs, and one from Cambridge District Court for breaking and entering into a vehicle. John Mastromarino, 51, of Malden was arrested on three warrants: one from Cambridge District Court for possession of a burglarious instrument and receiving stolen property over $1,200, and two from Dorchester District Court — one for possession to distribute a Class A drug, and the second for attempting to commit a crime (larceny). 
June 17, 2:02 p.m.: Best Buy reported a shoplifter who had left the store, and provided Police with a description. Officers spotted a man fitting the description walking into the Residence Inn by Marriott. They found him in the men's bathroom in the hotel lobby. He had a duffel bag with stolen property from Best Buy. The items were worth a total of $337.96. The man was also wanted on warrants. Stephen Costigan, 33, of Cambridge, was arrested on a charge of shoplifting, and the warrants: one from Boston District Court for trespassing, one from Somerville District Court for assault and battery, and a third from Waltham District Court for two counts of shoplifting.
Incidents
June 13, 9:06 a.m.: A vehicle was vandalized in the parking lot at The Gables apartments on Arsenal Street. The owner parked there on June 8, and he came out on June 12 and found two of his tires flattened. He believes they had been slashed, but he is not sure when it occurred. Police are investigating.
June 14, 1:40 p.m.: Police went to Rose Avenue for a stolen Amazon package. The victim had confirmed a delivery at 4:42 a.m on June 12. The package contained $60 in items, including flashlights, a reusable ice pack, and five rain ponchos. The resident checked his ring doorbell and it showed a male in a hooded sweatshirt walk up the front steps, take the package, and walk away. Police are trying to identify the man. 
June 14, 2 p.m.: A Watertown woman told Police she received information from Capital One on June 8 saying she had applied for a business credit card. She had not done so. She also reported that since June 8 she had not received any mail at her address. She received a letter from the Post Office confirming an address change, and it had been switched to a residence in Valencia, California. Capital One closed the account, and she had not lost any money. The woman is working with the Post Office to correct the address change. 
June 15, 12:09 p.m.: Roma Tile reported that someone had fraudulently cashed a check. An employee told police that a check for $4,330 was mailed on May 12 to a business in Wisconsin. Later, the company called to say the check never arrived. Roma Tile contacted the bank and learned that the check was cashed on May 24. It appears someone had intercepted the check. Police are working with the People's United Bank to find out where the check was cashed. 
June 15, 12:47 p.m.: Employees at the Verizon Store in Watertown Square were doing inventory when they found that 12 devices were missing worth a total of $13,510. They checked surveillance video and it showed an employee taking the devices at the end of her shift on June 12. The store attempted to contact her several times but she did not answer her phone. The 20-year-old Boston woman was summoned to Waltham District Court for larceny over $1,200.
June 15, 2:33 p.m.: A woman went into Ulta Beauty in Arsenal Yards on June 14 at 6 p.m. and took numerous items off the shelf. She left without paying for the fragrances and other items worth a total of $1,310.99. Police got surveillance video, and are attempting to identify the suspect.
June 16, 2:05 p.m: A Ralph Piteri Terrace resident reported that a safe was taken out of his room. On June 15 he went into the safe to take out some money. He woke up on June 16 at about 8 a.m. and left home. He returned at noon and later that afternoon he went into his room to put something in his safe, but it was gone. The safe contained jewelry, credit cards, and personal items. He learned that some of his credit cards had been used. Detectives are investigating.
June 17, 12:36 a.m.: Police responded to motion alarms coming from a construction site at 617 Arsenal St. They looked at cameras at the site, which showed a man in a red jacket walking around the site. They found him and he said he worked for a laborers union and was starting a shift in the morning and he had come early. He did not have any items from the site, and officers let him go. Police went back to the site at 6 a.m. to confirm with people at the site that the man was working there, but they said he did not. The labor union also said he was not a member and they did not send him to work there. Police summoned the 52-year-old Boston man to Waltham District Court on a charge of breaking and entering in the nighttime, and obstruction of justice for trying to mislead officers.
June 18, 11:56 a.m.: A man bought an iPhone 13 on Facebook Marketplace and met the seller at Arsenal Yards to pick up the phone. He sent $850 using CashApp to pay for the phone. He went to his carrier to activate the phone. Three weeks later it shut down without notice. When he returned to the carrier he was told he had been the victim of insurance fraud. They believe the seller got a new phone, sold it to the man, and then reported it lost or stolen. Then insurance paid off the claim on the phone, and the phone was shut off. The victim is out $850. Police got the Facebook page of the person who sold the phone and are hoping to identify him.