For the first time since 2019, on June 8, the Watertown Youth Coalition along with Wayside Youth and Family Support Network hosted their yearly Community Spirit Awards ceremony and reception at Arsenal Park in Watertown.
The event was put together by Watertown Youth Coalition (WYC) Peer Leadership Advisor, Zhane Goode, and WYC Program coordinator Stephanie Sunderland, who had to miss the ceremony due to unforeseen circumstances. Zhane, who has been working with all of the honored students for a few years, was very happy to finally be able to hold the awards in person and noted that the students were especially excited to get to celebrate together with their friends and family. For Zhane herself, she began her work at the WYC during the pandemic, so she said it was really nice to see everyone all together as a community.
The event has not been held in recent years due to the COVID-19 pandemic, and was attended by many members of the community, including the honorees, those who nominated them for spirit awards, and families, friends, and other Watertown citizens who came to celebrate their achievements.
Also in attendance were State Rep. Steve Owens and Watertown Councilor At-Large Tony Palomba, both of whom were given awards for their work by the Watertown Youth Coalition (WYC). Other members of the City Council, Caroline Bays and Vinnie Piccirili also came to the awards ceremony.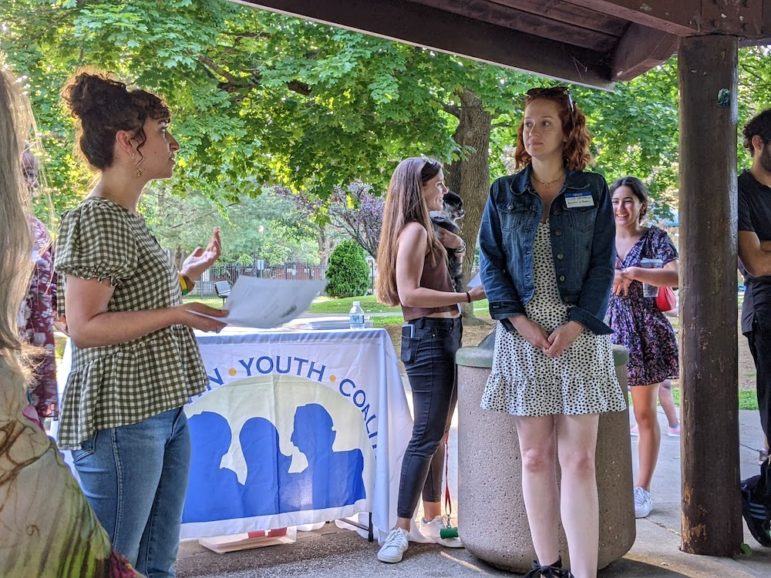 The purpose of this event specifically was "to celebrate the youth who serve on the WYC, " said Lisa Gibalerio, coordinator at the Belmont Wellness Coalition (a Belmont corollary to the WYC). These youth are "a group of Watertown High School (WHS) students who put themselves forth as leaders."
The Watertown Youth Coalition, overseen by Wayside Multi-Service Center, is a community coalition of youth, parents, school, health, police, fire, town government representatives, social service and medical professionals, clergy, local business owners and community members – all of whom are committed to promoting healthy and positive lifestyles among Watertown youth, according to the WYC website.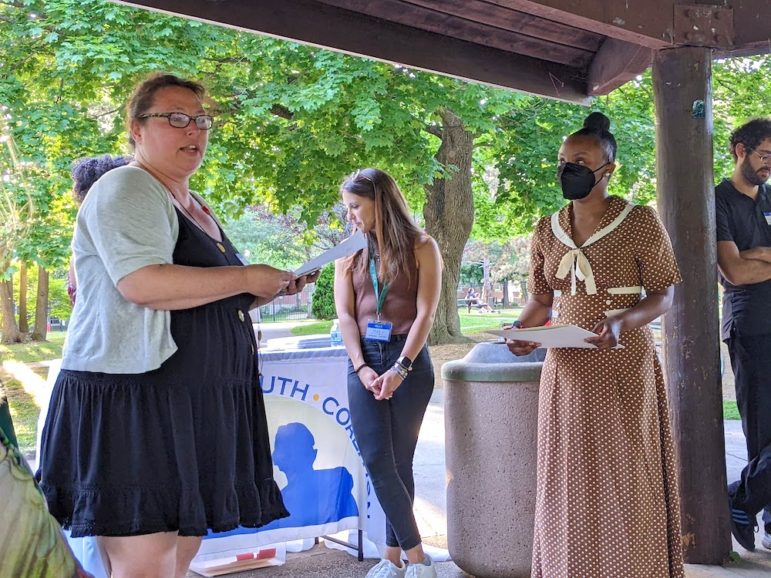 The Peer Leaders work with the WYC to learn about and then facilitate conversations about health and wellbeing at WHS, specifically focusing on topics like mental health, substance abuse, and diversity, equity, and inclusion. They also host a weeklong event called SPEAK Week at WHS once a year and put together one large project each year alongside smaller ones.
During the 2021-22 school year, the peer leaders' project focused on gender equity. The students released an Instagram page and worked within WHS to find out what students and Watertown community members know about gender and sexuality, and then used that data to help spread awareness and educate the community about the topic. Last year, the project focused on curbing tobacco use.
Though most of the honorees were graduating seniors, there were a few non-senior students who received honorable mention awards for their hard work and active participation in the WYC's projects this year.
In addition to the peer leader awards, the WYC and the Wayside Youth and Family Support Network also recognized many non-student community members for their roles in the WYC's work such as Owens, Palomba, and WHS Assistant principal Annmarie Boudreau (who was not able to attend the ceremony).
According to Sunderland, "People can be nominated for having done any of the following: served as a positive influence or mentor to a Watertown Youth Coalition member or to others in the community; had the courage to address challenging issues that affect youth and the community; or had actively taken steps to improve the Watertown community (in big and small ways)."
Community Spirt Award attendees enjoyed food provided by the following sponsors: Donohue's Bar & Grill, Bertucci's, Sensational Foods Catering, and Suzanne de Lemos-Williams.
2022 Community Spirit Awardees
Graduating WYC Peer Leaders: Ngaa Moyo, Alishba Amin, Mona Houjazy, Lameh Rifai, and Fred (Pierre Paul Frederick) Labossiere.
Community and WYC members: Holly Cordell, Anthony Palomba, Ornella Lozier, State Rep. Steven Owens and Legislative Aide Emerson Gagnon, Annmarie Boudreau, Lilia Weisfeldt, Ingrid Joy Wolfson, and Jan Singer, Executive Director of the Watertown Community Foundation (WCF) and the entire WCF Board.
Honorable Mentions: Maysa Ramos, Meg Poterba, Rachel VanDerVoort, and Cecelia Malis (Peer Leader).
To find out more about WYC and their work, please visit their website, click here to visit.