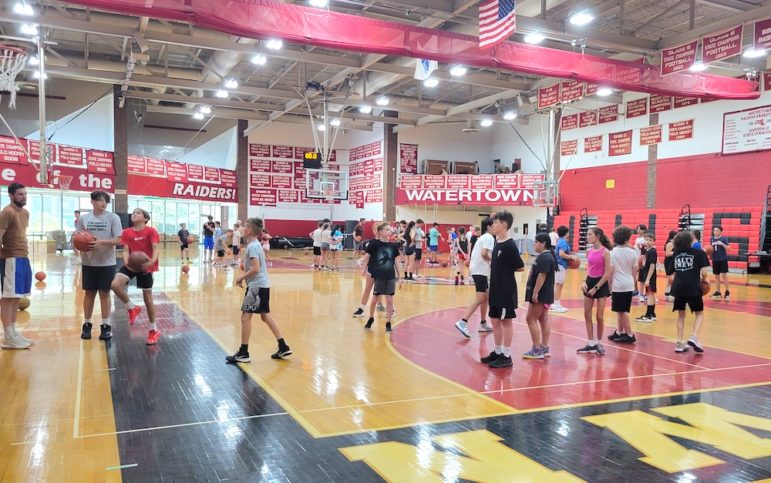 School might be out, but the gyms at Watertown High School and Watertown Middle School have been full of youngsters this week. They joined WHS's basketball coaches for a week-long basketball camp, and there is another program next week.
The summer basketball camps have been around for many years, said Watertown boys basketball coach Steve Harrington, who runs it along with Watertown girls basketball coach Pat Ferdinand. The program has been on hiatus for a few years.
"This is something we have done since about 2000," Harrington said. "With the pandemic we were unable to do that, like a lot of towns, so it's nice to kinda be back in action."
Middle school-age students go to the high school, while the camp for the elementary school students is at the middle school. Along with the coaches, campers get to work with members of the Raiders girls and boys varsity basketball squads.
"Current players and former players are councilors here," Harrington said. "A former player, who is a teacher at the middle school, Andrew Allegro, he's the main person down (at the middle school)."
While Harrington goes back and forth between the two schools to oversee the camps, Ferdinand is in charge of the camp at the high school. This year, his 8-year-old daughter is going to the basketball camp at Watertown Middle School.
"She's loving it!" Ferdinand said.
The first week of July, Watertown Basketball will be running a camp for boys and girls at Waltham High School from Tuesday to Friday. Harrington said space is still available and those interested can contact him by email at harryhoop15@hotmail.com.
The summer programs help the high school teams in the long run. Ferdinand said it is a good chance to build connections with young players on and off the court. He said one of his favorite parts is getting to know players by talking informally and joking around with them during lunch breaks.
It is also a chance to show them what it means to be a WHS Raider.
"It does make a big difference," Ferdinand said. "You get to talk to kids and have them come in and look at the banners and how you should act, how you should behave, what kind of teammate you should be. You can, kind of, call them on their behavior as a teammate earlier, at a stage that they might adjust their approach in how they deal with kids."
The coaches have noticed not being able to run the basketball camp over the past few years, and Harrington fears that some players who would have played hoops got interested in other sports and activities.
"It hurt our numbers," Harrington said. "The numbers in basketball during the pandemic — our numbers at the lower levels for the boys and girls program got hit. Now we can get young kids interested, with a place to learn about the game."
Ferdinand said some of the current WHS players didn't have a chance to go to the summer camps.
"If they don't connect with the program or the school, then there is no understanding of what it means to come here to the high school," Ferdinand said.
Harrington said he's glad to be back
"Ultimately, I am glad things are moving forward for both of our programs," he said. "It's nice to see the younger players as well. We get to know them and see them up close."