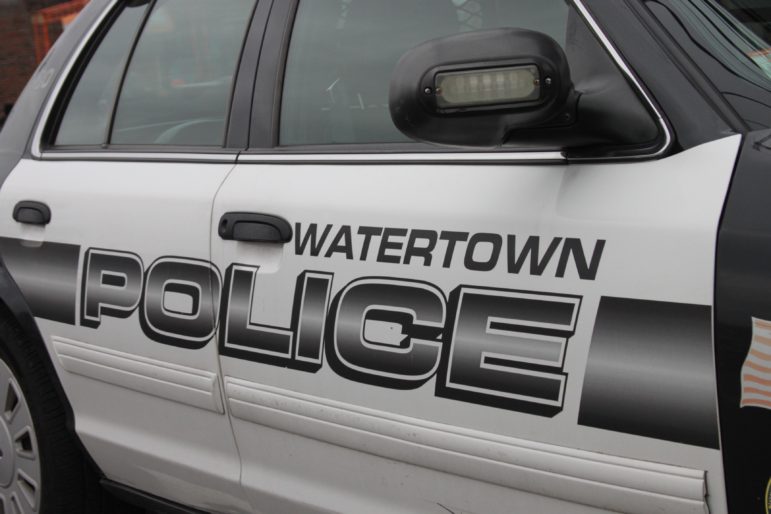 The following information was provided by the Watertown Police Department.
Arrests
June 23, 5:02 a.m.: A worker at a construction site on Arsenal Street spotted a man walking around inside the fence who did not appear to belong. Police were called and when they spoke to the man he said that he was fixing the fence. Officers confirmed that he did not work there, and there were numerous "no trespassing" signs. At first the man provided a false name and date of birth. Police took him into custody for trespassing and at the Police Station they found out his real name and discovered he had five outstanding warrants: four from Brookline District Court (for four counts of larceny from a building, one count of larceny under $1,200, one count of possession of a Class A drug, and one count of trespassing) and one from Charlestown District Court for breaking and entering during the daytime, larceny from a building, and trespassing. When he was being booked, Police found that the man had a ziplock bag with what appeared to be methamphetamine. Robert Richards, 34, homeless, was arrested for trespassing, possession of a Class A drug, and the warrants.
Incidents
June 20, 1:34 p.m.: A Coolidge Avenue resident reported that his bicycle had been stolen. He left it under an overhang on June 16 and on the 19th he discovered it missing. The bike had a GPS airtag on it and he tracked it to the Mount Auburn Cemetery. When he found the bike it had been dismantled and was in several parts. The Giant Escape road bike is valued at $600.
June 20, 5:38 p.m.: An employee of Best Buy reported that a group of juveniles had vandalized signs in the parking lot and climbed on the roof of an SUV. A group of eight young males were seen on video and one was seen destroying a curbside sign, and two of them destroyed two signs in the parking lot. They were also seen getting onto the Chevy Suburban that was owned by Best Buy. A security guard from the Watertown Mall came out and told the group to leave. Each sign will cost $500 to replace. The vehicle was not damaged.
June 21, 4:04 p.m.: A package was stolen from an apartment complex on Arsenal Street. The resident ordered an iPhone 13 Pro on June 1, and was confirmed delivered by UPS on June 7. The resident never received it. The phone is worth $1,486.44.
June 21, 7:07 p.m.: Security at Target stopped a shoplifter who was trying to walk out of the store with a shopping carriage full of items including beer, wine, dog food, party supplies, and stationary items. Police responded and summoned the 24-year-old Boston man to Waltham District Court for shoplifting.
June 22, 10 a.m.: A driver parked at Atrius Health (formerly Harvard Vanguard) on Arsenal Street on June 21. At about 7:15 p.m. the driver returned and discovered that the catalytic converter was missing. It costs about $1,000 to replace.
June 22, 1:19 p.m.: An employee at Stop & Shop on Watertown Street got to work at about 7:30 a.m. and when he came out at 12:30 p.m. he found two tires on his 2012 Ford Expedition had been slashed. Police are investigating.
June 22, 9:08 p.m. A Merrifield Avenue resident discovered fraudulent activity on her PayPal account. She got a notification from GrubHub saying someone had placed an order in her name at a Dairy Queen in Franconia, Virginia, for $32. She was reimbursed by PayPal.
June 22, 9:47 p.m.: A man went to workout at GymIt on Arlington Street and discovered that someone had taken his car keys out of a locker. When he went out to check his vehicle he noticed that the vehicle was unlocked and someone had gone through it. The only tdhing that appeared to be missing was a phone charger. He had a GPS airtag on his keys and tracked them down to a trash barrel in the Boston Public Garden, where he retrieved them.
June 23, 1:48 a.m.: Police saw a man walking around near the bicycle rack on the Columbus Delta and was carrying a bicycle tire. Officers spoke with the man, and he gave them a false name. Police determined the tire had been taken from a bike locked to the bike rack. The tire was taken by police and the man was allowed to leave. Later police determined the man's true identity and found that he had warrants for his arrest on charges including a firearm violation, larceny, and drug violations. Police searched for the man but could not locate him. A warrant was issued for the 36-year-old Newton man for larceny under $1,200.
June 23, 7:35 p.m.: A juvenile boy was visiting a friend on Whites Avenue and left his bicycle in the stairway of the apartment building for about two hours. When he came back, the bicycle was missing. It had been left unlocked. The bike was described as a 26-inch matte black Stealth bike valued at $700.
June 25, 1:48 p.m.: On June 24, a woman came into Glow tanning salon on Arlington Street and bought a bottle of shampoo with a $100 bill. The item cost $34 and she received $66 in change. Later employees determined that the bill was counterfeit. Police are investigating.