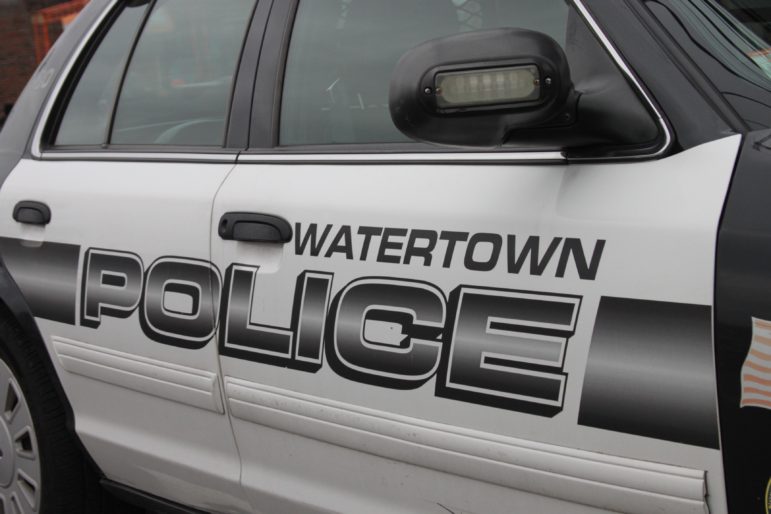 The following information was provided by the Watertown Police Department.
Arrests
June 28, 9:05 a.m.: Police checked the property in the Watertown Square Plaza on Mt. Auburn St., where Dunkin' Donuts is located, after the property owner said homeless people had been seen camping and loitering there. Officers spotted man in a back alley on the property. They discovered he had six warrants for his arrest out of Waltham District Court for trespassing. Toros Torossian, 57, homeless, was arrested on the warrants.
July 3, 4:01 p.m.: Best Buy security saw a man take merchandise and flee the store. The man grabbed a Samsung S8 Ultra tablet from the store display and leave the store. The tablet is valued at $1,255. Police were given a description. They found a man in the rear parking lot of the Watertown Mall who fit the description and was holding a tablet. The man ran away down the bike path heading westbound. He was located in a parking lot on Nichols Avenue and was taken into custody. Police also found he had a warrant from Cambridge District Court for failing to appear in court for charges of breaking and entering, assault and battery, and trespassing. Robert Richard, 34, homeless, was arrested on a charge of larceny over $1,200 and the warrant.
Incidents
June 27, 10:07 a.m.: A package was taken from a Westminster Avenue residence. The package from Amazon was confirmed delivered at 4:15 p.m. on June 22. The resident was out that day and returned at 5:30 p.m. but the package was not there. It contained a boat cover that cost $144.
June 27, 2:15 p.m.: A resident reported that he had been the victim of a crypto currency scam. He had received a series of text messages from a person who said her name was Nicole. She asked him to invest in crypto currency, and when he said he was interested she told him to download the eWallet app and deposit money. From April to June he deposited $45,000. For more than a month he tried to withdraw funds but was not able to do so. He tried to contact Nicole but did not get any response. The man did not have any receipts or documentation to show where he deposited the money or what crypto currency he had invested in, which makes it more difficult for police to investigate.
June 28, 10:57 a.m.: Two employees at a business on Pleasant Street got into an argument. During the incident, one of the employees took out a knife and swung it at the other employee. When other employees tried to intervene he swung the knife toward them. Eventually the altercation was broken up, and no one was injured. Police were called and when they spoke to the man he had the knife on him. The 24-year-old Cambridge man was summoned to Waltham District Court for assault with a dangerous weapon.
June 29, 2:23 p.m.: Two men came into Ulta Beauty at Arsenal Yards and took items off the shelf, placed them in a bag and left the store. The pair took approximately $1,200 in items. The first suspect is described as a Black man with red beads in his hair, wearing a black T-shirt, blue jeans, and red and black sneakers. The second suspect is described as a Black man with long blond hair, wearing orange shorts, and a denim jacket. They were last seen heading toward Arsenal Park.
June 30, 6:50 a.m.: A bicycle was taken from a business' garage on Pleasant Street. The owner of Alpha Mechanical reported that a Sundeal mountain bike had been left in the garage, but was missing. Surveillance video showed two juvenile males walking toward the garage at midnight and a short time later one of them came out with the bike. The other appeared to be keeping lookout while the bike was being taken. On July 1, a police officer patrolling in Ridgelawn Cemetery spotted two youths with a bicycle who were spray painting the bike frame with gold paint. The boys, one 17 and the 16, were stopped and police contacted their parents as well as the owner of the bike. The owner got the bike back and did not want to pursue the matter further.
June 30, 12:37 p.m.: A vehicle was damaged in the parking lot outside Target. The owner said he had been involved in a dispute over a parking space with a woman when he pulled in. He went into Target and returned to find a long scratch on the passenger side of his 2002 Honda Civic. There was nothing that showed whether or not the woman had caused the damage.
July 1, 6:32 a.m.: The facilities manager of a condo complex on Coolidge Avenue was walking around outside the building at about 5 a.m. when he was startled by a person in the bushes. The man said he was looking for cigarette butts to smoke. The facilities manager told him he was not welcome on the property. As the man left, he carried a small electric grill and a cover. The manager got a photo of the man. He then reviewed security video which showed the man walking around a shared outdoor space at the building and going into a patio area. He could be seen carrying the electric grill, which had been left by a resident on the patio. An officer who responded to the incident recognized the suspect. A warrant was requested for the 34-year-old homeless man on charges of larceny under $1,200 and trespassing.
July 2, 11:14 a.m.: A woman shopping at Target grabbed a cart and put her wallet in it. When she realized the wheels were not working she grabbed another carriage but did not transfer over the wallet. When she realized she had lost her wallet she went to customer service where it had been returned. However, $600 in cash was missing. Police are trying to identify the person who turned in the wallet.
July 3, 10:33 p.m.: An Elmwood Avenue resident reported a stolen package. The item had been delivered at 11:11 a.m. but when the resident got home at 10:30 p.m. it was gone. It contained $100 worth of clothing.
July 3, 11:17 p.m.: Two scooters were taken from a home on Keenan Street. The mopeds had been left on the street outside his home. The owner left at about 3 p.m. and returned at about 11:20 p.m. and the scooters were gone. One was a Yougfu Wicked 50 moped valued at $850 and the other was a grey Kymco Agility 50 valued at $775.