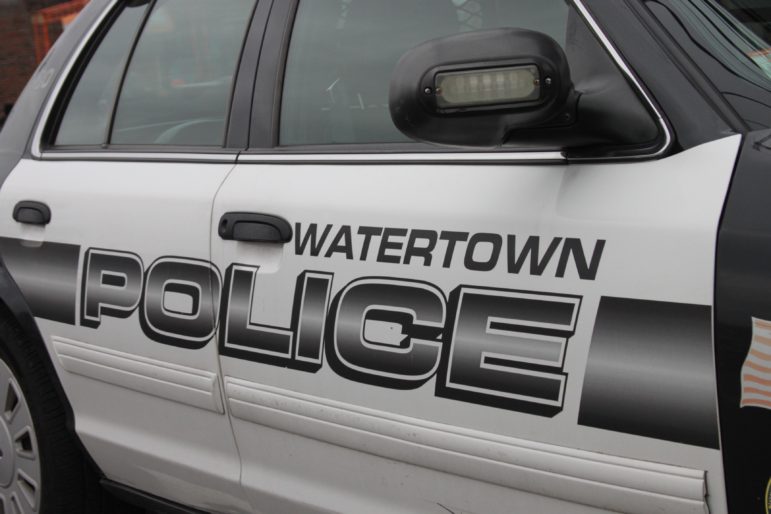 The following information was provided by the Watertown Police Department.
Arrests
July 7, 1:36 a.m.: Police received a report of a person sleeping behind a shed at an apartment complex on Mt. Auburn Street. Officers encountered the man who said he had missed the bus to get home to Belmont. Police found he had two warrants: one from Malden District Court for driving under the influence of alcohol, and one from Salem District Court for defrauding a restaurant. Joshua Grasso-Martin, 25, of Belmont was arrested on the warrants and taken to the Police Station.
July 7, 9:58 a.m.: A man was causing a disturbance in the parking lot in front of Target. Police found the man on Elm Street near the Residence Inn by Marriott. Officers determined the man had a warrant for assault and battery out of Roxbury District Court. Raymond Ferguson, 43, of Boston, was placed under arrest.
July 7, 8:39 p.m.: An officer patrolling on Dexter Avenue queried a license plate of a vehicle in front of him and discovered the registered owner was wanted on a warrant. Justin Madison, 37, of Worcester, was arrested on the warrant from Fall River District Court for leaving the scene of an accident causing property damage.
Incident
July 5 , 8 p.m.: A fire started on the front porch of a two-family home on Winter Street. Watertown Firefighters responded and put out the blaze before it spread to more of the home. The cause was likely mulch that spontaneously combusted and flames spread to the porch. The fire did an estimated $30,000 in damage. There were no injuries to firefighters or residents.
July 6, 12 p.m.: Police had been given security footage from a home on Elmwood Avenue where a package had been taken on July 3. The package contained $100 worth of workout clothing from Old Navy. The suspect was driving a van with New Jersey plates being used by a subcontractor hired to deliver packages for Amazon. The man was identified and a summons was obtained for the 41-year-old Boston man for larceny under $1,200. Officers were shown the video, and on July 6 at noon a sergeant recognized the man while patrolling. He stopped the man on White Street in Belmont (which is the continuation of Waverley Avenue). The man was identified, but denied that he stole the package. Later he admitted to stealing the package. Watertown Police do not know if the man has taken other packages in town, but have alerted other communities where he had delivered items, including Belmont and Waltham.
July 6, 5:46 p.m.: A Dexter Avenue resident discovered someone had used her Venmo account without her permission. There were three unauthorized transactions: one for $318.95, another for $340.22, and a third for $245.95. She is working with her bank to get restitution.
July 7, 9:03 a.m.: A house cleaner went to a home on Garfield Street and found that the home had been ransacked. She called police. The residents had been on vacation, so it is not clear when the break-in occurred. It appears that the person or people who broke in gained entry into the home through a second story window. The residents are still determining what had been taken. Detectives are investigating.
July 7, 5:18 p.m.: A 24-year-old Brighton woman called police after realizing she had been scammed. She was contacted by a person claiming to be from Homeland Security, and told her there was a warrant for her arrest. She was told she could resolve the warrant by sending $900 in Target gift cards. She bought them and sent the information to the person. When she was asked for more money she realized it was a scam.
July 8, 3:51 p.m.: Police responded to athenahealth for a stolen bicycle. The victim said he rode his bike to work in the morning, parked it in the storage area and locked it with a cable lock. When he returned the man discovered the lock had been cut and the bike was missing. An officer viewed video surveillance and recognized the suspect as someone he has dealt with on a prior occasion. Police could not locate the man, who is believed to be homeless.
Dispatched to Athena Health for a stolen bicycle. Met by the victim who said he rode his bicycle to work in the morning. Parked his bicycle, a Motobecane mountain bike worth $950, in the storage area, Locked his bicycle with a cable lock. The incident was caught on video surveillance, and the officer recognized the man from a previous occasion. Police were unable to find the man, who is believed to be homeless. Warrant requested for the 23-year-old man on charges of larceny under $1,200, destruction of property, and possession of burglarious tools.
July 9, 2 a.m.: A moped was taken from a home on Philip Darch Road. The owner parked it at about midnight, and when she came out at 2 a.m. the Solana Kickstart scooter was gone. It is valued at $1,300. The scooter requires a key to start and the key was not left with the vehicle.
July 10, 2:20 p.m.: A Cambridge man reported that someone stole a bag filled with valuables from the back of his vehicle, and believes it might have happened in Watertown. He had been to Target and Arsenal Yards before going to New Balance in Brighton. When he was in Brighton he noticed a piece of luggage that had been in his car was now missing. It contained two Rolex watches valued at $12,000 each, a Nintendo Switch, and an MSI laptop valued at $2,000. Police are investigating.
July 10, 8:25 p.m.: A package was taken from a home on Grant Avenue. The resident was expecting a package on July 9, and it was confirmed delivered by UPS at 5:33 p.m. She was not able to find the package, which contained $400 worth of household items.