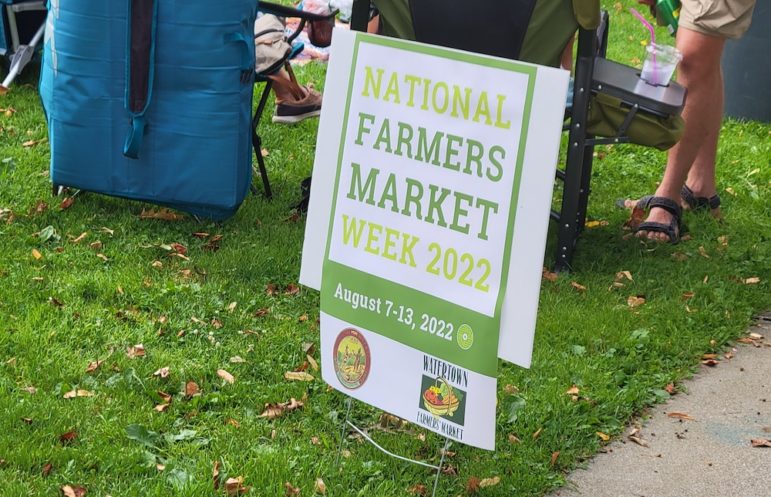 Along with the normal throngs of people seeking fresh fruits and vegetables, meats, fish and more, a group of state officials attended the Watertown Farmers Market Wednesday to mark National Farmers Market Week.
The weekly market, held every Wednesday at Saltonstall Park, not only provides access to locally grown and produced food, it serves as a place for the community to come together and to provide nutritious items to those who struggle to pay for food.
Massachusetts has more than 200 farmers markets, said John Lebeaux, commissioner of the Massachusetts Department of Agricultural Resources, but most others are not held in such picturesque locations, including parking lots.
"I love this site here. it's just gorgeous," Lebeaux said. "I compliment the City on its commitment to use this property, right in the center of town, right next to City Hall. It shows the commitment to the farmers market."
During the ceremony, Lebeaux read a proclamation from Gov. Charlie Baker. See the proclamation by clicking here. National Farmers Week runs from Aug. 7 to 13, said Christine Ruggieri, acting Regional Administrator for the Food and Nutrition Service Northeast Regional Office in Boston.
"Now in its 23rd year, National Farmers Market Week celebrates the essential contribution of farmers markets to food system and local economies," Ruggieri said.
State Rep. Steve Owens said the market fills a key role in Watertown.
"After Russo's closed last year, so many people reached out to me and said, 'Steve, what are we going to do? Where are we going to get our fresh fruits and vegetables?" Owens said. "The supermarkets are what they are, but in terms of what you can get — fresh, local, healthy fruits and vegetables — you really can't beat the farmers market and the Watertown Farmers Market in particular."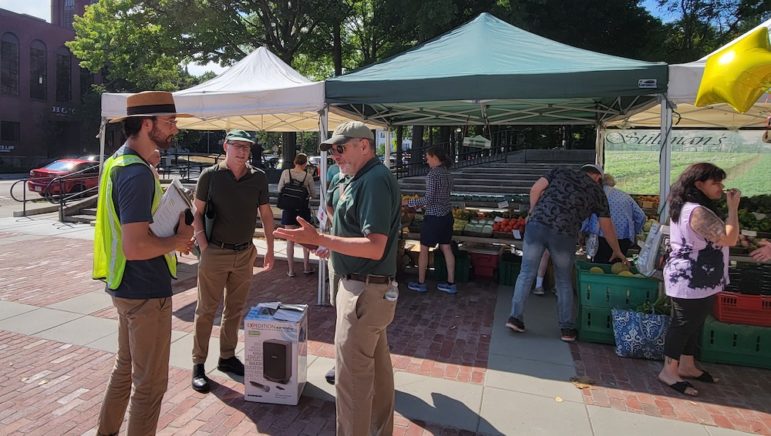 Farmers markets played an important role during the pandemic, Lebeaux said, when many people were wary of going to supermarkets.
They also have options for people who can't afford to shop there. Through HIP (Health Incentives Program) residents who qualify for SNAP (Supplemental Nutrition Assistance Program) and can essentially get free produce at farmers markets. They can get $40 or more of the money spent at HIP farm vendors put back onto their EBT cards. Find out more about HIP by clicking here.
Last week, more than 100 vendors received approval to accept HIP from the Baker-Polito Administration, said Mary Sheehan, acting commissioner of the Department of Transitional Assistance (DTA).
One of the additions was a vendor at the Watertown Farmers Market, said Stephanie Venizelos, Community Wellness Program Manager, who manages the City's market.
"Farmer Tim's Vegetables was just HIP certified. We are very excited," Venizelos said. "Since Tim wasn't HIP certified (previously) he was doing a supplemental CSA for people who couldn't afford the fiscal cost. A thank you to the community who supported the CSA shares for people who couldn't afford them."
The markets make up a significant portion of the state's agricultural economy. Massachusetts has more than 7,200 farms, including more than 600 in Middlesex County, Lebeaux said. The state is fifth in the nation for direct sales from farm to consumer, Lebeaux said, and 20 percent of the $500 million made by agriculture in the Bay State comes from farmers markets.
"What's better than providing locally produced, healthy, Mass. grown food to consumers at a spot easy for them to get to," Lebeaux said. "And also to help the bottom line of our farmers, who face a lot of challenges farming in Massachusetts: land cost, energy cost, labor, winter."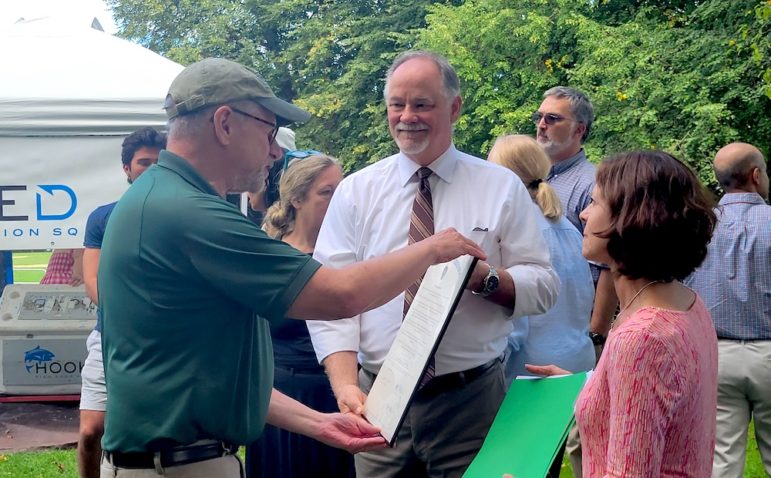 The Watertown Farmers Market started nine years ago at the Arenal on the Charles. A few years later it moved to Saltonstall Park where it has grown. The market is more than just food vendors, said Watertown's Acting Deputy Town Manager Steve Magoon.
"I think a farmers market serves a much larger role than that … I think it was really seen as an amenity, but it was clear from the beginning that it serves a much bigger role in the community, bringing people together, providing opportunities for municipal and community organizations to have tables and spread information as well as providing opportunities for artisans."
Running a market takes a lot of teamwork, Venizlos said.
"I want to do a quick shoutout," she said. "You hear that farmers markets don't just happen. I am full-time with the City but we have seasonal staff and many staff within the City that support the market."
She thanked Market Coordinator Alex Black, Magoon, Assistant Director of Planning Gideon Schreiber, Ingrid Marchesano — head clerk in the Community Development and Planning Office — for dealing with SNAP for the market, along with the staff of other departments such as the Department of Public Works, the Treasurer's Office, and the Health Department.