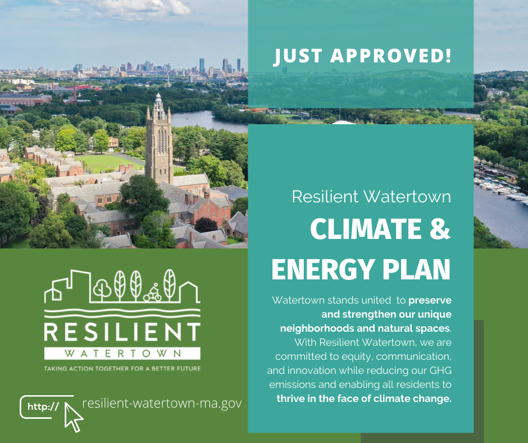 The Climate & Energy Plan approved by the City Council on Tuesday has multiple goals, including reducing the use of fossil fuels, increasing the number of electric vehicles, cutting the amount of waste created in Watertown, and preparing the City and residents for the impact of severe weather.
The City has been working on the plan since March 2021, and formed a 35-member Stakeholder Advisory Group, working groups, conducted two surveys, and held meetings to discuss the five areas of the plan: Building & Energy, Transportation & Mobility, Natural Resources, Infrastructure & Waste Management, and Public Health & Community Preparedness.
One of the major goals of the plan calls for making the City of Watertown carbon neutral by 2050, said Ed Lewis, Watertown's Energy Manager.
"Buildings are the biggest (contributor), the fat rabbit in this: 56 percent of gas comes from buildings," Lewis said. "Transportation accounts for a little over 40 percent." 
The plan calls for cutting all heating of homes and buildings by oil or natural gas to zero percent by 2050. Also, to make 100 percent of vehicles in Watertown powered by electricity by 2050.
Senior Environmental Planner Laurel Schwab said the City will develop ways to assist homeowners, renters and landlords to have electric vehicles.
Another focus of the plan is to deal with the impact of severe weather.
"The four climate threats Watertown faces are intense storms, flooding, drought, and heatwaves," Schwab said. "This climate plan is specifically targeting and tackling, and protecting residents from those climate threats."
As part of putting the plan into action, the City will come up with outreach and education campaigns, and create toolkits to help residents find out what they can do to help the City accomplish the goals. The plan also has recommended strategies and metrics to measure whether the goal is accomplished.
Before the City Council unanimously approved the Climate & Energy Plan, Council President Mark Sideris thanked those who worked on the plan and said now the City must work to make the plan a reality.
"This is a huge step. Thank you to the people who participated. And we heard from a lot of people during this process. As we move forward with implementing the plan, getting frequent updates will help us reach our goals."
The Climate and Energy plan can be seen by clicking here. See the goals and strategies below:
Watertown Climate & Energy Plan Goals and Strategies
Building & Energy
Goal 1: By 2050, 100% of electricity is sourced from renewables
Strategy 1: Accelerate the transition to renewable energy city-wide
Goal 2: By 2050, Watertown's buildings are efficient, resilient, and carbon neutral
Strategy 1: Accelerate the transition to renewable energy city-wide
Strategy 2: Electrify existing buildings running on fossil fuels
Strategy 3: Enhance and actively promote deep retrofit and aggressive conservation programs
Transportation & Mobility
Goal 1: By 2050, non-vehicular transportation options are accessible, affordable, and connected throughout Watertown, and personal vehicular travel miles are reduced by 50%
Strategy 1: Enhance and actively promote zero-carbon mobility options for travel
Goal 2: By 2050, 100% of all vehicles in Watertown are electric
Strategy 1: Accelerate the shift to electric vehicles (EVs)
Natural Resources
Goal 1: By 2050, Watertown's natural assets and green space are enhanced, equitably distributed, and delivering full ecosystem benefits
Strategy 1: Protect and enhance forest and open space parcels
Strategy 2: Protect, enhance, and diversify the tree canopy
Strategy 3: Promote regenerative landscaping and maintenance practices
Strategy 4: Minimize quantity and improve quality of stormwater runoff
Infrastructure & Waste Management
Goal 1: By 2050, Watertown has achieved a net zero waste community status
Strategy 1: Transition community attitudes and actions around consumption and disposal practices
Goal 2: By 2050, Watertown's infrastructure is well maintained and resilient to the impacts of climate change
Strategy 1: Systematically integrate climate change projections into the design of all new and upgraded infrastructure projects
Public Health & Community Preparedness
Goal 1: By 2030, Watertown is a model for community resilience to climate change
Strategy 1: Promote climate literacy through education and training
Strategy 2: Acknowledge climate change's impact on and provide resources to enhance overall community health and well-being
Strategy 3: Provide equitable access to emergency preparedness and response resources
Strategy 4: Promote overall community connectivity