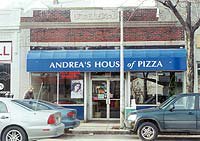 A favorite spot for Watertown pizza lovers will be closing after 40 years serving local diners.
Andrea's House of Pizza in Coolidge Square will be closing this week, said Alex Taoultsides, who co-owns Andrea's with his father Stratos.
"Our last day is August 19th," he said. "After 40 years it's time to retire."
The pizzeria's closing was reported on the Boston Restaurant Talk website on Aug. 15.
Andrea's has been making, subs, wraps, as well as Italian and Greek dishes at 620 Mt. Auburn St. since 1982.