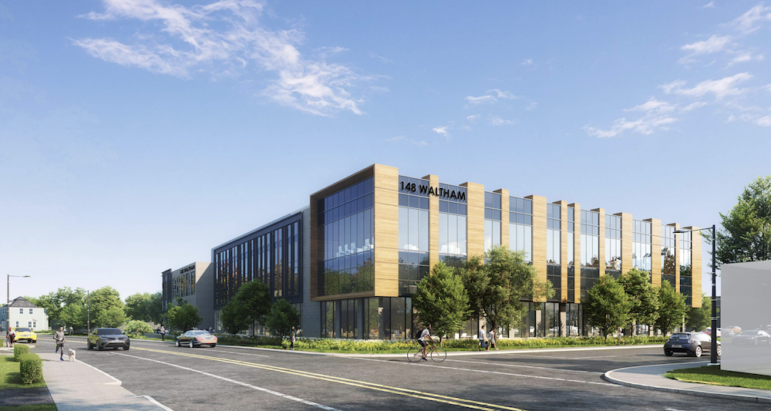 Developers have submitted plans for a lab building to be built on the former Sterritt Lumber site on the Westside of Watertown.
On Aug. 8, the Nordblom Company filed for a special permit with site plan review by the City of Watertown on behalf of the owners, Watertown Owner LLC to construct an office lab/R&D (research and development) building at 148 Waltham Street.
The project is the second proposal for the former Sterritt Lumber site, near Bemis Park, in West Watertown. The first proposal, in early 2020, was for a 40B housing project with a 253-unit apartment building.
Developers held a community meeting for the current proposal on May 26, 2022.
The two-story building would be 39-feet tall with about 67,000 sq. ft. of floor space, and 137 parking spaces. The front of the building would be between 16 feet and 56 feet from the property line. The project also includes publicly-accessible open space along Waltham Street, streetscape improvements, and improvements to the stormwater system.
The parking and loading areas would be in the back of the building. The proposed parking lot includes eight electric vehicle charging stations, and the vehicle entrance would be on Green River Way (the street on which the entrance to the Watertown Recycling Center is located). The building would also have 40 bicycle parking spots: 20 inside and 20 outside.
Currently, there are three metal buildings on the property, and the rest of the site is paved over. The proposed project would include landscaping and have 26.5 percent open space, and 23.1 percent of the property would be permeable.
Developers plan to pursue LEED Silver certification.
See the project documents by clicking here (look under "Project Status").