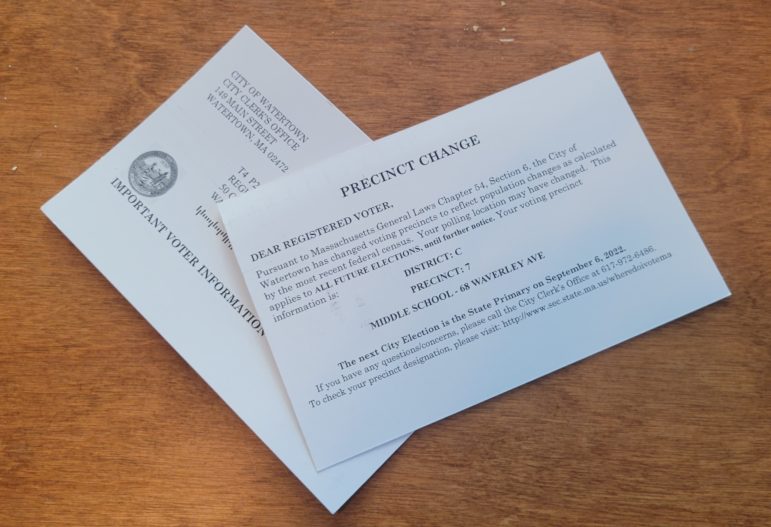 The City of Watertown sent out postcards to residents in precincts that will be voting in a different location from the previous election. However, many of the cards show the incorrect information.
The postcards were delivered Wednesday, Aug. 24, and about one-third have the wrong information on them, said Assistant City Manager Steve Magoon. The Watertown City Clerk's office announced the error on Wednesday, and asked residents to check the information.
Residents may use the following link from the Secretary of States website – https://www.sec.state.ma.us/WhereDoIVoteMA/WhereDoIVote – to lookup their correct precinct, or they can contact the City Clerk's Office at 617-972-6486 to have the staff look up their precinct.
The State Primary will be held on Tuesday, Sept. 6.
Postcards were sent to registered voters in precincts where voting locations will change, as well as voters whose precinct changed due to redistricting. They went to about 6,000 voters, Magoon said.
Four precincts will be in a different location from 2021. Precinct 2 is moving back to the Hosmer Elementary School after being at the Hellenic Center while the school was under construction. Precinct 7 will be at Watertown Middle School while Lowell Elementary School is under construction. Precincts 11 and 12 will move back to the Cunniff Elementary School after being at Watertown Middle School while Cunniff was closed for construction.
The error was made by the printing company, and the City will be sending out another mailing with the correct information.
"The printer is bearing all costs to make the correction," Magoon said.
The deadline to register to vote or change your party for the Sept. 6 Primary Election is Saturday, Aug. 27 at 5 p.m. The Clerk's Office (City Hall, 149 Main St., ground floor) will be open until 5 p.m. See more at http://watertown-ma.gov/clerk
2022 Watertown Election Locations
Precinct 1: Hellenic Center
Precinct 2: Hosmer School
Precinct 3: Hellenic Center
Precinct 4: Phillips School
Precinct 5: Phillips School
Precinct 6: Hibernian Hall
Precinct 7: Watertown Middle School
Precinct 8: Watertown Middle School
Precinct 9: Watertown Middle School
Precinct 10: Watertown Police Station
Precinct 11: Cunniff School
Precinct 12: Cunniff School