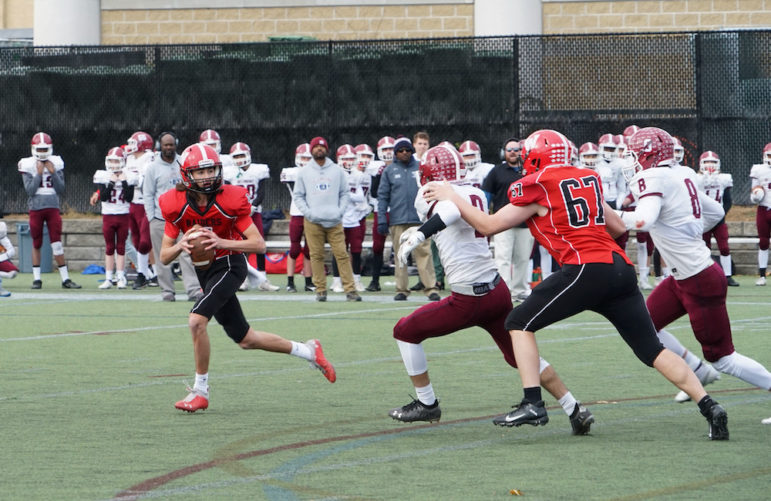 The 100th annual Thanksgiving clash between Watertown and Belmont will move to the home of the Boston Red Sox in 2022 with a Wednesday afternoon matchup.
The Raiders and Marauders will play in one of five high school football rivalry games taking place at Fenway Park this year. Watertown Head Football Coach John Cacace said it presents a unique experience.
"We told the team (Wednesday) and they were super excited," Cacace said. "It's a once-in-a-lifetime opportunity for a high school team to get to play at Fenway Park."
Fenway Sports Management selects teams from around Massachusetts, Cacace said.
"We made a couple of phone calls thinking that it might be great to play our 100th game versus Belmont at the historic venue," Cacace said. "We are just happy and excited that Fenway chose us."
While the game won't have the intimate feel of a game at Victory Field or Harris Field, Cacace expects the game to be a special one.
"I think the atmosphere is going to be electric," he said. "I expect people from all over to attend, alumni, students, community members. This is an event for the entire community, not just the football team. It's a great way to start your holiday weekend."

The Watertown-Belmont game is scheduled to start 4 p.m. on Wednesday, Nov. 23. It is sandwiched between the St. Mary's vs. Austin Prep (1:30 p.m.) and the Bridgewater-Raynham vs. Brockton (6:30 p.m.) games that day. The Raiders' game will kick off 40 minutes after the previous game.
High School Football at Fenway presented by Cross Insurance also includes two games on Tuesday, Nov. 22: Boston Latin plays O'Bryant at 5 p.m, followed by Malden against Medford at 7:30 p.m., according to Fenway Sports Management's announcement.
"We are thrilled to host high school football once again at Fenway Park," said Fenway Sports Management President Mark Lev. "Thanksgiving rivalry games are always a highlight of the high school football season and adding the iconic backdrop of Fenway Park will only make the occasion more special for the players, coaches, and fans. We look forward to welcoming the communities and football fans to the Park to celebrate this time-honored tradition."
General admission tickets are available for purchase at www.redsox.com/highschoolfootball starting at $20/ticket for each day, providing access to the day's games, with 25 percent of every ticket sold given back to the school each patron is supporting. Additionally, Dell Technologies Suites will be available starting at $40/ticket and can be purchased by contacting Ben Morse at bmorse@redsox.com.
Fenway will also host a college football game in 2022 — the Wasabi Fenway Bowl on Dec. 17.
The ballpark has hosted high school football games since the first year it opened, in 1912, when Boston Latin and Boston English played their Thanksgiving game there. Fenway also hosted the 1912 high school football national championship game in which Everett was defeated by Oak Park, Illinois.
After 1935, there was an 80-year hiatus for high school gridiron matchups. Last year, Fenway hosted rivalry games between East Boston and South Boston, North Andover and Andover, Blackstone Valley Tech and Nipmuc Regional, and Winchester and Woburn.