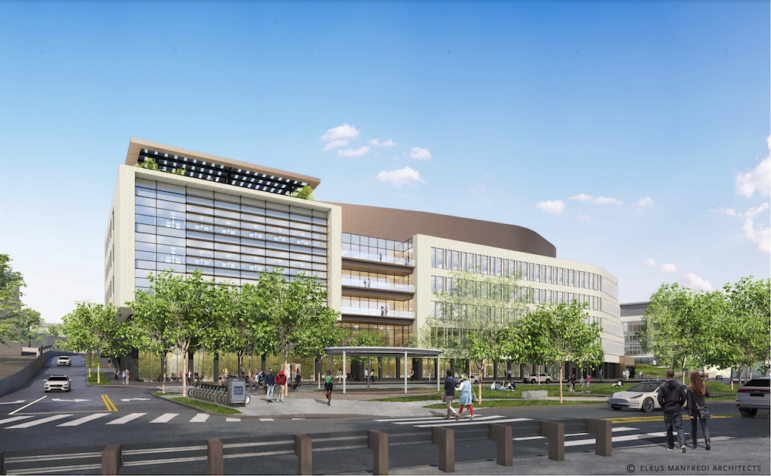 The second phase of the life science lab and office complex on Water Street, off Nonatnum Road, has been submitted to the City of Watertown and the project would have a five story building, a childcare center, and a publicly accessible park.
Boston Development Group submitted the plans in early August. The developers seek a special permit with site plan review for a proposed building at 99 Water Street with five stories (four in some places depending on the grading). It would have 224,000 sq. ft. of lab/office space for research and development. There would be 430 parking spaces in two-and-a-half levels of underground parking (the half level shares the ground floor of the lab/office building).
The first phase of the project is located at 66 Galen Street, next to the MBTA's Watertown Yard.
Another part of the development would be a 4,000 sq. ft. daycare facility which would be open to both occupants of the two phases of the project, as well as the wider public, the project narrative said.
The park is described in the project narrative: "The resulting park will be approximately three quarters of an acre and will include a naturalized area with walking paths and planting to the northeast, an open lawn area with a pavilion, multiple seating areas of different scale and orientation and places for food trucks to pull up on the street to the southwest. Additionally, the park will accommodate a Bluebikes station and a wide walkway from the improved Nonantum Street crossing to lower Water Street."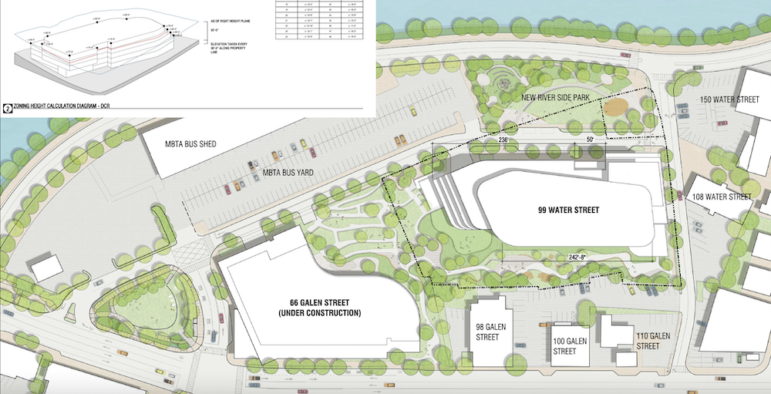 The project also realigns the southern part of Water Street "in order to create a safer and more functional intersection between Water Street and Nonantum Road," the project narrative said. The pedestrian crossings across Water Street and across Nonantum Road will be improved, too.
See the project documents by clicking here (scroll down and look under Project Status).