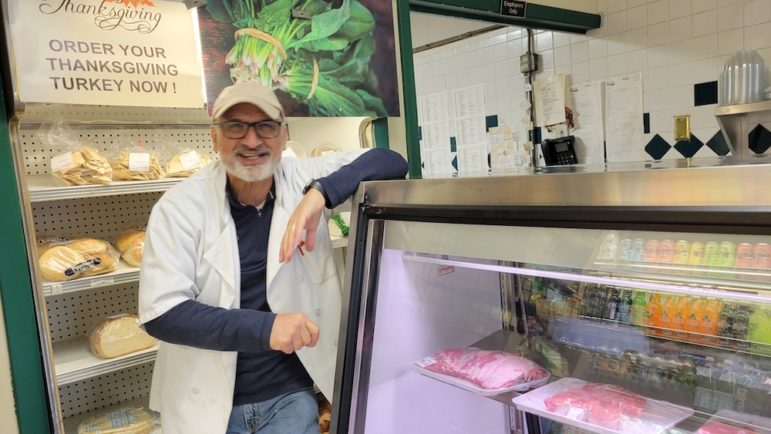 For more that three decades, Dick Ucuz has served up sandwiches, cut fresh meat, and provided other edible delights from The Meat Spot. This week is one of his last at the business that has been in Watertown Square for more than a century.
Fans of The Meat Spot can be comforted that the business has been sold to new owners who will continue to serve the same favorites.
"They are going to be keeping it the same way I was running it," Ucuz said. "Maybe they add more stuff into it. That's totally up to them."
The small store has been a popular destination both for its deli and also its meat and poultry.
"It is all freshly cut here. At Stop & Shop and all those, you get pre-packed stuff from the slaughter house," Ucuz said. "We cut it all on our own. People like the way we are doing it all those years, and (the new owners) are going to try to do it the same way."
Before he moves into retirement, Ucuz will help with the transition.
"I am still here another week or so, then that's it," he said. "I am 69 now, 70 at the end of this year, and I have been doing this 32 years at this location. Before here we had a place in Arlington for 10 years — the same type of business."
During his 32 years at The Meat Spot Dick Ucuz worked with his brother Harry. Family is what first brought Ucuz, who is an Armenian from Turkey, to the United States.
"I left Turkey when I was 18. I studied hotel management and I got a job in Germany, left Istanbul when I was 18 years old to work in a hotel," Ucuz said. "Most of my family was in the U.S. so they asked me to come so we could be together and all, and I decided to come here to reunite with the family."
After 10 years in Arlington, Ucuz purchased The Meat Spot.
"We remodeled and all that stuff, and then we have been here 32 years," Ucuz said. "I think it is time for me to retire, to enjoy the rest of what's left."
The business has a long history in Watertown Square. It operated at the same time that the first Star Market was around. Shoppers got their groceries from Star (which was located where the Italian Design Interiors is now) and then got meat and poultry from The Meat Spot, Ucuz said. He said he is one in a string of longtime owners.
"The people I bought it from, they were here 40 years and they told me they bought it from another family (who had it) for 40 years," Ucuz said. "So it has been over 110 years."