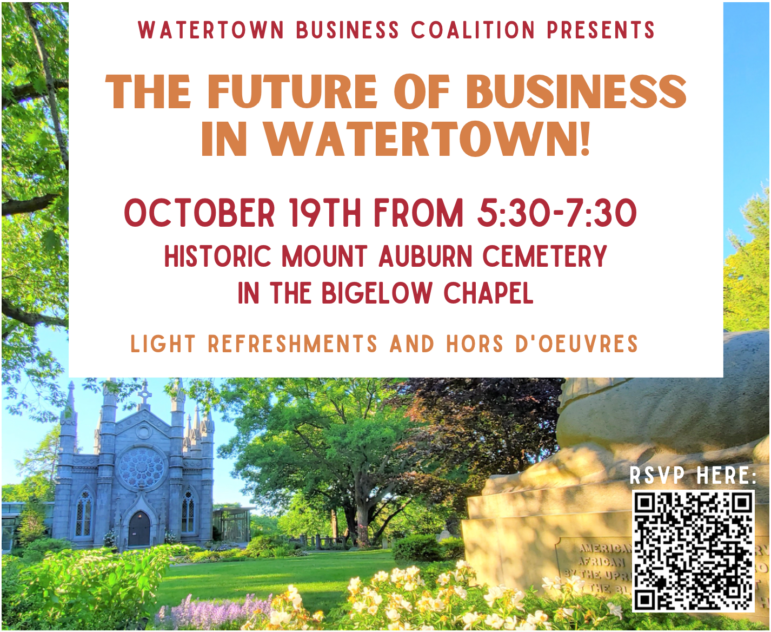 Local residents, business owners, employees and others are invited to add their voice to the City of Watertown's effort to shape the future of business in Watertown at an event hosted by the Watertown Business Coalition.
On Oct. 19 the WBC will host a networking event where City officials and consultants working on updating the Comprehensive Plan, Watertown's primary planning document. The plan covers many areas, but the event focuses on business.
The event will be at the Mount Auburn Cemetery's Bigelow Chapel. There will also be time for networking, and refreshments will be served. The event is free.
The WBC sent out the following announcement:
Watertown Residents, Watertown Businesses and those who do business in Watertown — you are invited to The Future of Business in Watertown, a networking event where we will discuss the future of business in town and a short presentation will be made about the City of Watertown's Comprehensive Plan update and how it may impact businesses and economic development. We are thrilled to bring our community to the beautiful grounds of Mount Auburn Cemetery in the Bigelow Chapel. Light refreshments and light bites will be served.
When: Wednesday, October 19, 5:30-7:30 p.m.
Where: Bigelow Chapel on the Mount Auburn Cemetery grounds