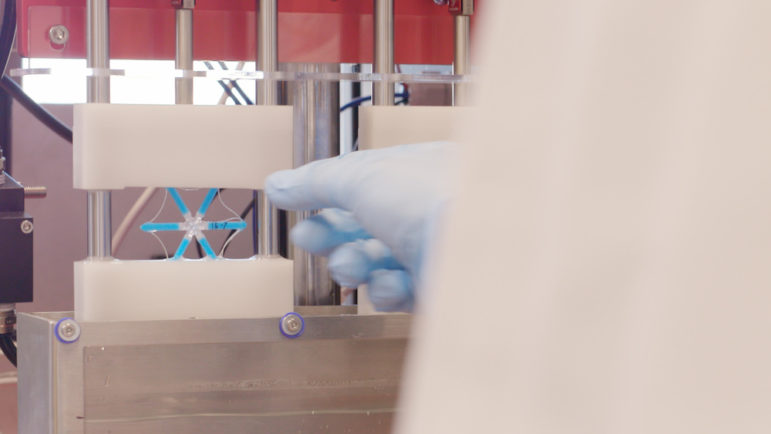 A company with headquarters in the East End of Watertown will soon start the final trials for a way of delivering drugs that would allow patients to take just one pill a week instead of seven pills or more. And the company is working on technology that could cut it to just two or even one a pill a month.
Lyndra Therapeutics moved to its space on Grove Street in 2017, and employs nearly 130 people there, in Lexington, or who work remotely. The company also helps train the next generation of life scientists by working with students from colleges in the area, and has also started reaching out to classes at Watertown High School.
Late in 2022, the company will begin phase 3 testing, the final stage before applying for approval from the FDA, and has plans to submit the application in 2024 with hopes of getting final approval in 2025, said Lyndra CEO Trish Hurter.
The technology developed by Lyndra is a new drug delivery platform, called LYNXTM. The element containing the drug looks like an asterisk, with six arms coming out of a central hub, that folds up so it can be placed in a capsule. After being taken by patients, when the capsule dissolves the arms open in the stomach and the LYNX remains there for a week.
The medicine has been applied to the end of each arm, and the medication has been designed to release slowly during the course of the week.
"We all know there is lots of good medicine out there, but if you don't take the medicine you are not going to be cured of the disease," Hurter said. "We've been trying to figure out how to make people more adherent, and educate them, and do this and do that, but at the end of the day — it is human nature — it's really hard to remember and you forget. We want to make it less of a burden, plus deliver the drug in a better way."
A longer term dose has other advantages over ones taken daily, Hurter said. When a drug is taken once a day, for instance, the drug is released and there is a peak dosage, and then the amount drops before the patient takes the next dose.
"That peak of the drug concentration can sometimes cause side effects or something, and the drug then drops. By the time you get to the next dose you are probably pretty low, you are probably not (getting the desired result)," Hurter said. "What you really want to do is release the medicine in a nice, smooth and steady rate so that you are always at the most effective, while still safe, concentration. That's what we can do with the long-acting dosage release."
There are other long-acting dose options, but they require injections, which turns off many patients, Hurter said. The company explored using its technology with several medications, and decided to focus on a drug used for schizophrenia and bipolar disorder, Hurter said. Lyndra's first product would deliver a seven-day dose of risperidone.
The company is also working on similar products for malaria eradication and for opioid use disorder patients.
Company History & Future
Lyndra got its start in 2015 at MIT with "no money and no space," Hurter said. It began life in an incubator space run by Robert Langer, the originator of more than 40 biotech companies including Moderna & Alkermes. It moved over to space owned by SQZ on Grove Street, before that company moved to space at Arsenal Yards.
In 2017, Lyndra found space of its own at the building at 65 Grove St., where Bosch also leases space. In 2020, the company set up a manufacturing facility in Lexington.
The company chose to stay in the area, in large part, because of the rich source of talent in and around Boston, and Lyndra also takes advantage of Northeastern University's co-op program, said Denise Strauss, Lyndra's Senior Vice President of Commercial & Communications.
"We want to be able to attract great talent and we have got all these great universities we can pull from, particularly Northeastern where they have this six month co-op initiative that we can really tap into," Strauss said.
Since 2019, Lyndra has had more than 100 co-op students.
"As a company with 128 employees, it is a significant contribution to the work that we do," Strauss said.
The students don't just assist in the labs, they help create key components in the manufacturing and testing process.
The company uses a machine that simulates the conditions inside the human stomach that was developed by Erik Ryde when he was a co-op student. Now he is an engineer with Lyndra. The machine contracts and pulses in waves.
"Effectively what we developed here is a mechanical model of the human stomach that we can put our dosage form into what is called the antrum section — that's the lower part of your stomach — and squeeze on it in a fashion similar to how your stomach behaves, and determine if it will stay intact mechanically and if it will pass through our simulated pylorus valve at the end of the stomach," Ryde said.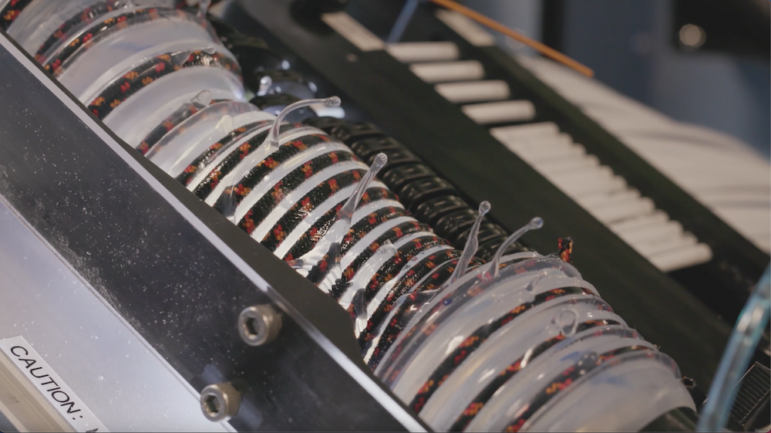 Other equipment created by Lyndra puts the LYNXTM drug delivery platform through thousands of folds in a short period of time to test their durability.
"Have you ever seen the shoe commercials where they have a machine that can simulate running 1,000 miles," Ryde said. "This is something like that."
The arms of the LYNX are held together with a polymer that is similar to what is used in dissolvable stitches. Hurter said it is designed to fall apart into pieces small enough to pass through people's digestive system after the dosage period has ended.
Another hurdle was to make sure the medication is released slowly, at a rate that would last seven days, or however long the dose is supposed to last. Lyndra Director of Pharmaceutical Research & Development Erick Peeke said the formula depends on the medication.
"Every drug is different in how soluble it is," Peeke said. "We have the base formulation and if a drug is more water soluble we slow down release or if it is not as soluble we use something to help it out."
Once the formula and production methods are perfected, Lyndra recreates it on a grander scale in the Lexington manufacturing facility, Hurter said. The company decided to keep the production center in Massachusetts because it required highly skilled employees, Hurter said.
The company also seeks to inspire the next generation, and has begun a partnership with Watertown High School. Lyndra participated in a program created by CoLAB, which matches companies with classes at WHS. The company welcomed 20 students and four teachers on a day-long field trip.
"They came into Lyndra and sat in small groups with employees who talked about what they went to college for, how did they get into this, what the have been doing," Peeke said. "When I was in high school I didn't really know what chemists did day to day. This gives them a better feel for what you might want to go to school for, what you might actually do if you enjoy mechanical things."
The students even got to try their hands at making a simulated stomach and testing a medical device using a beach ball and pipe cleaners.
The company has plans to send employees to Watertown High School to have similar discussions about how to get into science, engineering and other related careers with four classes, Peeke said.
"(Lyndra) is a learning environment for high school students, for college students, for young professionals, and older professionals," Strauss said. "It's pretty remarkable."