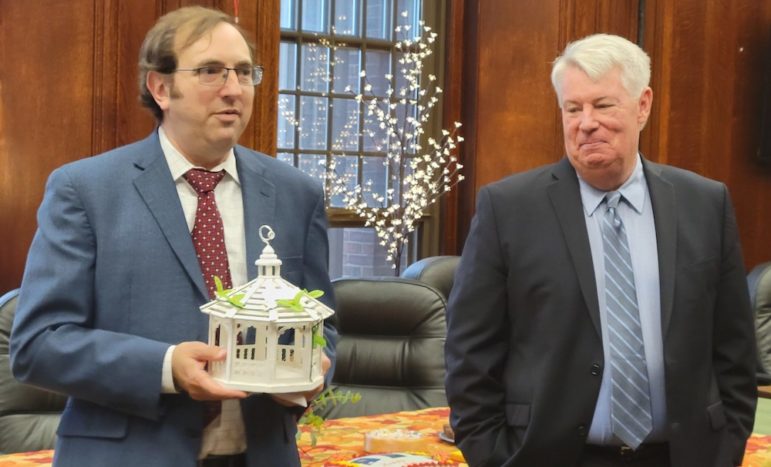 When he joined the then-Town of Watertown staff in 1994, Tom Tracy was one of the young kids on the block. He continued to work as the Town Auditor, now City Auditor, for nearly three decades and will retire at the end of this week — mostly.
While he will step down from full-time employment, Tracy agreed to come in a couple days a week to help the City until a new Auditor is hired, and to help the new person with the transition.
Tracy has always been willing to lend a hand, City Council President Mark Sideris said at Tuesday's Council meeting.
"One thing I can stress about Tom is he never said 'no,'" Sideris said. "If you ask him to do something, Tom is there. He says, 'What can I do? Let me do this. Let me do that.'"
He also served as a member of the Watertown Retirement Board for 28 years, which he also enjoyed. And during the last several years he also served as Assistant Manager for Finance, and in the last 6+ months he was the Acting City Manager.
Tracy grew up in Watertown, attended the public school, and played football for Watertown High School before going to Holy Cross. He has been working in government positions for 40 years, starting in State government. He worked for three different state departments: the Bureau of Special Investigations for five years where he investigated welfare fraud, then three years at the Office of the State Comptroller where he got his start in finance and accounting, and then with the Department of Procurement and General Services where he ran the finances.
Looking back, Tracy said he didn't think that he would spend his career in government.
"When I started with the State I said I wasn't going to be a public employee for more than five years," Tracy said. "And now it's 40 years later."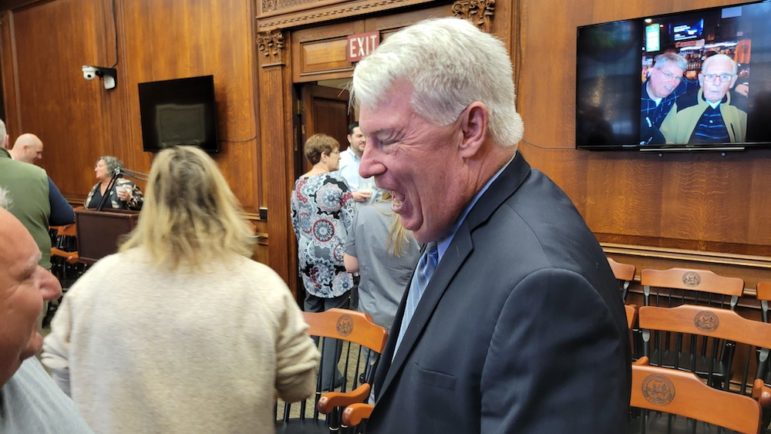 Unlike most department heads in the City of Watertown, the Auditor is hired and supervised by the City Council, not the City Manager.
"People speak about how the Charter has a special relationship between the Manager and the Council President, it states it right there in the charter. There is a reason for that," Tracy said at a farewell gathering held at City Hall on Thursday. "But I also think what's not stated is the special relationship between the Council President and the City Auditor. And I hope my replacement has the same relationship that I have had with the Council Presidents that I have served under."
Sideris said he appreciated the work that Tracy has done, and has seen a world where he was not Watertown's Auditor.
"I was here at one point when Tom left for a year, and all I can say is what a disaster! That really is the best way to describe it," Sideris said. "I hope that no Council has to go through what we went through when Tom was not here."
Sideris thanked Tracy for his service, and presented him with a proclamation from the City Council. City Manager George Proakis presented Tom with a sign that used to hang outside his office that said, "Town Auditor." It has been replaced with one that says City Auditor following Watertown's name change last year. He was also presented with a small wooden gazebo, which Proakis said was emblematic of the one to be built in Saltonstall Park. Tracy also received plaques from the Watertown Fire and Police departments.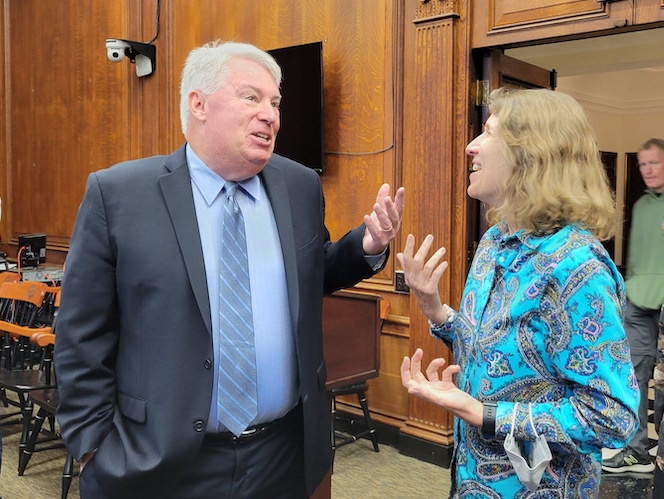 The new manager has been working for the City for about two months, and thanked Tracy for helping him out during his first several weeks, and even before he officially started the job.
"I often say I owe a lot to (former Manager) Mike Driscoll for his management of the City," he said. "I also owe a lot to Tom Tracy for his management of the finances and his service as Acting Manager, making sure that we had a smooth transition."
Tracy said he enjoyed the long working relationship he had with former Town/City Manager Driscoll.
"It has been my distinct pleasure to work with Town Manager Mike Driscoll for almost 28 years," Tracy said. "Watertown is a better place for his service to our community. I'm also grateful to the City Council for voting me as acting City Manager for six-and-a-half months this past year."
Tracy also thanked Assistant City Manager Steve Magoon for his assistance and work during his time as Acting City Manager.
As he prepares to depart City government, Tracy said he had confidence in the next generation.
"Before closing I need to congratulate the City Council for the appointment of Geroge Proakis as City Manager," he said. "In almost two months of working with George I can tell Watertown is in good hands with a very smart and caring individual at the head of administration."
Tracy closed his remarks to the Council by saying that it has been his "pleasure and honor" to work in the community where he lives and grew up in. He thanked the many Councilors, municipal employees, and members of citizen boards and commissions he has worked with, adding that he did not want to try to name them all for fear of leaving some out.
"We all have a common goal and that is to make Watertown the best that it can be," Tracy said. "I want to thank my family for their love and support, especially when it meant that I had to be here working instead of being with them."