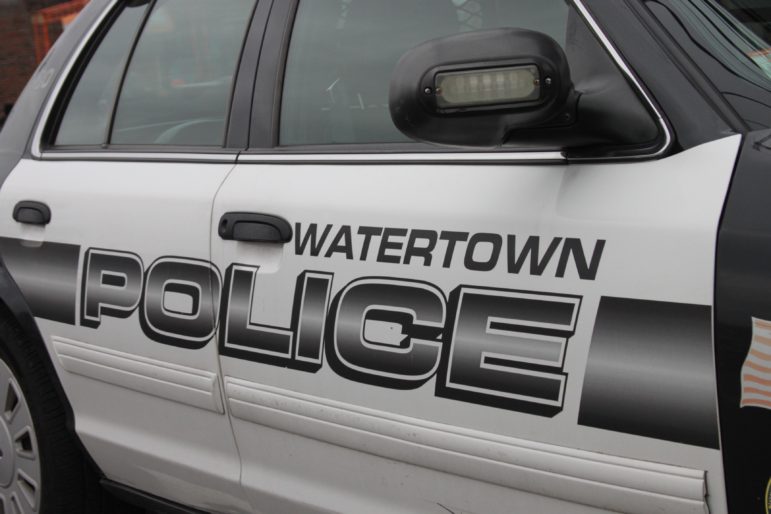 The following information was provided by the Watertown Police Department.
Arrests
Oct. 4, 2:46 a.m.: A parking attendant at Arsenal Yards spotted a man walking around the Purple Garage acting suspiciously. Police responded and found the man, who said he was homeless. Officers also learned he had an outstanding warrant for his arrest. Timothy Dolan, 41, of Stow, was arrested on the warrant from Quincy District Court for Possession of a Class A drug, and possession to distribute a Class D drug.
Oct. 7, 12 a.m.: Police received a report of a person asleep at the wheel of a vehicle at the intersection of Arlington and Mt. Auburn streets. Officers tried multiple times to wake the woman up. When she began to wake up she was lethargic and her foot came off the brake. The vehicle began to roll into the intersection and officers continued to bang on the window to get her attention. As she awoke, she put her foot on the gas and drove down Arlington Street toward Belmont. The vehicle ended up driving up on the sidewalk on Maplewood Street and hit a wooden fence. The driver suffered a minor cut on her face, and displayed signs of impairment. She admitted to consuming alcohol before driving, and did not pass four field sobriety tests. The 27-year-old woman from Woburn was arrested on charges of driving under the influence of alcohol, operating to endanger, and marked lanes violation.
Incidents
Oct. 3, 8:06 a.m.: A resident of a condo building on Galen Street reported that someone tried to break into his home. The lock and door had signs that they had been tampered with. He had been in and out of the apartment between Sept. 29 and Oct. 2, and did not notice any damage. When he found the damage he noticed fresh markings on the bolt, divots on the lock consistent with someone trying to pry it open, and scraping along the door. It did not appear that anyone gained entry. No other residents reported an issue. Police spoke with management and are investigating.
Oct. 4, 4:48 p.m.: A resident of the Elan Market Apartments on Arsenal Street locked his bike to a rack, at 7 a.m. on Oct. 3, and discovered it missing on the afternoon of Oct. 4. The white Specialized bicycle was valued at $900. The lock had been cut.
Oct. 5, 11:50 a.m.: A resident reported that she had been scammed by someone who contacted her on LinkedIn. The person said a company saw her resume and she was selected for a position at the company. She spoke with someone claiming to be with the company's human resources department on Skype. She was offered the job, and the person said she would receive a check by FedEx for $4,870 and she was supposed to buy a laptop, an iPhone, and software. Later, she received another check for $2,800 which she deposited into her account. She was instructed to send $1,000 on the Zelle app to the company for a printer. Her bank contacted her and said that the checks were fraudulent, and she contacted police. She is out $5,500.
Oct. 8, 11:25 a.m.: A woman reported that cash had been taken from a safe in her home. The Waltham Street resident had kept a key hidden in the home, but she could not find it and she believes it was used to open the safe. The theft occurred on Oct. 3. Police are investigating.
Oct. 8, 11:29 a.m.: A man was seen taking a hoverboard and a six-pack of beer from Target. He removed the theft detection device from the hoverboard with a pair of scissors before heading to the alcohol section. The man left the store before police arrived, but they were given a description. The man was located nearby sitting on a bench outside the Residence Inn by Marriott. The hoverboard and the beer were next to him. Police summoned the 41-year-old Boston man to Waltham District Court for shoplifting and unlawful deactivation of a theft prevention device.
Oct. 8, 3:04 p.m.: A man was riding his bike through Arsenal Yards and had a backpack in a basket. After he rode through the property he realized the black North Face backpack had fallen out of the basket. He turned around to retrieve it but it was gone. A person nearby saw the backpack fall, and then almost immediately a vehicle stopped, someone grabbed the backpack, and then drove away on Arsenal Street. The person did not get a description of the person or the vehicle.
Oct. 8, 3:18 p.m.: A Home Depot employee approached a Police officer to inform them of a shoplifting. A man had been in the store and took three leaf blowers and put them into a black garbage bag. The man walked past the registers without paying, and when security confronted him he fled. Police received a description of the man and officers spotted him at a bus stop on Arsenal Street outside the Residence Inn by Marriott. He still had the leaf blowers, which were worth a total of $900. The 45-year-old man from Lynn was summoned to Waltham District Court for shoplifting by concealing merchandise.
Oct. 8, 4:13 p.m.: The manager of Wild Willy's called police after discovering a suspicious item. The manager found a little plastic bag with a small amount of a white powdery substance on the ground near a table. Police suspect the substance to be cocaine. Surveillance video showed at 3:45 p.m. a white male with stocky build, brown/blond hair, and wearing a grey shirt, black shorts and black sneakers reach into his pocket to take out a cellphone and the bag fell out. He left a short time later. Police are investigating.
Oct. 9, 8:20 a.m.: A Watertown woman reported that her checking account had been compromised. She noticed some charges she had not made on her bank statement, including unusual deposits and withdrawals. There were three deposits totaling $1.42 and then a withdrawal of $4,200 on Sept. 27. Then on Oct. 4 there were two deposits for 13 cents, and a withdrawal of $4,600.13. In total the account was missing $8,698.58. The woman is not sure how it happened. It likely occurred online. She is working with her bank to resolve the issue.
Oct. 9, 3:53 p.m.: The property owner of a condo building on at 102 Mt. Auburn Street noticed a vehicle pull into the parking lot and sat there for a while. The owner approached the vehicle and asked the man inside what he was doing there. The man said he was a realtor who was there to make an offer on the property. The owner became suspicious and asked more questions. The man in the car then said he was a Shirley Police officer. The owner took a photo of the man, who got upset and threatened to harm him. The man drove away, but the owner got a good description and the vehicle's license plate. He called Watertown Police, who located the vehicle on North Beacon Street. Officers asked him what was going on and the man said he was a security officer from a company out of Wakefield. He denied saying that he was a Shirley Police officer and said that he agreed to let the owner take his photo. Police called the company the man worked for, and the boss said the man was supposed to be at a job at 104 Mt. Auburn St. in Cambridge. Police summoned the 27-year-old man from Fitchburg to Waltham District Court on charges of threatening to commit a crime (assault), and impersonating a police officer.