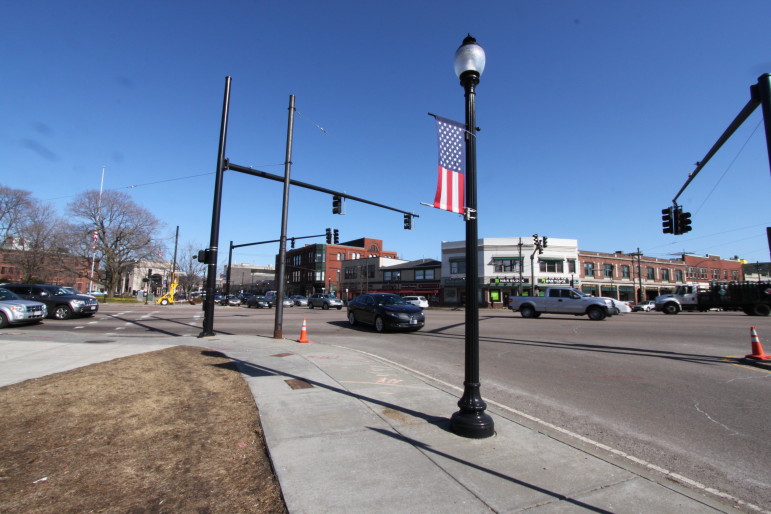 During his preliminary budget presentation to the City Council, City Manager George Proakis said he has heard from a lot of people who want to see improvements made to Watertown Square. He wants to create a coordinated effort to improve the City's downtown.
Like the intersection at the crossroads on the Charles, improving the area requires looking at several prongs.
During his first several weeks, Proakis said he has heard many opinions from many people about what to do with the Square.
"I have talked to so many people about Watertown Square, and there are so many different pieces going on here," Proakis said. "There is some really good planning work that has happened, but all in particular topics: intersection improvements, concerns about the future of small business, what to do with parking lots, what to do with the old Police Station."
One of the biggest concerns is the traffic that flows through the center of town.
"Watertown Square has always been a center for cut through traffic," Proakis said. "There has been a lot of conversation about that, how to make sure that the Square can shine as our community's downtown and center." 
He told the Council he wants to make Watertown friendly to businesses of all sizes, which would include those in the Watertown Square area.
"We have done an excellent job on economic development planning as far as business recruiting, bringing lab buildings, enhancing our particular growth corridors," Proakis said. "I also want to take a step back and make sure that we put some attention on our small businesses and our local business districts. And I have worked in the past in places where they have economic development staff that has worked specifically to assist small business with everything from permitting to getting outdoor seating for a restaurants, to storefront improvements and signage improvements."
He noted that some new options could be available now that the City does not need to use the old Police Station as a City Hall annex. The municipal government's space crunch will be addressed with the City's purchase of the former Parker School on Watertown Street, which Proakis announced on Oct. 11.
Watertown officials are in the midst of updating the City's primary planning document, the Comprehensive Plan, which Proakis said will be completed in the winter of 2023. He would also like to take a closer look at Watertown Square, and said he wants to make it a priority in Fiscal Year 2024 which begins on July 1, 2023. This would take into account local and state issues.
"Sometimes doing a physical plan covering all these pieces in one neighborhood and this is the natural place to start that," Proakis said. "This is something I think is a valuable next step. So, I want to consider how we could do that, where we could potentially look for funding and support to do that and see how to address MBTA zoning issues as well and pull all these pieces together."