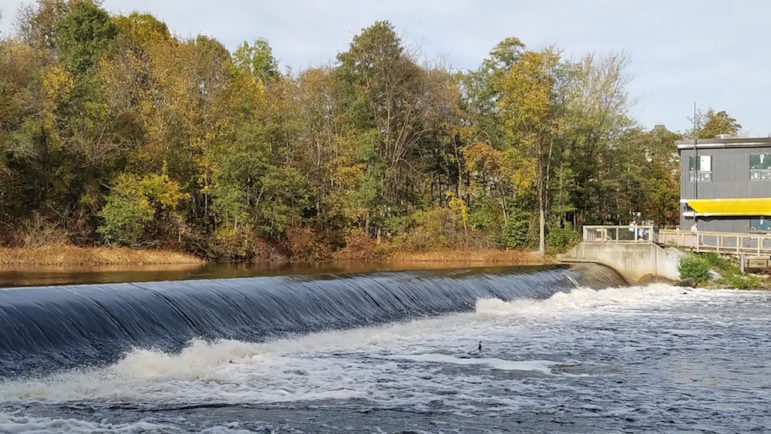 Members of the Charles River Watershed Association appeared before the City Council last week to state their case for removing the Watertown Dam, and also encouraged the City to take other steps for climate resilience, including expanding tree protection to those on private property.
Along with the recommendation to remove the Watertown Dam, CRWA Executive Director Emily Norton also recommended that the City: adopt a robust tree ordinance including considering protecting trees on private property, adopt a stormwater utility, and strengthen wetlands ordinance to better prepare and respond to climate change.
Dam Removal
The CRWA met with residents and officials a year ago during a tour of the Watertown Dam site. The dam is 56 years old and is in bad condition, according to the group's presentation to the Council.
The concrete structure does not provide flood protection, and it prevents wildlife from getting up stream (including species of fish that cannot get up the fish ladder). It creates stagnant water where sediments piles up and bacteria can grow on one side, and the water that goes over the dam does so "unnaturally fast" and erodes the shoreline.
The dam is owned not by the City, but by the state, so CRWA's main recommendation is for the Council to encourage the DCR (Massachusetts Department of Recreation of Conservation and Recreation) to remove it.
If it was removed, there would no longer be water rushing over the dam, but there would be the sound of water going over rocks in that area. The CRWA proposal also would call for the state to also rehabilitate the shore and plant native species along the edge.
Councilor John Gannon asked how long such a project would take. Norton said she estimates it would take five years from the state's decision to remove the dam for it to be completed. Some other parts would take a little longer, but the change would be seen right after the structure is removed.
"The benefits would happen, for water quality and fish, happen immediately," Norton said. "The (river) banks, a concern for us, planting would be part of it with native plants, usually happens within a year."
City Council President Mark Sideris said he received a letter from the Watertown Conservation Commission asking for the appropriate City boards to discuss the removal of the Watertown Dam. He added with dam removal taking five years from decision he would like to start the conversation soon.
Tree Ordinance
A few communities in Massachusetts have added protection for trees not just on the street (public property) but also on privately owned property including back yards. Norton said this can be a challenge.
"(An ordinances) public trees, street trees protection and also trees on private property does get controversial when they further restrict what people can do on their property," Norton said.
Protecting trees on private property is good for creating shade, as well as protection from storms because they soak up rainwater, she said.
"It is good for the entire community, especially areas that have more impervious cover," Norton said, adding that Watertown has some of the most ratio of paved area of all communities in Massachusetts.
City Manager George Proakis is no stranger to tree ordinances which include privately-owned trees. He helped institute such a program in his previous position.
"We did it in Somerville," said Proakis, who used to be Executive Director of the Office of Strategic Planning & Community Development in that city. "I hope to have a conversation with the Council about the learning experience I had in Somerville. Some things about it seemed to work, some things about it I wouldn't do again."
If the Council decides to pursue private tree protection, they will have to consider issues like how the ordinance would operate and who would enforce it, Proakis said.
"On the one hand the advocates are completely right that tree cover is an important part of our overall climate goal. On the other hand, operationally, a number of things that goes into it when a private homeowner makes a decision that they want to remove a tree, whether it be shade in a particular spot, or the age of the tree and circumstances related to it, or even they want to add a new addition to the house because they had a new baby and they need an extra bedroom," he said. "We need to figure out how to manage all those things and balance those issues."
In Somerville, Proakis said people could remove trees and either had to plant a tree or trees to replace it, or make a payment into a tree fund to plant trees elsewhere in the community. The goal was to maintain Somerville's tree canopy.